DJI Mavic 3 Pro - latest release information
2021-09-23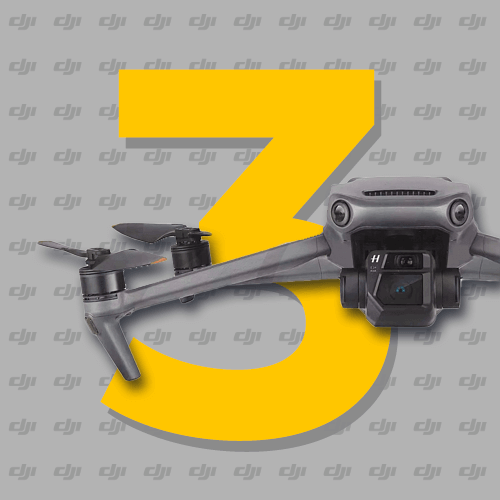 Mavic 3 Pro when it appears?
---
[EDIT] Mavic 3 is already here! Read the latest article - DJI Mavic 3 Premiere !
See prices and specifications:
DJI Mavic 3 Pro - baseline
DJI Mavic 3 Cine Premium Combo
---
The information many of you have been waiting for, many have been asking - when will the Mavic 3 Pro appear. Long-awaited drone DJI Mavic 3 Pro will debut as early as November 5. At least that's what the latest leaks say. We start the countdown! There are only 65 days i.e 2 months and 4 days. A poster has appeared online, with the slogan "Double the Fun," further confirming that the drone can be equipped with two Hasselblad cameras.
It looks like everyone who expected DJI to refresh its flagship Mavic drone series has reason to rejoice.
Graphic informs about the planned release date. The split image shows a busy network of roads and overpasses, with the top half captured by a zoom lensy, and the lower half was photographed with a wide-angle lens. Does this mean that both of these objects will be found in the Mavic 3 Pro drone?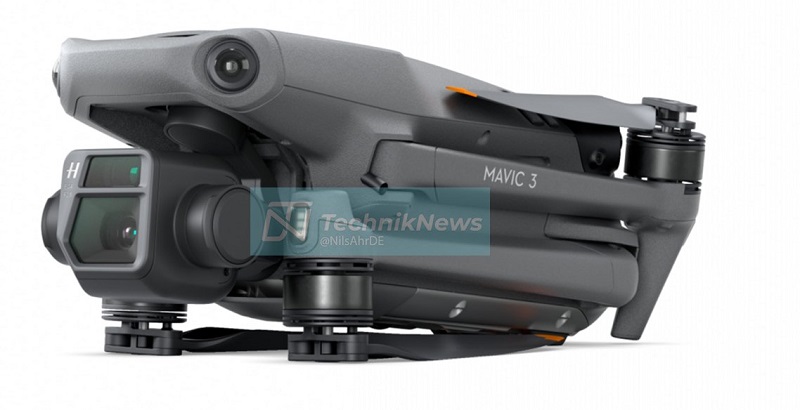 What we know about the release of the DJI Mavic 3 Pro - not just when
Incidentally, these are not the only leaks regarding the DJI Mavic 3 Pro that we have come across.
According to another reliable source, the main camera of the Mavic 3 Pro drone would include a Micro Four Thirds (M4/3) sensor, similar to the one found in DJI's Zenmuse X5S professional camera designed for the DJI Inspire 2.
Meanwhile, the Mavica 3 Pro's second camera is expected to feature a ½-inch sensor. This second camera would be equipped with a lens with 7x optical zoom, which would equip the drone with a 28x hybrid zoom. Leaks further indicate that the DJI Mavic 3 Pro will support Apple's ProRes recording and will have 1TB of SSD storage.
The new drone is also expected to support DJI O3 (OcuSync 3.0) transmission with a a range of up to 15 km (FCC) . Users can also expect a new remote control remote control with built-in display that is the new edition of the DJI Smart Controller. It is possible that the DJI Mavic 3 Pro will allow for uSB-C charging.
These reports are in line with what previous news has revealed, which means there is a high probability that they will indeed turn out to be true. As DJI plans to kick off the pre-holiday season for the Mavic 3 Pro, it would be interesting to see how the competition fares against what would easily become DJI's top prosumer drone.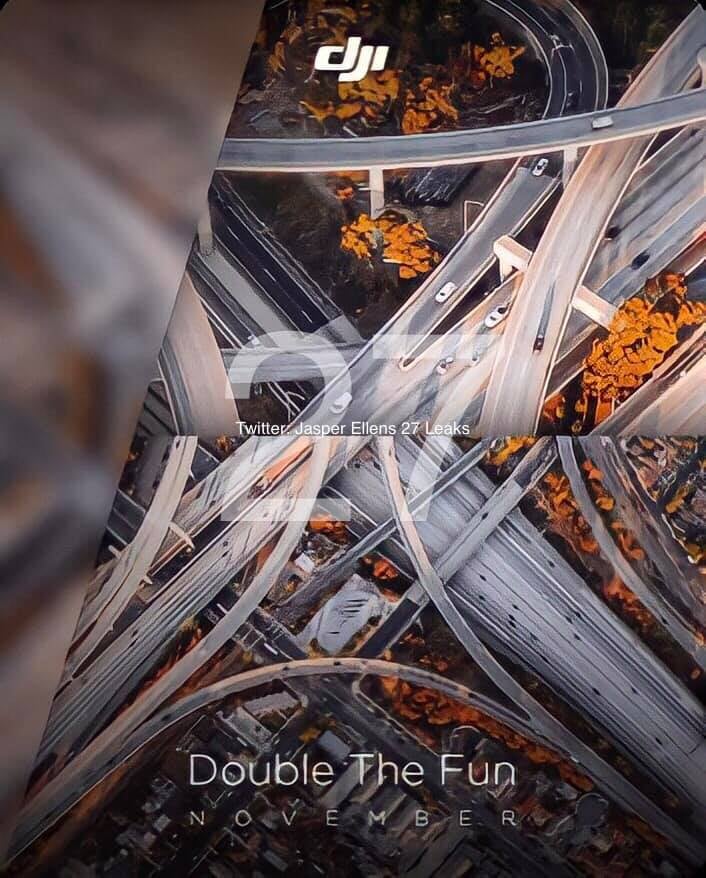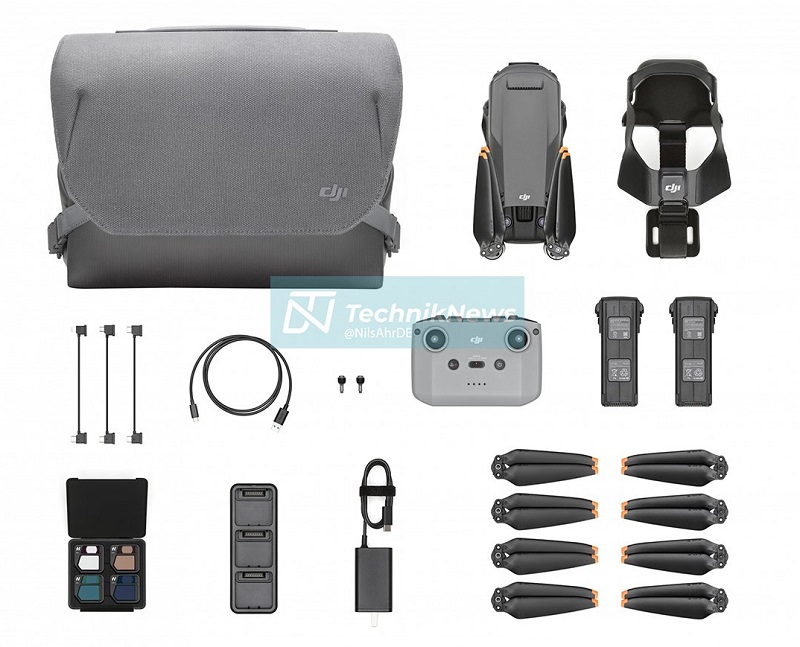 Lots of photos of the new DJI Mavic 3 have surfaced in the past week
The latest photos show that the long-awaited Mavic 3 model is much more massive than its predecessors. Great to see the dual camera and Hasselblad logo in the upper left corner. New are front obstacle detection sensors positioned at a 45-degree angle rather than straight ahead. This is likely to help increase the field of vision to avoid obstacles from the sides. Someone could ask for a comparison of the Mavic 3 vs Air 2S, but from what we can see there is unlikely to be anything because the DJI Mavic 3 Pro drone will be better in every way.
Mavic 3 Pro camera and estimated specifications
5.2K video
20 MP photos
Main camera 4/3", second camera 1/2".
Varifocal lens with 7x optical zoom, 28x hybrid zoom
Weight 920 grams
Support for 1TB SSD, Pro RES
OcuSync transmission 3.0
Type-C charging support
New remote control with screen
Next to: photo from the manual
What will be the price of DJI Mavic 3 and Mavic 3 Cine?
According to information that has appeared on the Internet, the Mavic 3 drone will be available in three versions: Single, Combo and Cine.
Prices for these models will be as follows:
If this information is confirmed then on the Polish market the Mavic 3 Pro drone will cost about 12500 PLN to even 27000 PLN in Cine version.
The top version of the DJI Mavic 3 Cine is a drone that will record in the Apple ProPres standard - a high-quality lossy compression format. Built-in SSD (probably 1TB), will eliminate the problem of having to regularly replace MicroSD cards that fill up quickly when filming at 5.2K resolution. In addition, it enables data transfer at a high speed of 1 Gbps.
Will the DJI Mavic 3 be certified?
Looking at the weight of the DJI Mavic 3 920 grams drone, according to the new drone regulations will be in the A2 category which, in short, means that in order to fly it, you will have to take the pilot training of unmanned aerial vehicles. As for CE certification, it is not known if it will have a class assigned, come to think of it, we suppose not (at the moment no drone has a class assigned). You can learn more about drone certification in the article on drone certification.
Summary
We can't help but look forward to the day of release. We hope that the three-year waiting period from the launch of the Mavic 2 line will be worth it and the new drone will offer many new features. Find out about other expected DJI news in the article What novelties DJI is preparing for 2021 and 2022?
Now it's time to wait for official confirmation from DJI. Another detail is that companies like Autel are aiming to increase market share, still dominated by DJI. After years with professional drones, Autel has announced that it will show the Autel EVO Nano and Autel EVO Lite models on September 28. One thing is certain. Things are getting interesting in the drone market. [Updated] Autel Evo Nano i Autel Evo Lite appeared! Learn more in the article Autel Evo Nano and Autel Evo Lite - Premiere.
Want to be the first to get news about launches?
Author
spec. Matthew Hubert
Graduate of the Maritime Academy, completed the course of Internet in business. Holds a VLOS qualification certificate. He's totally nuts about drones and new technology, and he also loves speed, so he flies a lot of racing drones
Recommended