Autel Evo Nano and Autel Evo Lite - Premiere [UPDATE 2022]
2021-09-28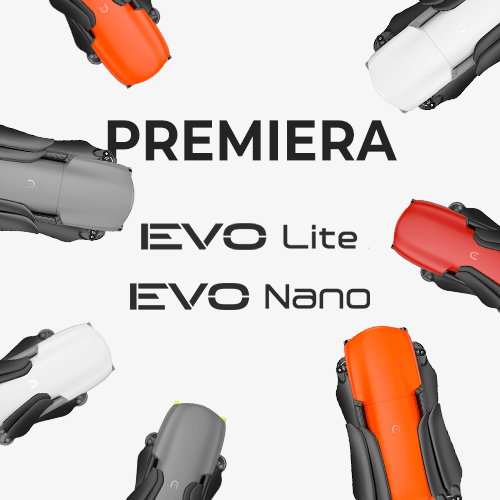 Come on, all eyes are now on the (likely) imminent release of the new DJI Mavic 3, [UPDATE - the launch has already taken place - SEE MORE] then let's stop for a moment and take a look at the news of the second largest drone manufacturer in the world - Autel. Today (September 28, 2021) was the official launch of four drones! Autel Evo Nano, Autel Evo Nano + as well as Autel Evo Lite and Autel Evo Lite +. Let's take a look at these new drones and compare them to each other.
Autel Evo Nano and Autel Evo Lite - basic differences
Autel Evo Nano is a drone for beginners weighing less than 250 grams, which is described as a killer of DJI Mini 2. Meanwhile, Autel Evo Lite is aimed at more professional applications - competition for the DJI Air 2S. Both series are available in versions with plus, which means for an extra charge you can buy the same drone with a a better camera.
Autel Evo Nano
Weighs 249 grams, which in light of new European regulations means that you don't need to do any courses to fly it. It is equipped with 5 obstacle detection sensors on three sides. Basic model Autel Nano sub-matrix ½ inch, and takes pictures 48 Mpix and 4K movies. Version Autel Nano + 1/1.28 (0.8) inch creates 50 Mpix photos and 4K videos. Maximum flight time is 28 min. The range is as far as 10 km with transmission 2.7K at 30 fps./s. The color options are extensive, as you can choose from 4 colors : orange (Autel Orange), white (Arctic White), gray (Deep Space Grey) and red (Blazing Red).
First mini drone with tracking function
A complete novelty is traceability (follow), which so far has only been available on higher-end drones such as the DJI Mavic Air 2. Just select the object in the application, and Autel Nano will start tracking. In addition artificial intelligence will recognize if it is a person, animal or vehicle.
Autel Evo Lite
The Autel EVO Lite drone features 5 obstacle detection sensors from three sides - from the front bottom and from the back. The weight is 820 grams. The transmission range is 12 km in 2.7K quality at 30 fps./s. Flight time is significantly extended compared to drones in this segment - up to 40 min and can be matched against flight time higher-end industrial drones np. Autel Evo II PRO i Evo II. The Autel Evo Lite series drones are also available in three color versions: orange (Autel Orange), white (Arctic White) and gray (Deep Space Grey).
World's first drone with 4-axis stabilization
What it means? Autel Evo Lite allows you to record vertical videos, which are becoming increasingly popular. Especially because of the increasing number of phone users, on which horizontal videos do not look as good as vertical ones. As with the Nano models, the size of the sensor depends on the model chosen - 1/1.28 inch versions Lite with photos 50 Mpix and video 4K HDR. Model Autel EVO Lite + already has a matrix 1 inch with photos 20 MP,6K video i adjustable aperture F2.8 - F11 giving the ability to change exposure and depth of field. In addition, it was used defogging mode, which automatically adjusts the camera settings to make the recording sharp and clear and precise autofocus with phase detection and dual focus algorithm.
Price and availability of Autel Nano and Lite drones
At the moment there is no information yet on when the Autel Nano and Lite drones will be available in Poland. [UPDATE] Drone Autel EVO Lite+ Premium Bundle is now available in two colors. We are awaiting delivery of the basic version and the Nano series, which is expected to arrive in January/February 2022. We will update this information on a regular basis. Prices are as follows:
| | |
| --- | --- |
| EVO Nano Standard | pLN 3,099 |
| EVO Nano+ Standard | pLN 3,799 |
| EVO Nano Premium Bundle | pLN 3,799 |
| EVO Nano+ Premium Bundle | pLN 4,499 |
| EVO Lite Standard | pLN 5,499 |
| EVO Lite Premium Bundle | pLN 6,899 |
| EVO Lite+ Premium Bundle | pLN 7,399 |