DJI Mavic 3 Premiere
2021-11-05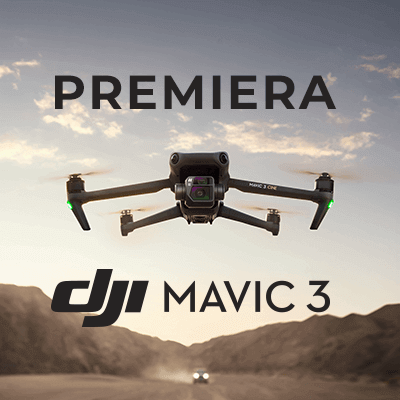 One of the most anticipated drone launches finally released. Actually two drones. Today (05.11.21) DJI has released the Mavic 3 i Mavic 3 Cine.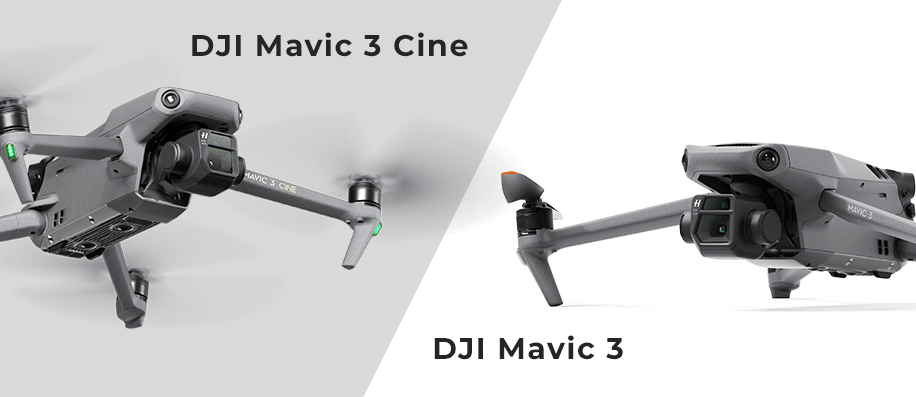 What are the differences between DJI Mavic 3 and DJI Mavic 3 Cine?
The Cine model is capable of recording Apple ProRes 422 HQ footage at 5.1K resolution up to 50 frames per second, and has a built-in but non-user-replaceable 1TB SSD drive. The DJI Mavic 3 does not come with ProRes or a built-in SSD, but it does have the same dual-camera system powered by a 4/3 sensor (!) CMOS.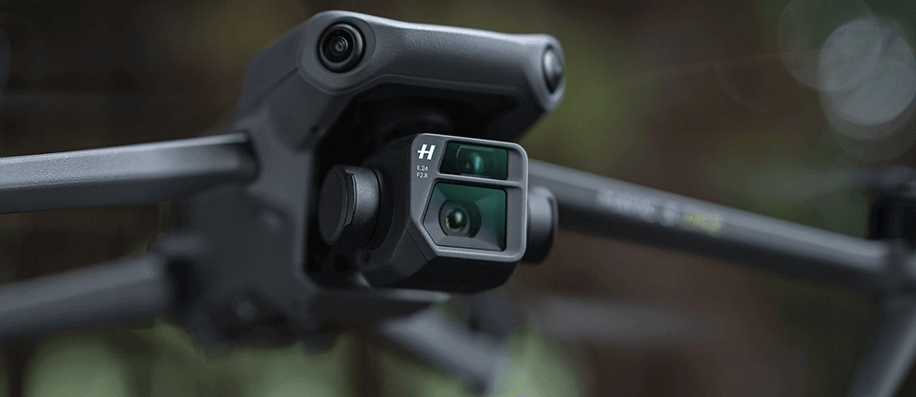 Similarities between the new drones
Both drones are capable of filming in 4K at up to 120 fps./s and take 20 MP photos. In addition to the main 24mm lens, a hybrid zoom lens with 28x digital zoom is also available. Both the Mavic 3 and the Cine version have batteries rated for 46 minutes of flight, a significant improvement over the Mavic 2's 31-minute battery, and even the Mavic Air 2s and 2S, which can fly for 34 and 31 minutes on a single charge, respectively. Both drones are successors to the DJI Mavic 2 Pro and Mavic 2 Zoom released in 2018, which also introduced the first Hasselblad camera for use in DJI drones
New obstacle detection sensors
In addition to all the camera enhancements, DJI has also improved standalone features for the Mavic 3. Like its predecessor, the Mavic 3 features omni-directional obstacle detection, except the sensors are now able to detect objects up to 200m away (compared to 20m before).
Most desirable automatic features
The drone has the latest RTH (autonomous homecoming) software, which allows the drone to plan a smarter route on its way back to its starting position. In addition, the latest ActiveTrack 5.0 feature has been applied, which promises significant improvements in tracking and following subjects. The new ActiveTrack will allow flight in any direction while following a subject, and will use visual sensors to track the subject even if it moves out of frame.
Price of DJI Mavic 3 and Mavic 3 Cine
Prices may seem high, but it is important to keep in mind that the DJI Mavic 3 is not a toy or recreational drone, but a professional tool for photographers, filmmakers and anyone involved in aerial photography. Prices for the Mavic 3 are as follows: The basic variant costs PLN 10,099. For the DJI Mavic 3 Fly More Combo model with additional batteries and accessories, you should pay PLN 13,399, while the best-equipped configuration of the DJI Mavic 3 Cine Premium Combo is an expense of PLN 22,999.
DJI Mavic 3 Availability
DJI Mavic 3 and DJI Mavic 3 Cine Drones can be purchased now for pre-order, with shipping starting on November 12. Feel free to order from our official DJI store. Orders will be processed according to the order of booking.
Recently we wrote article on leaks about the DJI Mavic 3 - see if they worked!
Author
spec. Matthew Hubert
Graduate of the Maritime Academy, completed the course of Internet in business. Holds a VLOS qualification certificate. He's a total fiend for drones and new technology, and he also loves speed, so he flies racing drones a lot.
Recommended