DJI Avata review - everything you need to know
2022-09-09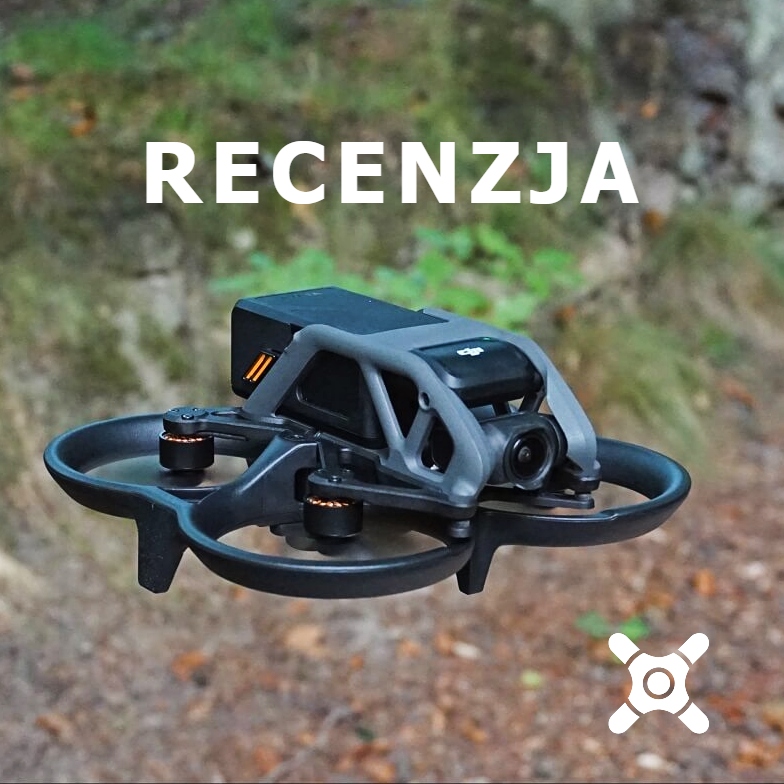 Avata is the second FPV drone from DJI, but the first with a cinewhoop design. Ultra-rugged design in a thoughtful, turnkey solution addresses users' growing interest in racing drones and increasing demand for exceptional drone shots. We last wrote about it on the day of its release, and today we come with a review after the first tests and a few flights.
Racing drones are capable of maneuvering in tight spaces, flying close to obstacles and performing various types of stunts. This results in a dynamic, eye-catching video. The flight of the fpv drone itself also experiences an amazing experience, thanks to the goggles in which you can see the view first-hand.
Before DJI introduced the first FPV in March 2021, entering the world of racers was quite complicated for two reasons. The first was to create your own fpv drone and connect the appropriate goggles and apparatus to it. This requires skill and knowledge in camera connection, motors, frequency settings and controller configuration. The second problem was learning to fly without assistance and at least the hover function.
In the case of DJI Avata as well as DJI FPV, it is possible to buy a configured kit ready to fly. Among themselves, drones differ primarily in their construction and capabilities. We write more about these drones in the article DJI Avata vs DJI FPV drone comparison
The fpv flight experience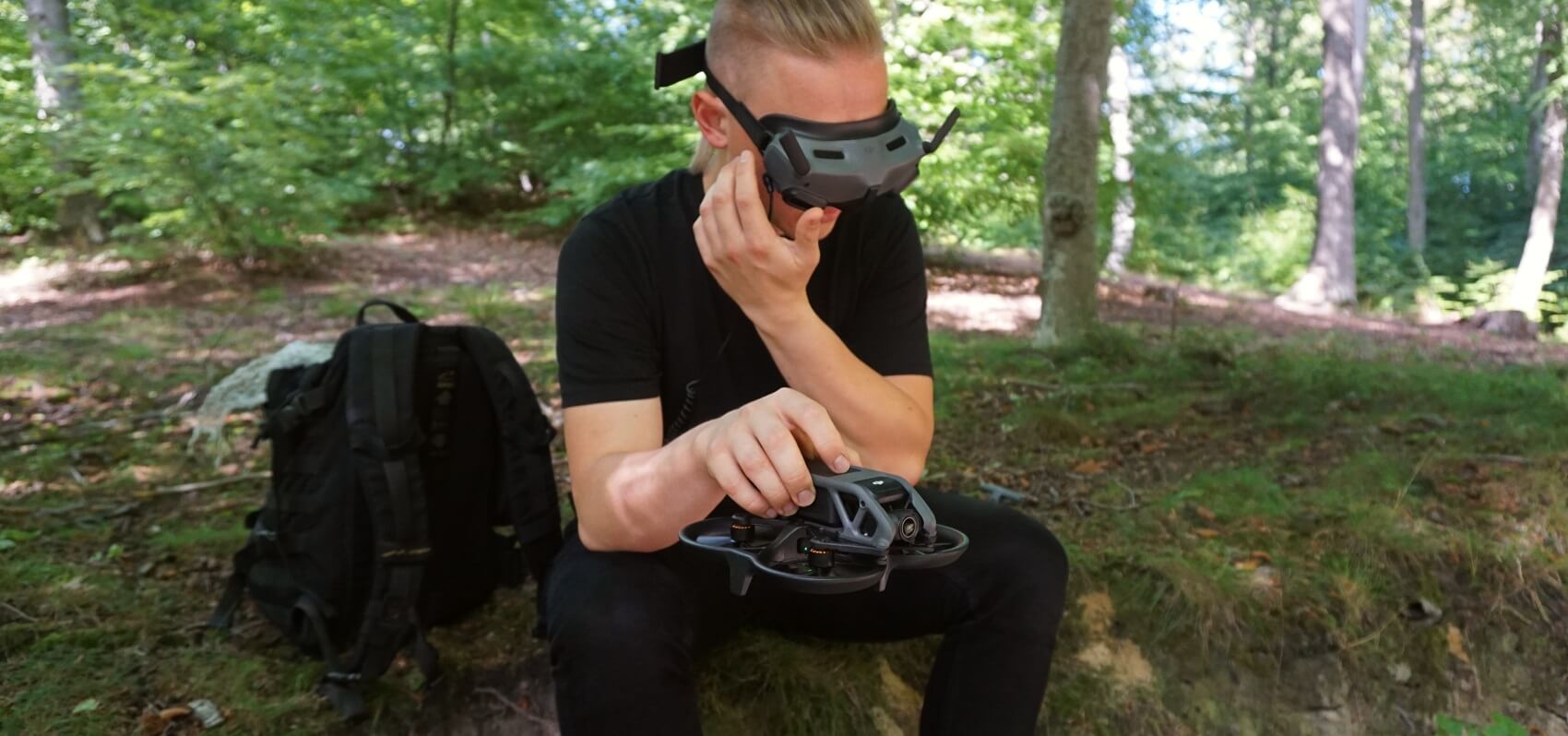 DJI Avata is a drone for beginners, or people who want a safe fpv drone for dynamic shots. Why? The following subsections will mostly explain this.
DJI Avata drone camera
The drone offers 4K recording quality at 60 fps./s. Plus a large 1/1.7 sensor with a 155° field of view. Two technologies DJI RockSteady and HorizonSteady, which are also in the manufacturer's sports cameras, are responsible for image stabilization. We also get the ability to record in D-Cinelike and three widths - normal, wide and ultra-wide. Sample footage can be seen on our Instagram in the highlighted accounts.
DJI Avata flight time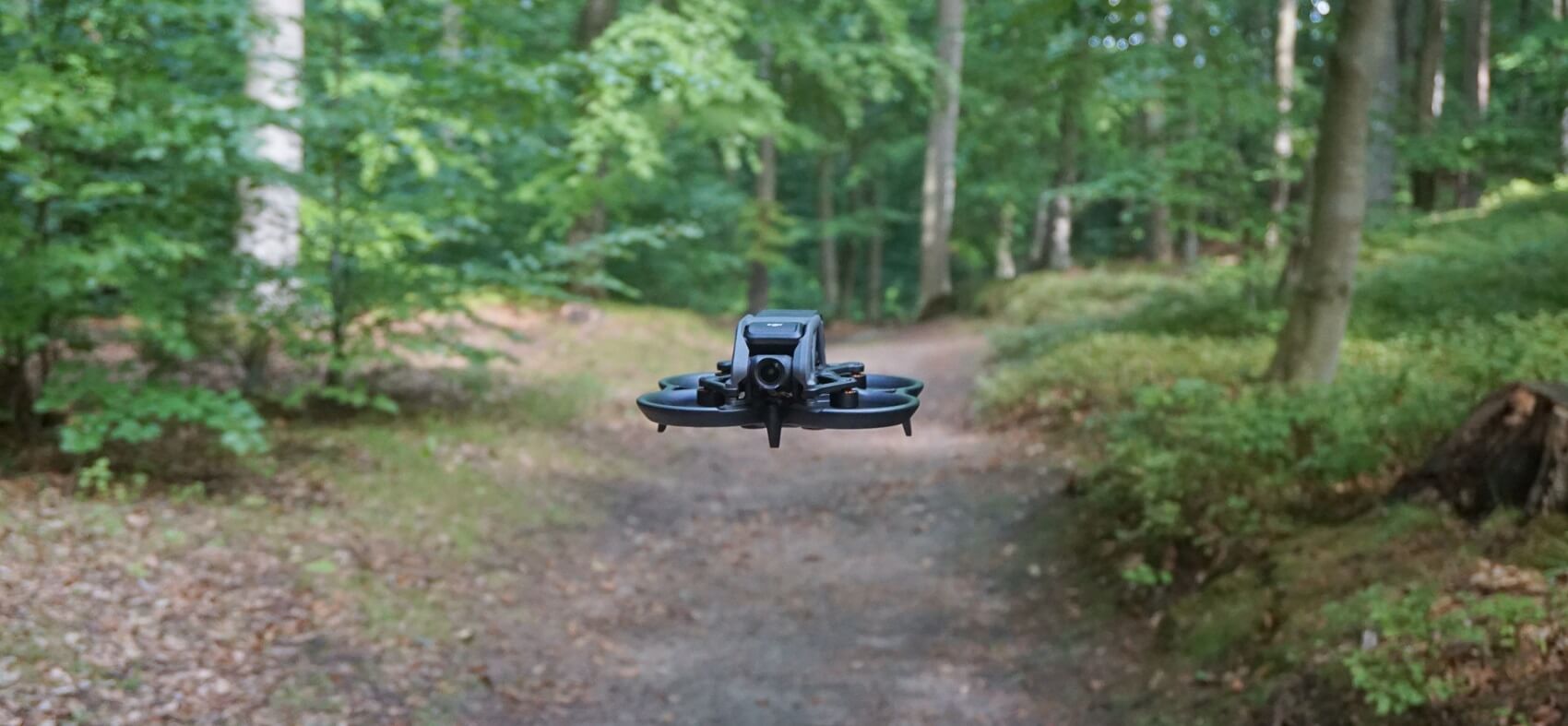 According to the specifications, the maximum flight time is 18 min. In practice, the drone flew for about 12 minutes on a single battery, which is obviously a great result for this type of drone. However, it is worth investing in a set of Fly More Kit, or an additional battery. Getting the right shots is not a moment, even for a professional.
In addition, the batteries are smart, so they discharge themselves and go into storage mode. So you don't have to spend as much time taking care of them as you do with the lithium-polymer batteries typical in racing drones.
Speed of the DJI Avata drone
Although the drone is not particularly fast for an fpv, you certainly can't call it slow. Flight is in 3 different modes - normal (28.8 km/h), sport (50.4 km/h) and manual (97.2 km/h). It is worth noting here that the fastest mode is available only with a controller available for purchase separately.
DJI Avata drone range - what if it gets lost?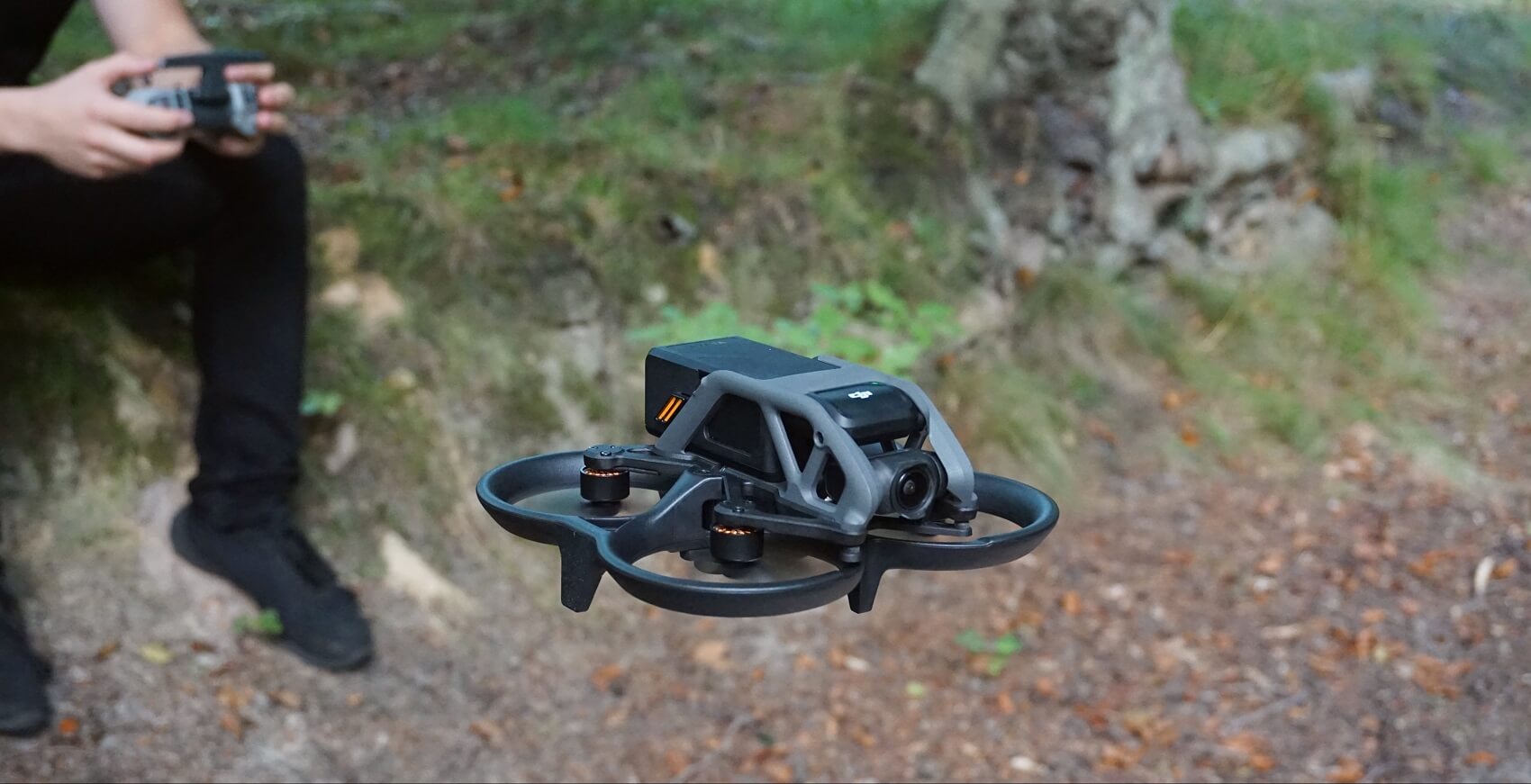 Range in Europe is supposed to be up to 2 km and is actually quite good. While flying in the city, the drone stably held the signal even when there were two blocks between it and the operator (Simon).
The situation was different in the forest, when Simon was standing in a hollow, and there was quite a large hill in between. The drone lost range at a distance of about 300 m. However, when we flew between the trees and Simon was standing on the hill, we flew away calmly even at 600 meters. Even if the drone fell into the bushes , it made a loud sound and you could see its location thanks to GPS, so it was very easy to find it.
Avata drone's sensors and controllability
The signal delay is quite significant (approx. 30 ms.) compared to hand-built racers (approx. 5 ms.), and sensitivity to stick movements less. The stability of the drone is very good, the drone hangs in place even in gusts of wind.
You can feel that the drone automatically stabilizes, which is an ideal feature for a beginner. In bright conditions, sensors see obstacles well, informing of distance. They work great for landing, because that's what they were made for.
Impact resistance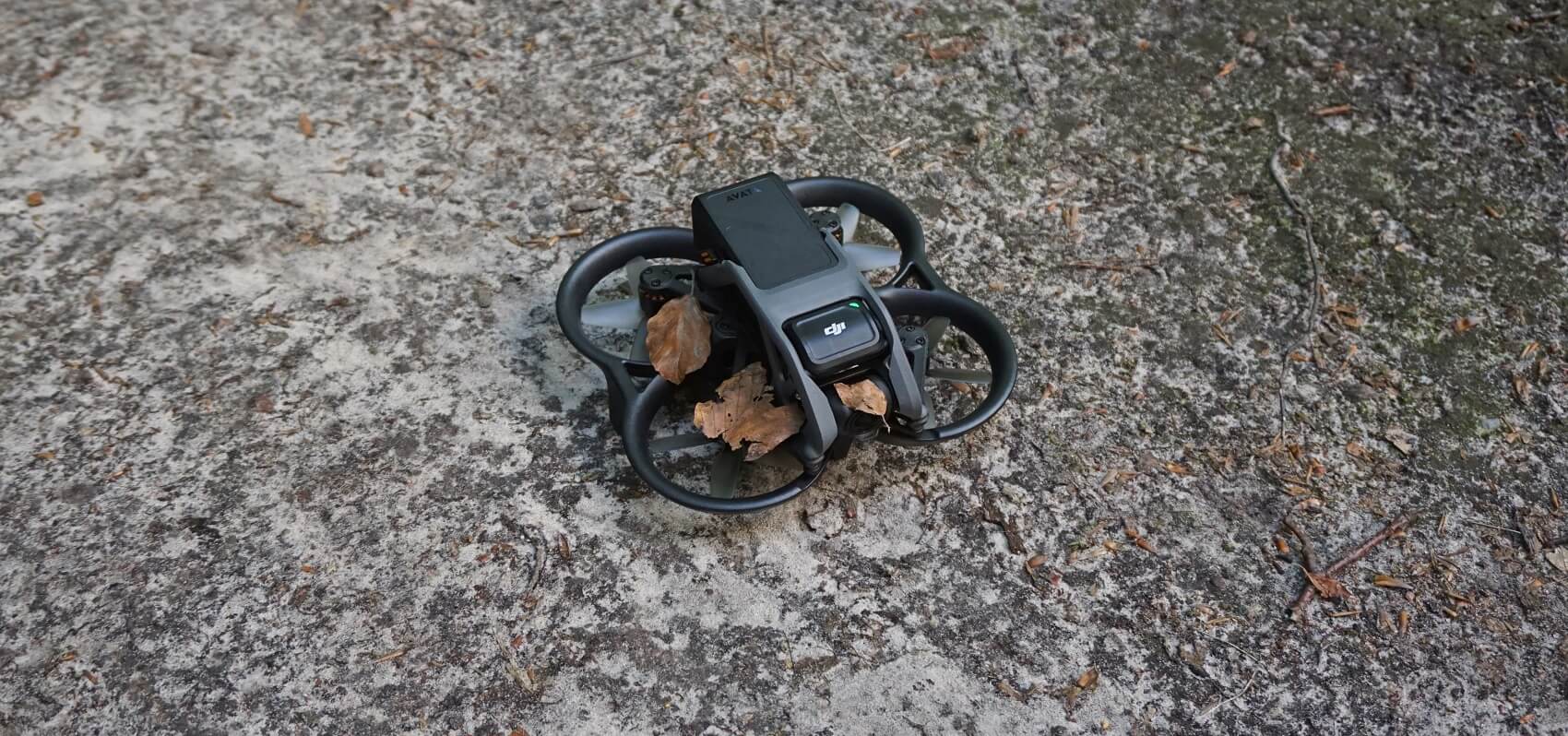 During the test in the woods, we scored several decent hits "straight into the tree" and "chuck against the floor", and nothing happened to the drone (even the propellers whole!). Definitely useful and working very well was the turtle mode, in which with one button the drone lifted itself, even if it was lying upside down.
DJI Motion controller vs DJI Remote Controller 2
Motion controller, which is included in the kit we tested briefly. However, we can say that it is, above all, very easy to use and intuitive. Control is by wrist movement, and acceleration is controlled by a trigger, which provides a lot of fun. There is also a brake button that stops the drone and leaves it hovering, so you can feel safe.
Apparatus of classical construction -DJI Remote Controller 2 not only gives much greater speed and precision, but also opens up additional functionality such as vertical and backward flight. Experienced pilots are sure to be tempted by this option.
DJI Goggles V2 vs Goggle DJI FPV 2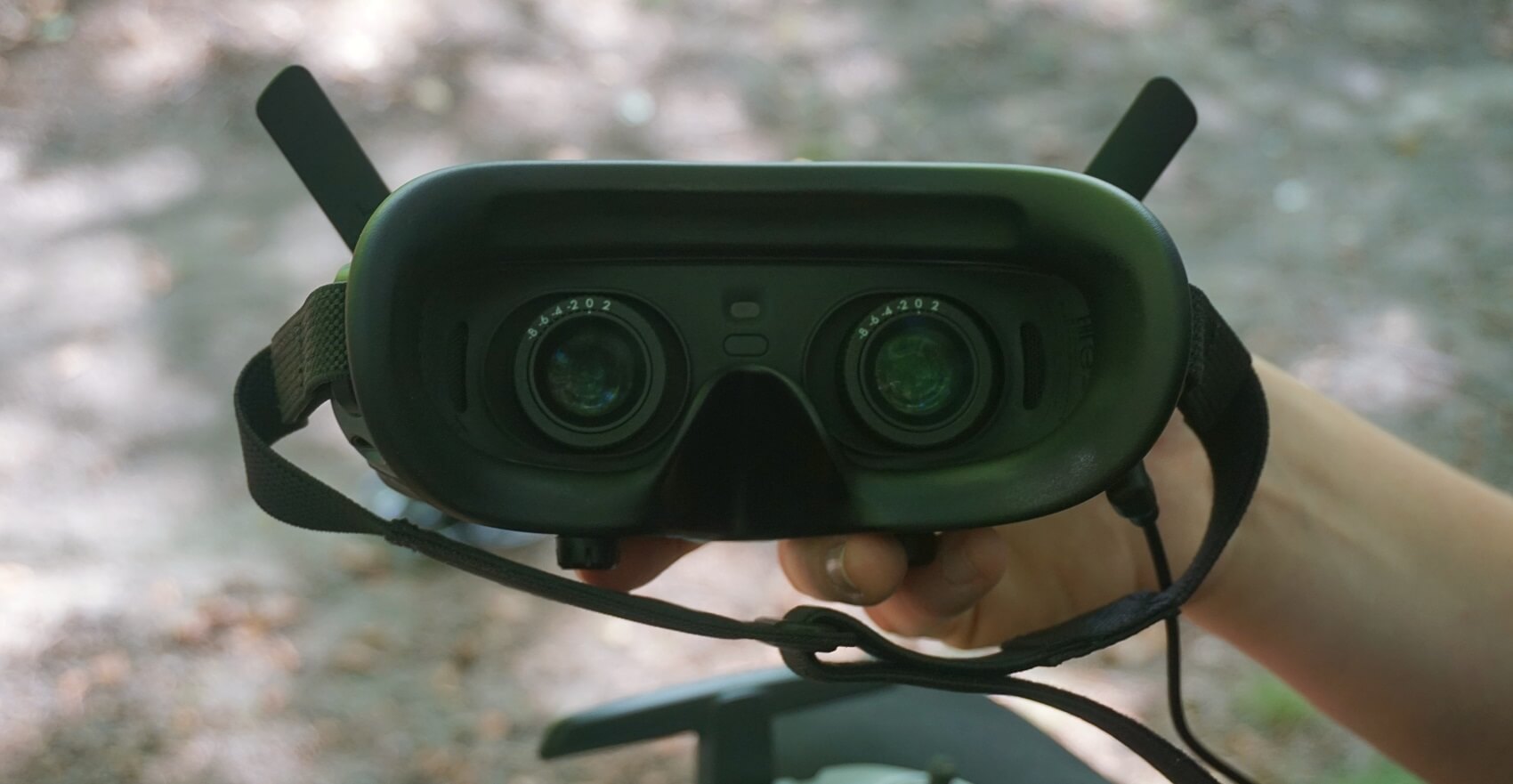 We flew in conjunction with the latest DJI Goggles 2. The differences, compared to previous goggles (DJI Goggles V2), it's mainly better viewing quality, smaller size and weight, and dioptric adjustability. The new goggles also have lower transmission latency and foldable antennas. Although comfort is a matter as individual as the choice between manual and automatic transmissions, people with a flat nose will probably feel better in the new goggles.
The overall pros and cons of fpv drone goggles are best illustrated in the table:
Goggle FPV

DJI FPV Goggles V2
DJI Goggles 2

Collapsible antennas

no

yes

Dioptric adjustment

no

from -8.0D to +2.0D

Touch panel

no

yes

Video transmission quality and delay

810p/120fps less than 28ms.

810p/60fps less than 40ms

1080p/100fps less than 30ms.

1080p/60fps less than 40ms.

Working time

Approximately 110 minutes

About 2 hours

Weight

420 g

290 g
Summary
DJI Avata is a great piece of equipment, friendly even to those who have not dealt with any drone before. It is very durable and at the same time imbued with amenities that make life easier. For us, the DJI Avata provided a lot of entertainment, a very interesting flight experience, and if we were contracted for FPV footage we would reach for this very drone.