Bone conduction headphones - comparison of models
2023-03-30
Most people regret that they heard about them so late. We are talking about bone conduction headphones, which provide high-quality sound, while not restricting access to ambient sounds. Great for athletes, people working in the office or moving around by car. It's like having speakers with you that are inaudible to others, or an extra pair of ears to listen to music and talk on the phone.

In this post we will focus on all 5 models offered by a manufacturer specializing in this type of equipment - Shokz. Let's take a look at what the price difference is due to and compare the models, so that you can easily decide which one is best for you.


OpenMove Wireless Headphones




OpenMove, although they rank at the bottom on this ladder, they are not at all among the worst. Allow you to experience the experience guaranteed by the 7th generation of bone conduction technology - the sound is satisfying and goes hand in hand with a relatively low price. They provide 6 hours of listening, and a full charge will take 2 hours. We don't have a fast charging option here, available on higher versions, but the USB-C port, the most popular current charging input, can be considered an advantage. Other models require a special cable, which, if lost, must be ordered from the official Shokz website. With this model, you don't have to frown when you take them with you on a long trip or when they discharge 'by surprise', because it's easy to get a cable with the required connector. Waterproofing in the Aftershokz OpenMove headphones is at the same level as the model above (OpenRun Pro), that is, IP55 - they provide full dust and moisture protection, but you can't submerge them in water. In practice, this means that light drizzle or rain are not terrible for them, but running in a downpour or swimming in these headphones is not allowed. Their design is clunkier than higher models.


OpenRun running headphones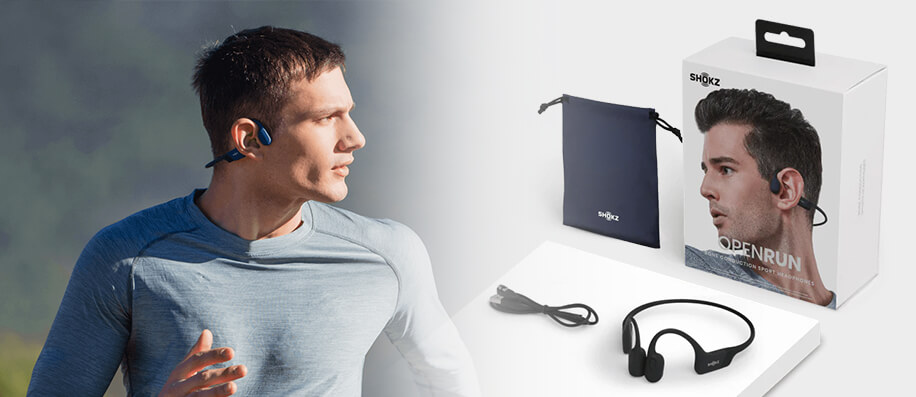 Let's move on to wireless bone conduction in-ear headphones OpenRun. With the 8th generation, we enter the next level of sound quality. This jump is not as pronounced as that between 8 and 9, but it does matter. The bass arrives stronger, and the music provides a slightly better experience. Charging? It's fast - in 10 minutes we'll provide enough power to keep the headphones running for 1.5 hours. A full battery requires us to charge it for 1.5 hours, so half an hour less than OpenMove, and it lasts 2 hours longer - up to 8 hours of continuous listening. Charging is done through a magnetic charger. With IP67 protection, you don't have to worry about heavy rain, and the headphones can withstand up to 30 minutes submerged underwater. OpenRun stay on the ears very securely, and their lightweight and slimmer design makes them almost impossible to feel.


Shokz OpenRun Pro flagship headphones for runners

Let's move on to the Pro version, a firm favorite when it comes to the tune that bone conduction bluetooth headphones can provide us with - OpenRun Pro. The sound guaranteed by the 9th generation is more spacious and even deeper. In addition, they lead over the rest when it comes to charging speed, as it will take them 5 min to fill the batteries for 1.5h of operation, and after a full cycle, which is just an hour plugged in, they will last as long as 10h! Their design provides IP55-rated waterproofing They come with a crush-proof case - such a minor difference, because with their predecessors you only get a pouch.


Headphones for swimming - OpenSwim Shokz

OpenSwim is a model designed for underwater swimming. As for the specifications, they can be compared to OpenMove, except for the battery, which in the model for water sports fans lasts more - up to 8 hours of listening to music or podcasts. IP68 protection allows immersion up to 2 meters for two hours. These headphones are the only ones that do not have bluetooth connectivity, due to the fact that the transmission of radio waves in the water is most simply impossible. Favorite tracks are uploaded to the 4GB internal drive - this is quite a lot, allowing you to save at least a dozen hours of music (about 1200 tracks).


OpenComm - Headphones for the office with microphone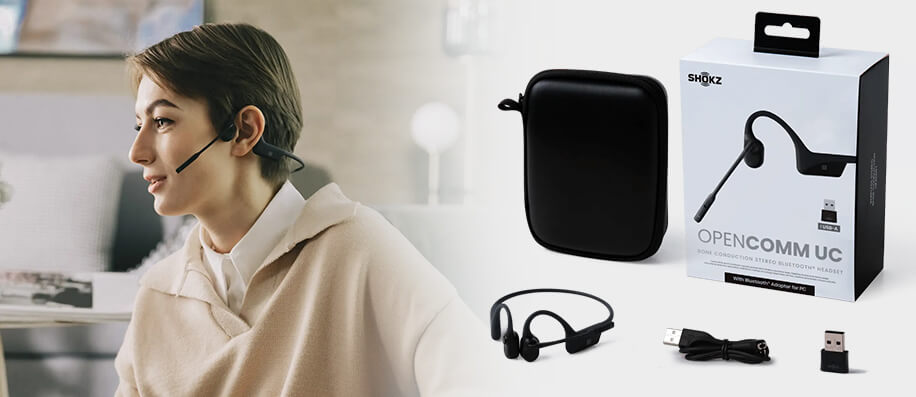 Last on our list - OpenComm, is a product designed for office work, teleconferencing or just phone calls. The boom microphone provides excellent noise reduction, for example, we don't have to worry about the wind drowning out our words. You can talk for almost unlimited time, calls can last continuously for up to 16 hours, and if that's not enough, within 5 minutes of charging we can set them up for another 2 hours. The purpose does not at all disqualify them as equipment for listening to music, which they will provide us with OpenMove quality, but with this use we will unload them half the time.


Bone conduction headphones ranking

Below is a table of dry facts to make the decision even easier.
| | | | | | |
| --- | --- | --- | --- | --- | --- |
| Specification | | | | | |
| Model | OpenMove | OpenRun | OpenRun Pro | OpenSwim | OpenComm |
| Price | pLN 449 | 699 zł | pLN 949 | pLN 899 | pLN 899 |
| Working time | 6h | 8h | 10h | 8h | 16h of talk / 8h of music |
| Connectivity | Bluetooth 5.1 | Bluetooth 5.1 | Bluetooth 5.1 | None / built-in memory | Bluetooth 5.1 |
| Technology | 7 gen. | 8 gen. | 9 gen. | 7 gen. | 7 gen. |
| Waterproof | IP55 | IP67 | IP55 | IP68 | IP55 |
| Charging | USB-C | Magnetic induction cable | Magnetic induction cable | Dedicated indicator charger | Magnetic induction cable |
| Charging time | 2h | 1,5h | 1h | 2h | 1h |
| Fast charging | Not | Yes, 10 min = 1.5h | Yes, 5 min = 1.5h | Not | Yes |
| Standby time | Up to 10 days | Up to 10 days | Up to 10 days | Up to 10 days | Up to 14 days |
Bone headphones - summary
We have tested other brands and recommend them - we ourselves at megadrone use them for our daily work. We described our observations in the article AfterShokz Aeropex bone headphones - our point of view. When you are primarily concerned about sound quality and the content of your wallet does not stand in the way, the best choice will be OpenRun Pro. It is worth noting the greater waterproofing in the OpenRun model, and if the headphones are not exactly our most important expense, with the help of the still excellent OpenMove at an affordable price. OpenSwim and OpenComm, on the other hand, are the obvious choice for special applications. Manufacturer Shokz is definitely leading the way when it comes to the quality of the bone headphones themselves as well as the sound.