1 016,88 €
DJI FPV Combo - racing drone
The DJI brand is a world leader in the production of unmanned aerial vehicles. It is estimated that around 70% of all consumer drones bear its logo. Such great popularity is due to, among other things, from the use of top-class components, simple and intuitive use, as well as versatile use. DJI's FPV (First Person View) drones have completely changed the approach to flying and the possibilities offered by unmanned aerial vehicles. Incredible performance combined with an extremely precise control system was created for racing and competing with other users. Thanks to the goggles, the pilot has the opportunity to observe the world from a completely different perspective.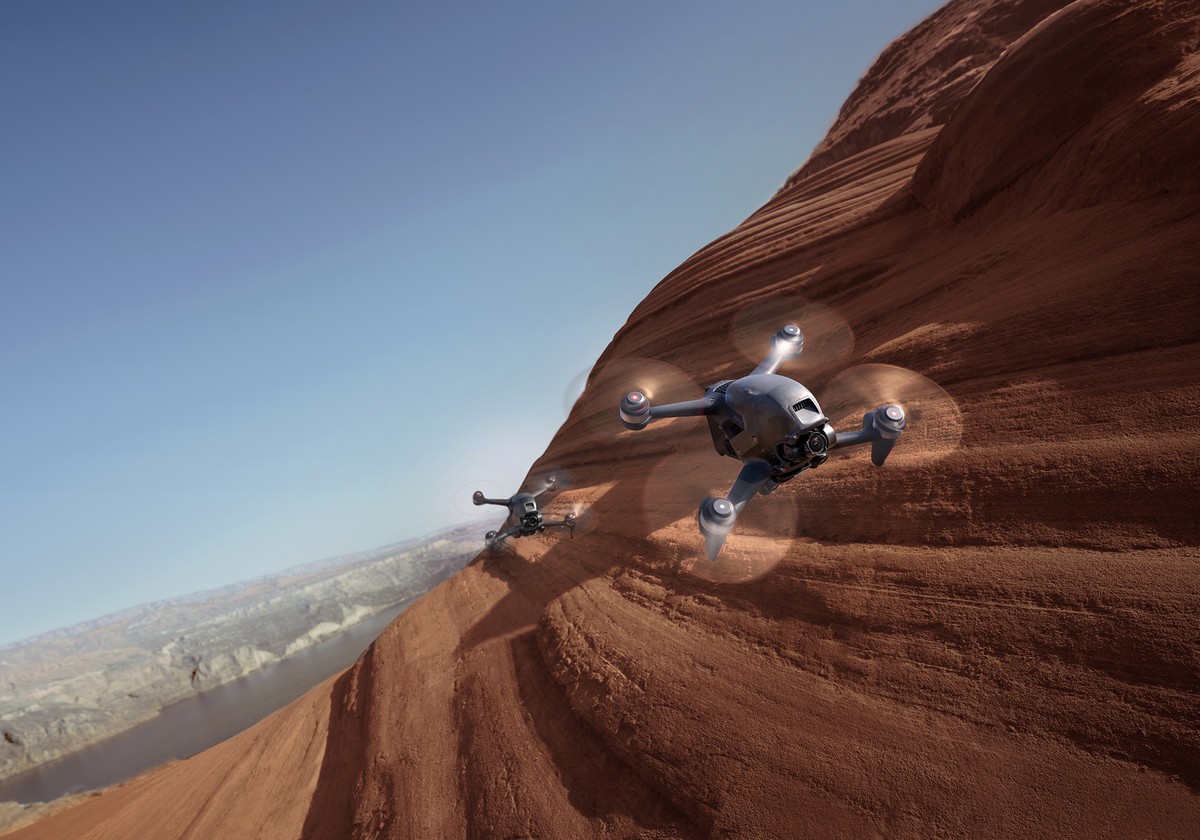 What makes DJI FPV Combo different?
The DJI FPV Combo set offers great opportunities for both professionals and less experienced pilots of unmanned aerial vehicles. The drone is equipped with three operating modes that enable quick and, above all, safe learning of sports flying. The extremely wide field of view in combination with the V2 goggles guarantee a breathtaking experience during sky acrobatics. DJI FPV Combo allows you to record spectacular shots in a way that is unattainable for standard drones. V2 goggles display an extremely detailed and clear image, thanks to which the user feels as if he is flying together with the drone. Despite its advanced design, the DJI FPV Combo is simple and intuitive to use. This model is designed for lovers of sky racing and spectacular video recording. Shots taken with the DJI FPV drone will bring any recording to life - they will give it dynamics and make it even more interesting.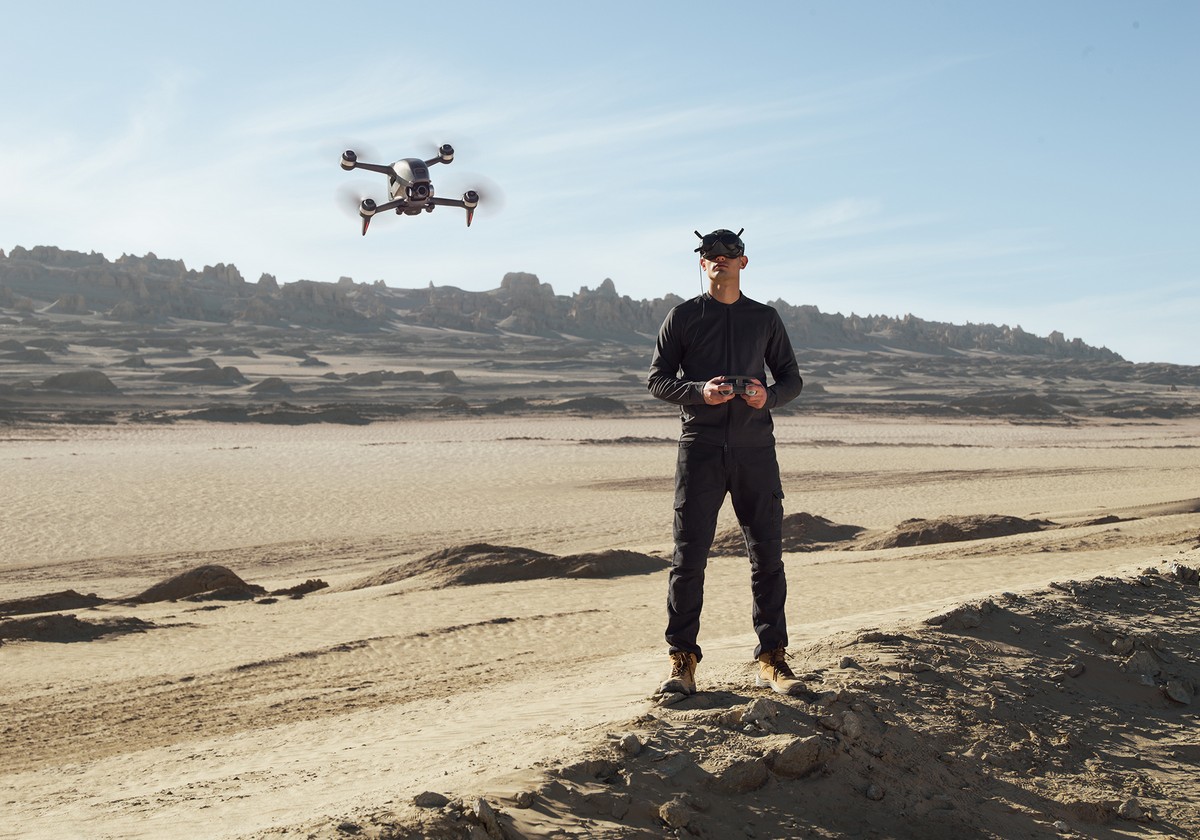 Key technical parameters of DJI FPV
The DJI FPV Combo drone, thanks to a professional camera and the advanced RockSteady stabilization system, allows you to record shots in 4K resolution at 60 frames per second. This combination guarantees an extremely detailed, detailed, expressive image characterized by hypnotic fluidity. Full support of H.264 and H.265 codecs gives great post-production possibilities. In addition, the DJI Fly app, available for both Android and iOS operating systems, allows you to quickly edit videos and share recordings on social media. The ability to create up to 4x slow motion effect allows you to highlight the most important shots in the movie. The DJI FPV drone is equipped with the extremely useful function of automatically switching between 2.4 GHz and 5.8 GHz. What does this mean in practice? Uninterrupted data transmission even in terrain full of obstacles. OcuSync 3.0 technology. makes the maximum range of the device up to 6 km, while the delay in video transmission is only 28 ms. The equipment is equipped with extremely efficient antennas, which together with 4 receivers and 3 transmitters guarantee perfect connection quality.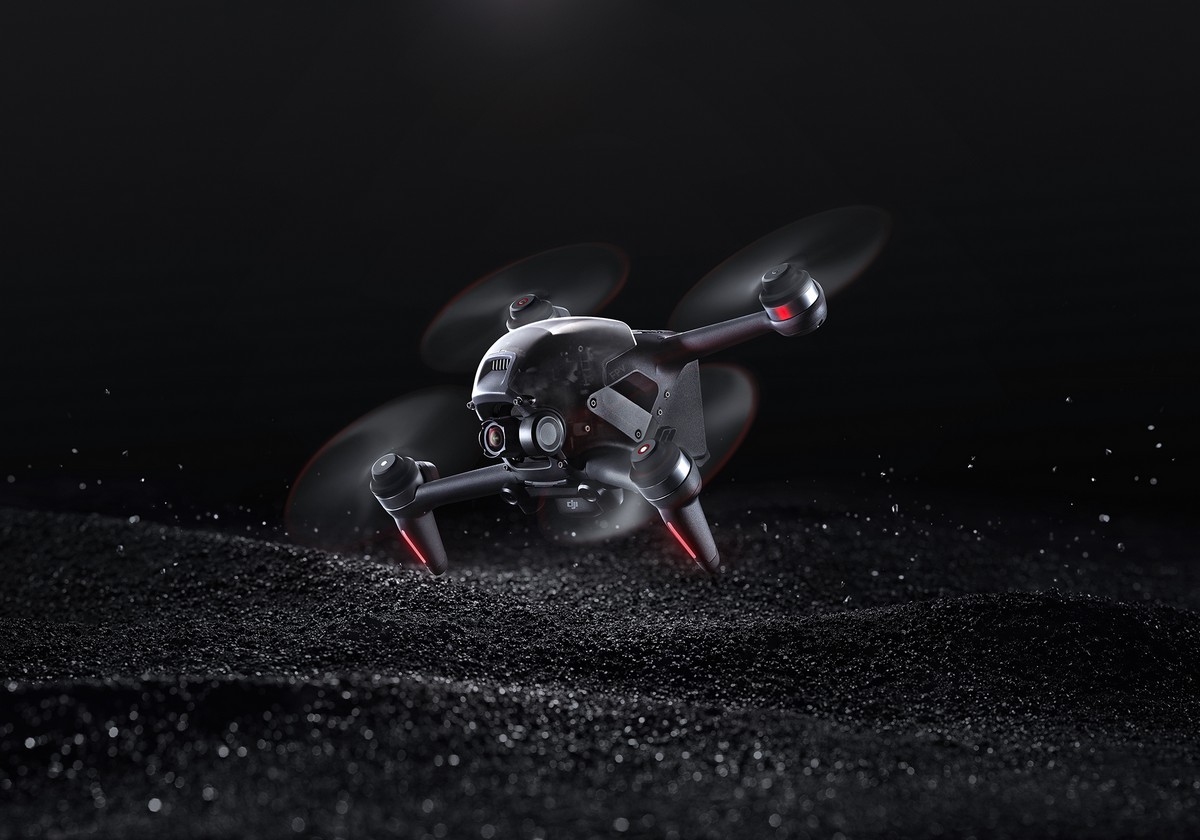 DJI FPV Combo operating modes description
The user can choose from one of three operating modes of the device, thanks to which DJI FPV Combo is also referred to by the manufacturer as a hybrid drone. Enabling Normal Mode causes the DJI FPV Drone to behave like a standard unmanned aerial vehicle. All security systems are on. In addition, the visual positioning system, or VPS, works. This mode is intended for novice users who are just starting their adventure with FPV drones. Manual mode, or Manual, disables all security systems and allows you to use the full potential of the DJI FPV Combo drone. The user can perform any stunts at full speed. This is a mode for experienced pilots of unmanned aerial vehicles. The last mode, Sport, is a combination of the above modes. Basic safety systems remain on, however the pilot can perform aerial acrobatics. For security reasons, it's a good idea to use Normal mode at first. With the acquisition of new skills, you can switch to Sport mode and, after gaining practice and experience, unleash the full potential and capabilities of the drone in Manual mode.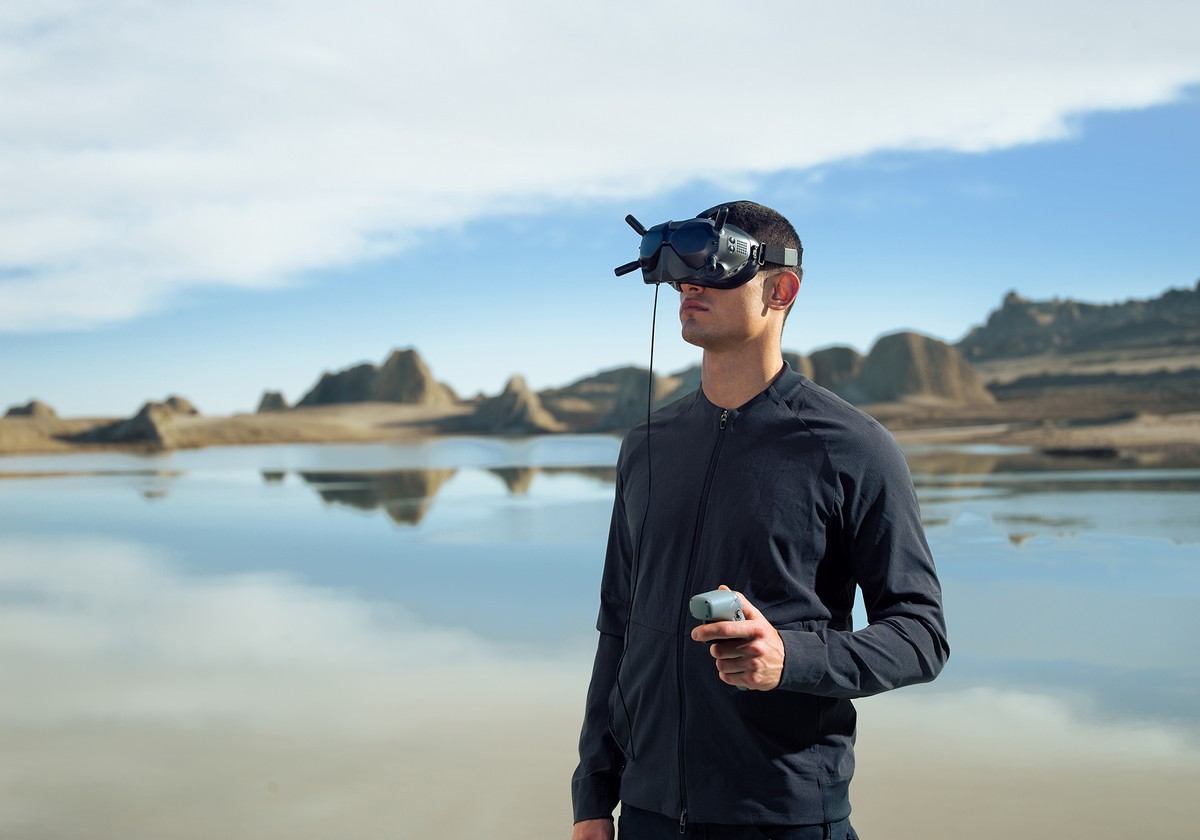 Solutions to improve the flight safety of the DJI FPV drone
In each mode, pilots can press the button responsible for emergency braking. This is an extremely useful feature that allows you to avoid dangerous situations. When emergency braking is engaged, the DJI FPV Combo drone simply stops - no matter where it is. Additional security features include Return Home, Obstacle Sensing, and AirSense ADS-B. The latter option notifies the pilot of approaching helicopters or planes that have an ADS-B transmitter on board.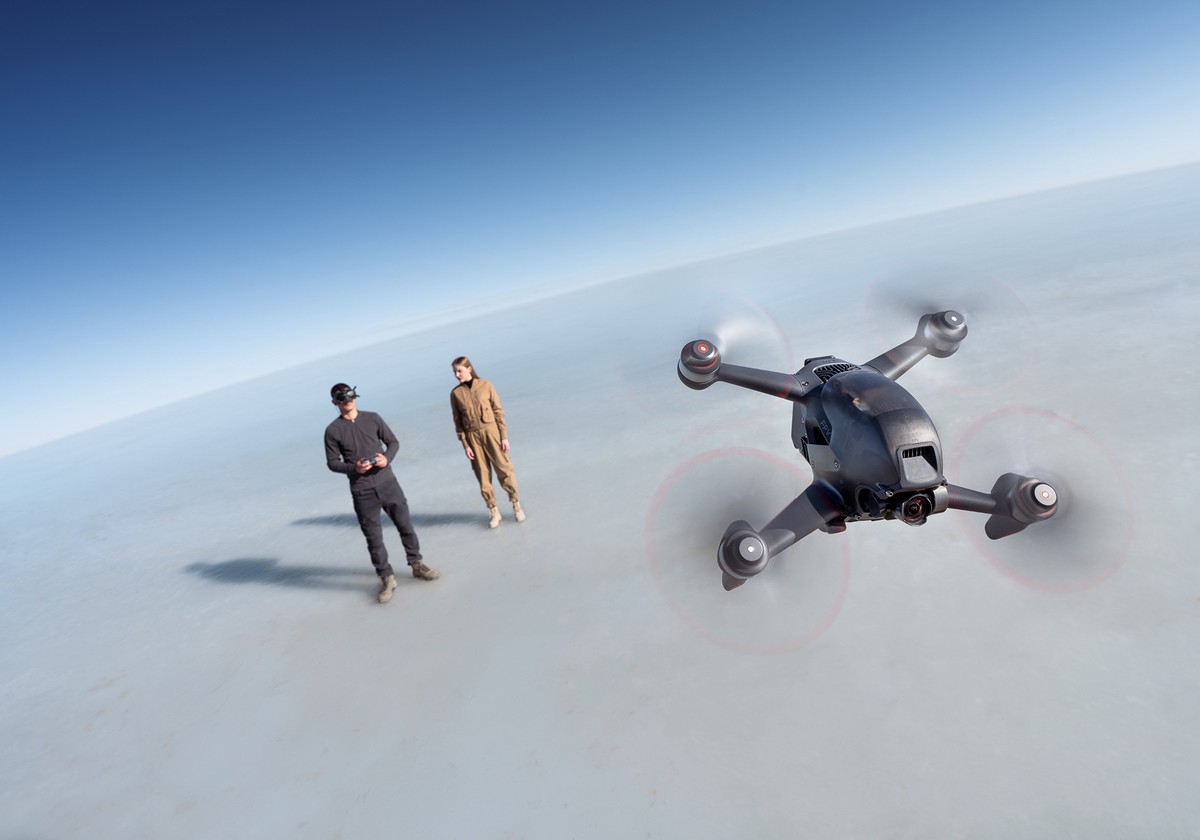 DJI FPV Combo - unlimited possibilities
The DJI FPV Combo Kit includes the drone, intelligent battery, remote control and goggles. In addition, the user receives the necessary propeller wiring, covers, antennas, charger, head strap, goggle battery and all other necessary accessories. Just charge the cells, install the memory card, read the manual and you can start your adventure with piloting a racing drone. The DJI FPV Combo Kit guarantees a powerful adrenaline rush and unforgettable experiences. If you have any questions, please contact our experienced advisors.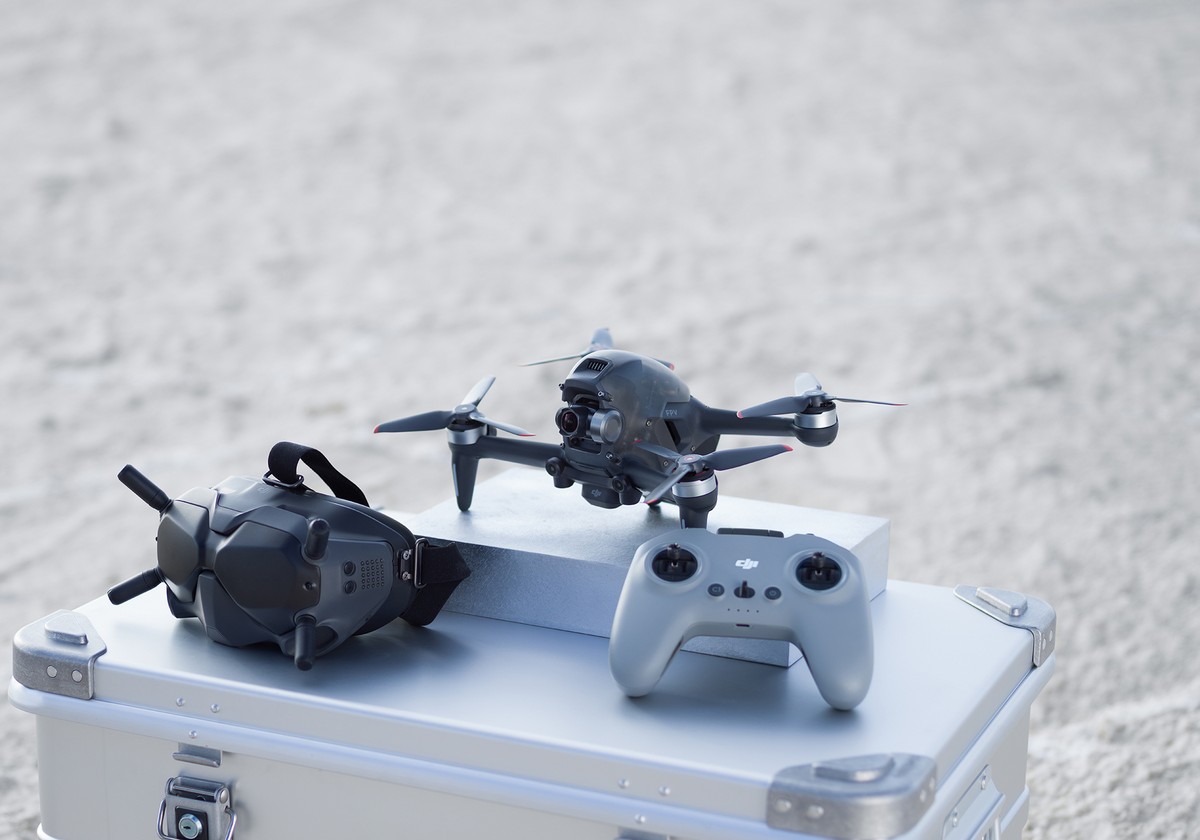 What does the DJI FPV Combo Kit include?
DJI FPV Drone x1
Smart Battery x1
Propellers (pair) x4
Gimbal cover x1
Top case x1
Control apparatus x1
Additional radio sticks (pair) x1
DJI FPV Goggles V2 x1
Goggle antennas (dual band) x4
Goggle battery x1
USB-C power cable x1
Head Strap x1
foam padding x1
Wall charger x1
Power cable x1
USB-C data cable x1
USB-C OTG cable x1
DJI FPV Combo drone specifications
Specification available for download below in the "Downloads" section
---
We invite you to place orders via the online store or visit the salon - Gdynia, ul. Śląska 33. We offer 0% installment purchase! Start your adventure with FPV drones today!
Specification DJI FPV Combo - racing drone
The cameraMore
The maximum resolution of the photos taken.
CameraMore
Maximum video resolution and frame rate.
AdvantageMore
A feature that distinguishes a given product.