Which Goggles for a DJI drone?
2023-05-08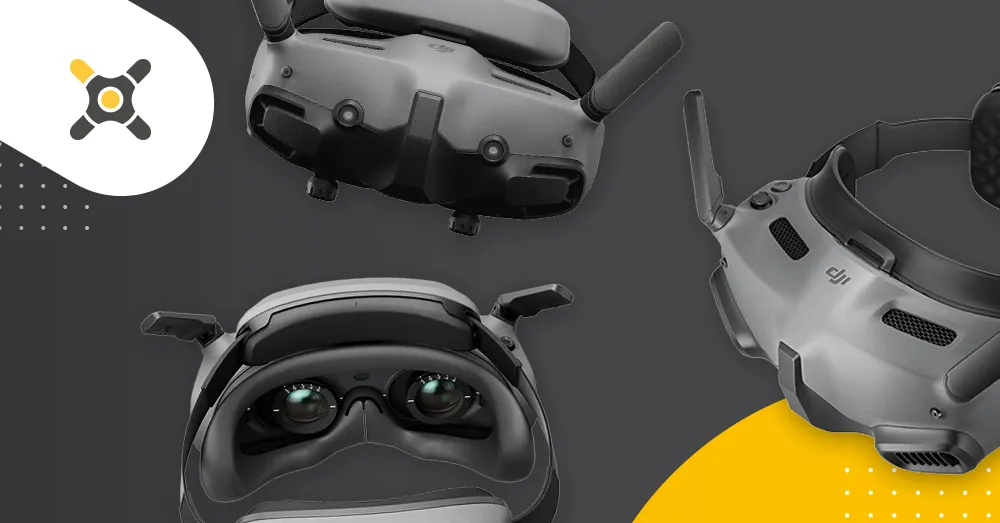 Are you a drone enthusiast and want to feel the thrill of flying in a first-person view (FPV)? It bothers you that on a sunny day you can hardly see anything on the screen preview? Or maybe you need a good set of goggles to get the most out of your drone? But what goggles are available and what drones can be flown with fpv goggles? Until recently, flying a regular DJI drone (such as the DJI Mini 3) with goggles was impossible, but that all changed with the latest update of the. We will explain whether it makes sense to invest in a goggle for a standard drone, and outline which DJI drone models are compatible with goggles.



As a drone hobbyist, you know that the right equipment can completely transform your flying experience. One piece of equipment that can take your drone to the next level is a pair of goggles. Here are some reasons why goggles are important when flying a drone:


Advantages of flying with goggles
An immersive experience: The goggles provide an immersive experience that makes you feel like you are actually in the cockpit of a drone. This allows you to see what the drone sees, and provides a more realistic view of the world below.
Greater control: The goggles provide a better sense of depth, which helps you navigate tight spaces or obstacles with greater precision and control.
Better video quality: with the goggles, you can view high-definition video from the drone, which can help you capture your dream footage
Comparison of flying with and without goggles
Like everything, flying with goggles has its pros and cons. Without the goggles, you are limited to seeing the view from the drone on the screen, which can be difficult to see in bright sunlight. Goggles eliminate this problem by providing a larger, more immersive view from the drone's perspective and allow you to fully immerse yourself in the experience and feel like you're in the pilot's seat.

In goggles, it can be more difficult to maintain spatial awareness, which can lead to accidents. You need to keep in mind that FPV flying is a special category and to fly out of sight you need to undergo training. There are also additional restrictions, which we write about below.


Compatibility of DJI goggles with drones

Yesterday, along with the release of the DJI Mavic 3 Pro, DJI released a software update that allows DJI Goggles 2, DJI Goggles Integra and RC Motion 2 to be connected to drone models:
- DJI Mavic 3
- DJI Mavic 3 Classic
- DJI Mavic 3 Pro
- DJI Mini 3 Pro


List of DJI drones compatible with goggles
For a full list of compatibility, see the table below:
| | | | | | |
| --- | --- | --- | --- | --- | --- |
| Product | DJI Goggles 2 | DJI Goggles Integra | DJI Goggles 2 Motion Combo (DJI RC Motion 2) | DJI Goggles Integra Motion Combo | DJI RC Motion 2 |
| | 6941565928641 | 6941565946621 | 6941565952318 | 6941565952288 | 6941565952646 |
| DJI Mini 3 Pro | Yes | Yes | Yes | Yes | Yes |
| DJI Mavic 3 | Yes | Yes | Yes | Yes | Yes |
| DJI Mavic 3 Cine | Yes | Yes | Yes | Yes | Yes |
| DJI Mavic 3 Classic | Yes | Yes | Yes | Yes | Yes |
| DJI Mavic 3 Pro | Yes | Yes | Yes | Yes | Yes |
| DJI Mavic 3 Pro Cine | Yes | Yes | Yes | Yes | Yes |
| DJI FPV Combo | Not | Yes | Not | Not | Not |


How to connect the goggles to a DJI drone?
With this update, DJI has made it possible to fly selected models of its drones in goggles. If you want to fly your DJI drone with goggles, you need to make sure it is one of the compatible models. Once compatibility is confirmed, you can connect the goggles to your drone and feel the thrill of flying in FPV mode.

Software update
1. Check the list above to see if your device is compatible
2. Update the drone,goggle and motion controller software to the latest version in the DJI Fly app (to update the goggle, connect it with a USB-C cable to your smartphone, fire up DJI Fly and go to Profile>Device Management, then follow the on-screen instructions).

Combination of devices
1. Launch drone, goggle,motion controller and mobile device
2. Open the goggle menu. See in the status if the drone model that displays is correct. If not, select the correct device.
3. Launch DJI Fly, click "connection guide"(connection guide) and follow the on-screen instructions*

*you can also connect the devices manually: to do so, first press and hold the drone's start button for approx. 5s. (until the LEDs start flashing in sequence). Then in the same way, press and hold the goggle/ motion 2 start button for about 5s until they start beeping. When the connection is successful, the devices will stop beeping and flashing. In the goggles you will see a live preview.



Goggle flight restrictions
First of all, it is important to remember that the drone can be flown in two combinations:

Combination 1: drone + goggle + motion controller
Combination 2 : drone + controller (DJI RC Pro, DJI RC, DJI RC-N1)

This means that when using goggles, it is impossible to fly with a standard controller. Flying in goggles, you need to control the motion controller. It's extra learning to fly, but the DJI Rc Motion 2 is a very intuitive device.

Although portrait mode, focus adjustment, digital zoom and smart flight modes such as FocusTrack, MasterShots and QuickShots are not available during FPV flight, you can shoot single 12 MP photos and normal 4K/60 fps videos./s. Maximum video transmission is 6 km.


Which Goggles for your drone to choose?
DJI offers two models of goggles to choose from, each with its own set of features and specifications. In short - Goggles 2 for people with visual impairment, a DJI Goggles Integra for those who prefer cheaper. We write more about the differences between DJI Goggles Integra and DJI Goggles 2 here. We also write about the flight controller there - DJI RC Motion 2.

There are no other goggles to fly, although there is a workaround for this. There are DroneMask goggles, which can be called more of a phone holder. The operation is as follows: a phone running the DJI Fly app is inserted into a special compartment and it is the smartphone that serves as a preview.


Summary
In conclusion, we finally have an update that allows you to fly a standard DJI consumer drone with goggles. There are some limitations, but flying a DJI drone with goggles is an amazing experience that every drone enthusiast should try. Be sure to choose the right goggles for your needs, and you'll be on your way to an unforgettable FPV experience.