Mini SE vs. Mini 2 SE vs. Mini 2: Which DJI drone you should buy?
2023-03-28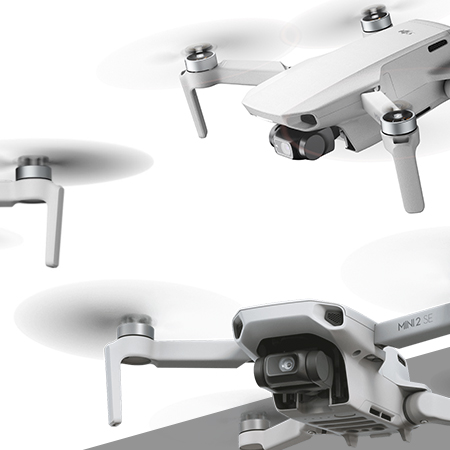 DJI recently released Mini 2 SE, latest a drone weighing less than 250 grams, which is lightweight, easy to transport and requires no training to operate. But how does it compare to its predecessors, the Mini SE and Mini 2? Let's compare and find out which one is right for you.



Construction and appearance
At first glance, all three DJI Mini drones look very similar, and minimal differences can be seen on closer inspection. For example DJI Mini 2 has 4K lettering on its camera and a slightly different, more streamlined body.
Controllers
It's with the remote control, not the drone, that we spend the most time, so it's worth taking a moment and looking at the available options. The Mini SE comes with an older model where the phone is mounted from below, while the Series 2 uses the newer DJI RC-N1 controller with the smartphone mounted above the sticks. The second option has many supporters who find it simpler and more convenient this way. In addition, the DJI Mini 2 is the only one of the three to offer the QuickTransfer feature, which allows you to quickly transfer videos and photos from your drone to your phone.
Differences between DJI Mini SE, DJI Mini 2 SE and DJI Mini 2 drones
Looking at the spec sheet you'll find later in the article, there are a few key differences between the three mini drones.
Camera

Mini SE and Mini 2 SE have 2.7K video quality, while the Mini 2 offers 4K video. However, all drones have the same sensor, so the image quality will perform similarly. All three models offer 12 MP photos, but the Mini 2 SE and Mini 2 save photos in RAW format. This allows you to get more information from your photos and more freedom in post-processing.
Range
This is where the clearest feature introduced in the DJI Mini 2 SE comes in, as it is currently the cheapest drone with very good range. Both Mini 2 series drones use Ocusync 2.0 radio data transfer with a maximum range of up to 6 km. The Mini SE has a range of up to 2 km using a Wi-Fi connection, which can be significantly shorter, especially in the city, as the it is an environment with a lot of interference.
Intelligent modes
Truth be told, we like how technology makes our lives easier? All three drones feature automatic Quickshotz recording modes, but the Mini SE has no Boomerang option and cannot take panoramic photos.
Wind resistance and drone speed
When it comes to mini drones, you often ask us if the wind will just blow them away. It has to be said that for such a small weight they handle the wind surprisingly well, and respectively in the Mini 2 series it is up to 5 degrees resistance, and in the Mini SE up to 4 degrees. The Series 2 will also fly at a slightly faster speed, thanks to better engines.


Comparison of technical specifications of D dronesJI Mini SE, DJI Mini 2 SE and DJI Mini 2
Specification
Drone
DJI Mini SE
DJI Mini 2 SE
DJI Mini 2
Price (Fly More Combo)
2099 zł
2499 zł
3099 zł
Camera

2.7K: 2720×1530 @ 24/25/30p

2.7K: 2720×1530 @ 24/25/30p

4K: 24/25/30p

2.7K: 24/25/30/48/50/60p

Camera

12 MP

12 MP

12 MP

Photo format

JPEG

JPEG/DNG (RAW)

JPEG/DNG (RAW)

Range
2 km
Wi-Fi
6 km
Ocusync 2.0

6 km




Ocusync 2.0

QuickShots

Dronie, Rocket, Circle, and Helix

Dronie, Rocket, Circle, Helix, and Boomerang

Dronie, Rocket, Circle, Helix, and Boomerang

Panorama
-

Sphere, 180°, and Wide Angle

Sphere, 180°, and Wide Angle

Wind resistance
Scale 4
Scale 5

Scale 5

Speed

S mode: 13 m/s

P mode: 8 m/s

C mode: 4 m/s

S mode: 16 m/s

N mode: 10 m/s

C mode: 6 m/s

S mode: 16 m/s

N mode: 10 m/s

C mode: 6 m/s
Compatibility of accessories

It is worth noting that the Mini 2 SE is compatible with accessories designed for the Mini 2, including propellers, batteries and other accessories.
Summary
Overall, the DJI Mini 2 SE is a great addition to the DJI mini drone family, providing an affordable option with a long range. Offers a significant improvement over the Mini SE and compares well with the more expensive Mini 2. If you value a 4K camera, the DJI Mini 2 is an obvious choice. However, if you prioritize range, the DJI Mini 2 SE is the best option. Ultimately, you decide which features are most relevant to your needs.