Mavic Mini vs Mini 2 (Mavic Mini 2) - comparison
2020-11-12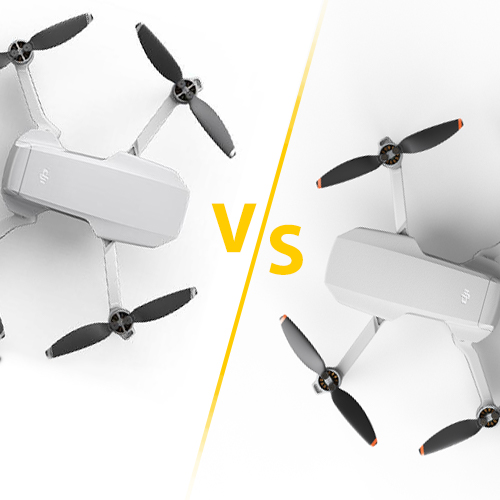 The manufacturer kept the same weight drone- 249 grams, so we can fly a drone in the city without additional licenses. Size drone is almost identical to its predecessor - Mavic Mini 160×202×55mm a Mini 2 - 159×203×56mm. Together with the folding propellers, which have also not changed, you get an easily transportable, handy drone. You can see that the manufacturer has focused on making improvements inside. The camera has gained a caption on the front 4K and it is the video quality that is one of the key changes.
DJI Mini 2 supports video 4K / 30 frames per second, offering higher-quality footage than its predecessor (2.7 K / 30 fps./s). For this class drone with a relatively affordable price is a great result. For the sake of keeping the weight as low as possible, the matrix remained the same - 1/2.3" as well as the resolution of the photos- 12MP. The Mini 2 has also gained the ability to support 4x digital zoom providing the ability to see the details, even when we are high. When recording family, friends or pets, you can safely capture the subject without flying too close. In addition, you can save photos not only in JPEG. The image storage format has been expanded to include RAW, providing greater flexibility in post-processing.
Connection technology OcuSync 2.0 allowed to increase the range as much as 3 times to 6000m. This is the maximum range, bearing in mind that, for example, in the city, where there are many antennas and electronic devices, the connection is interfered with and the range will be smaller. Nevertheless, the new technology used in the Mini 2 provides a more stable signal and connection to the drone. The maximum altitude ceiling to which we can fly has also increased from 3,000 to 4000 m.n.p.m.
A very common question asked is whether the Mini, due to its small weight and dimensions, will literally be "blown away" by the wind? We answer no! The wind resistance of the Mini 2 increased to 30.6 - 37.8 km/h that is, a fairly strong wind, during which small trees sway is not terrible to him. That's the same as in a professional, weighing almost 4 times as much Mavic 2 Pro. Speed drone is another thing that has been increased from 13 to 16m/s. This allows you to fly faster to the destination from which you want to record or to dynamically change shots.
In addition to quick automatic shots, which are available w Mavic Mini, or Dronie, Circle, Helix i Rocket an additional function is available Boomerang as well as panoramic photos. Thanks to QuickTransfer we can download content from the Mini 2 at a speed of 20 MB / s, when the drone is close to a smartphone. Another option is trimmed download - before downloading a video to a smartphone, we can trim it by selecting only the part we are interested in. This way the material will take up less memory on our smartphone.
In the new edition, the controller has been changed to this newer generation. Same as in Mavic Air 2, which also premiered this year. The main , most important change is the placement of the phone holder at the top. This way, your hands won't cover the screen and your head doesn't have to be bent as much . The apparatus is more massive, which will definitely prove to be a plus for those with large hands. Larger battery will provide longer flight time on a single charge.
How is the Fly More Combo different from the basic version?
Mavic Mini 2 is sold in two versions- basic and extended.
In the Fly More Combo set, we gain:
carry bag

2x rechargeable batteries

charging hub

propeller lock

additional propellers
The basic version is a whole kit ready to fly, while the Fly More Combo provides more convenience. With three batteries, we can afford a longer flight time, and the bag will protect the drone in transport and hold all the accessories shown in the photo. In a set it comes out cheaper, but if we know that we will usually make a short, single flight (30 minutes) the basic version is completely sufficient for us.
Mavic Mini 2 is a whole host of improvements introduced. Drone has more professional features. It will come in handy for people who want a great camera while still being able to be mobile. It will be a great choice if you are starting out in photography and do not want to spend a fortune. The older version of the Mini (although not so old because there is a 10-month difference between the drones) is an ideal choice for amateurs who take their drone on vacation or like to create standout photos and videos that will look great.
Recommended