Mavic 3 Enterprise vs Mavic 3 Thermal vs Mavic 3 Multispectral | drone comparison
2023-07-13
The introduction of drones into the industrial world has the revolutionary impact of on many industries and the ways in which they achieve their goals. More and more companies are realizing how the drone allows them to getting the job done faster, more efficiently and more safely. If you take a look at the chart below, you'll notice that the commercial drone market is the most rapidly changing segment, and the numbers are only expected to grow in the coming years. Investing early will allow you to get ahead of the competition and achieve success in today's dynamic business environment.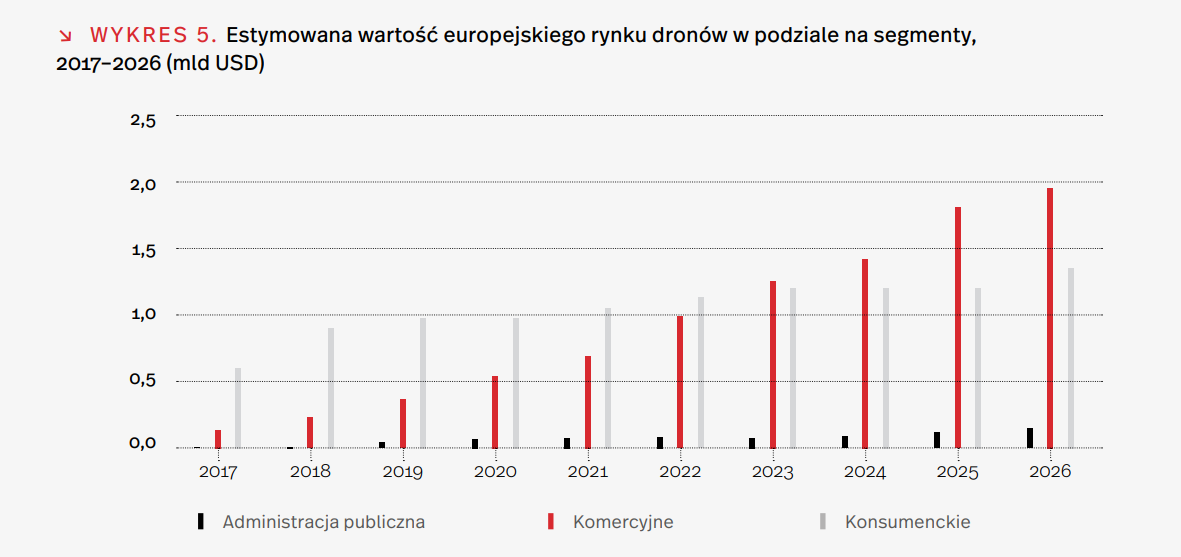 Source: White Paper on the Unmanned Aerial Vehicle Market FEBRUARY 2019
Therefore, in this article we will look at one of the the most popular and cutting-edge series of enterprise drones for commercial use - the DJI Mavic 3. We will analyze the functions of drones DJI Mavic 3 Enterprise, DJI Mavic 3 Thermal i DJI Mavic Multrispectral. You will learn what capabilities this technology provides and how it increases the attractiveness of projects and services. We will highlight their usefulness for industries such as surveying, inspection, energy, forestry and emergency operations. Whether you want to invest in a drone for your business or learn more about the benefits of how drones are changing traditional practices, bringing efficiencies, this article is for you.
DJI Mavic 3 series - compact and innovative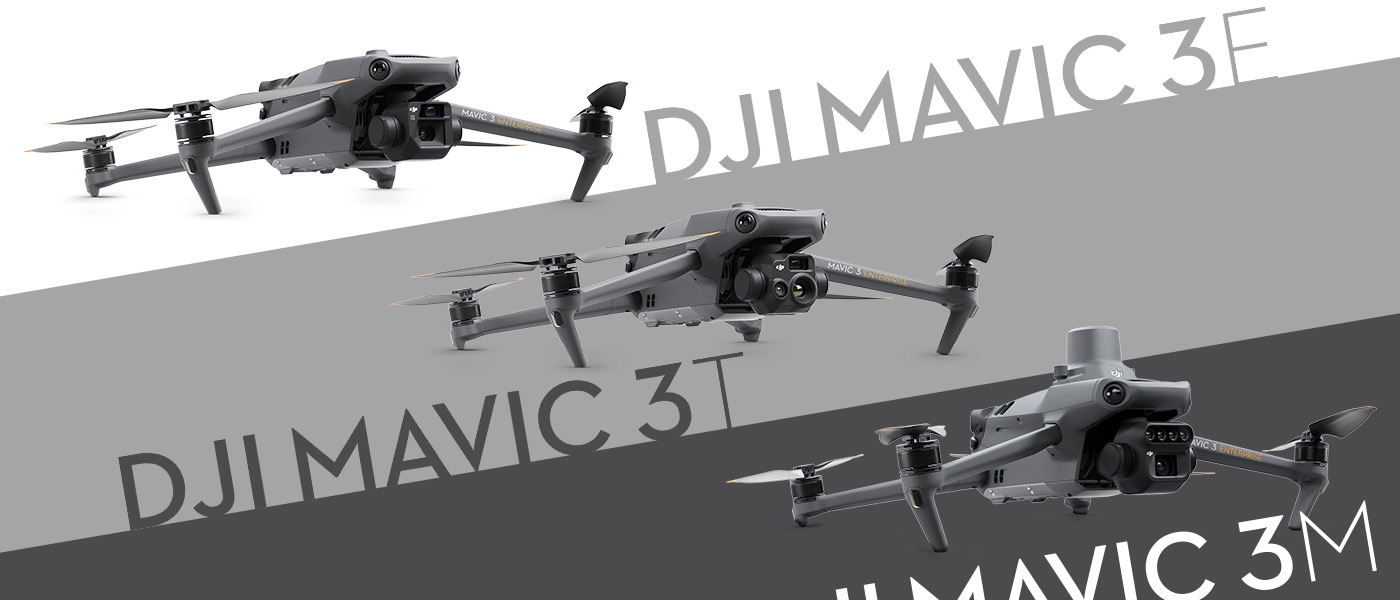 DJI Mavic 3 series launches Enterprise drone class from DJI. They appeared on the market in 2022 and come in three versions: DJI Mavic 3 Enterprise, DJI Mavic 3 Thermal and DJI Mavic Multrispectral. They currently represent the smallest drones in the DJI Enterprise family.
Commercial drone development
The Mavic 3 is the successor to the popular DJI Phantom series of drones, redefining the industry standard for "small" commercial drones. With the development of technology, Mavic 3 are better in almost every way than their predecessors. Drones in new series are:
smaller and weigh less, with their

wind resistance is higher;
flight time increased by an impressive 150%

, providing expanded operational capabilities;

air missions are now being carried out at speed

2 m/s faster than before

;

greater camera capabilities

both in terms of the size of the matrix, the accuracy and amount of data received and the speed at which it is recorded.
Unlike Phantom drones - the drones in the new DJI Mavic 3 series are foldable, making them much more conveniently transportable and offers features that were until recently only available in 4x more expensive drones e.g. Matrice 300.
DJI Enterprise Models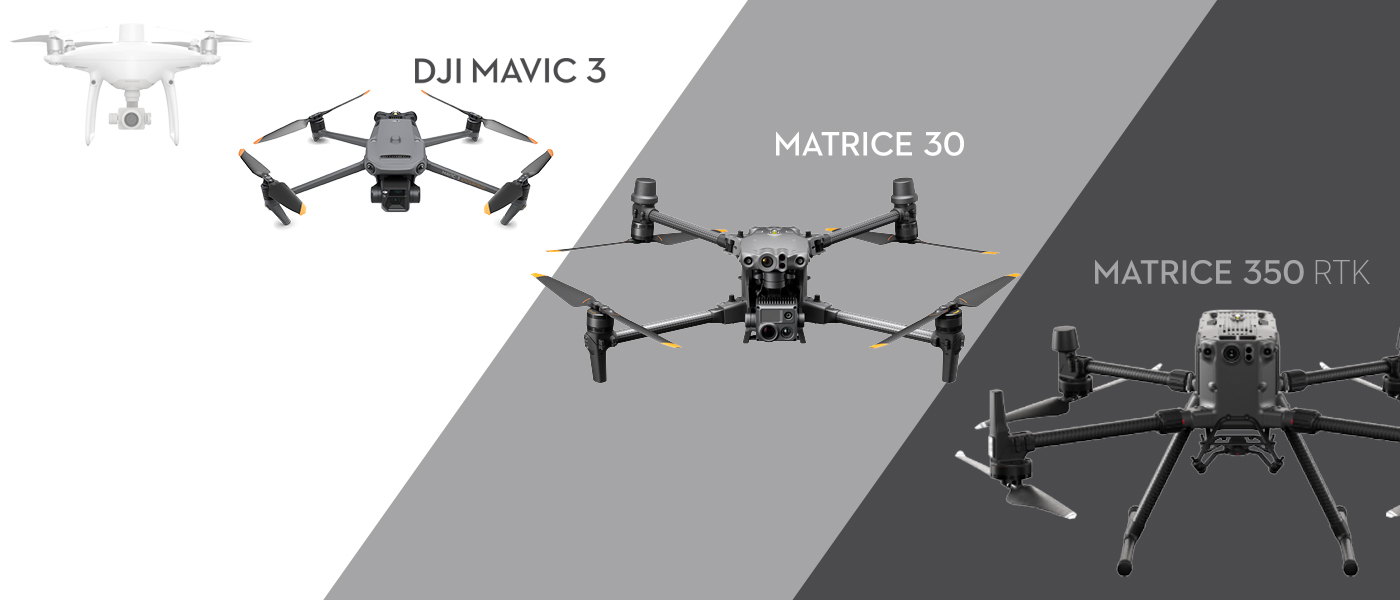 If you primarily care about small and portable, then the DJI Mavic 3 series may be the perfect solution for you. However, if you need a drone with greater weather resistance or interchangeable camera system, you should be interested in more advanced models, such as Matrice 30/30T or Matrice 350. These high-tech drones offer additional features and capabilities that allow them to work in more challenging conditions, such as strong winds or rain. It is important to keep in mind that the higher quality and specialized features of these models go hand in hand with the higher costs. So it is worthwhile to carefully analyze your needs and budget before making a decision. You can read more about the Matrice 30 and 30T models in the our article.
Similarities and differences between the DJI Mavic Enterprise, Thermal and Multicpectral drones
Drones differ in many ways, but they also have many common elements. By analyzing their parameters and applications, you can determine which model best suits your needs. The similarities and differences will allow making an informed choice drone, it is worth taking a closer look at these aspects to find the perfect model for a specific purpose
Common features of drones
Before we move on to discuss the unique features of each of these drones, let's take a look at what they have in common. All three mavic 3 models share the same chassis and internal electronics, which means that many flying-related features remain identical.
| | | |
| --- | --- | --- |
| Weight | 915-951 g | Slight weight differences are due to the size of the cameras. |
| Flight time | 43-45 min | With a large capacity 5000 mAh battery. |
| Range | up to 8 km | O3 technology transmission allows for greater stability. |
| Obstacle detection sensors. | On each side. | Wide-angle vision sensors on all sides for omni-directional obstacle avoidance without blind spots. |
| Operating temperature | from -10 to 40 | Allows you to work in many conditions. |
| Max wind resistance | 12 m/s | With a streamlined body and high-powered motors and modern propellers. |
| Automatic homecoming | Yes | Advanced RTH will automatically plan the best route home and adapt it to the environment, saving energy and time. |
| Terrain Follow | Yes | Particularly useful in areas with large differences in elevation. Terrain Follow ensures that the elevation between the drone and the ground below remains the same, making the ground sampling distance (GSD) of images collected in each area consistent. |
| Pinpoint | Yes | Set the orietan point of the drone on the map with the ability to sort and catalog various points and display them in real time on the map. Additional ability to point the drone's camera towards a set point. |
| Point of Interest (POI) | Yes | When POI mode is enabled, the drone flies around the selected PinPoint in a circle, making it easier for users to take orbital photos. |
| Smart Oblique Capture | Yes (*this function is missing on the DJI Mavic 3 Thermal, and on the DJI Mavic 3 Multispecral this option is only possible with the RGB camera) | During flight, the gimbal automatically rotates in three directions: front, center and rear. Two routes can gather all the images at the angle needed for precise 3D modeling. |
| Mapping | Yes | The user marks the area to be explored by the drone, and it takes a series flying along an "S" shaped route. |
| Linear Task | Yes | The line task is used to collect orthophotos for strip-shaped areas, such as rivers, pipelines and roads. |
| Waypoints | Yes | You can plan Flights with waypoints in two ways: setting navigation points by putting them on the map or recording a live mission with the ability to replay the same route of the drone. |
Thanks to these features, drones from the Mavic 3 series are able to perform almost any complex task, ensuring safety and high efficiency. What first and foremost, the difference between these drones is the camera.
DJI Mavic 3 series differences
The most important differences between these drones can be found in the cameras of each model. Therefore, it is essential to look at the capabilities of these advanced cameras.
DJI Mavic 3 Enterprise - amazing camera capabilities
The DJI Mavic 3 Enterprise drone is distinguished by its the most advanced photographic capabilities of the models in question. It has two cameras - a wide-angle camera and a telephoto lens. Wide angle camera 4/3 CMOS with 20MP and 24mm focal length along with the built-in mechanical shutter allows for photos without blurring during movement. Terrain mapping can be done quickly, and the gap between images is only 0.7 seconds. Intelligent low-light mode will provide better quality photos in low light. Second 12MP Tele lens with 162mm focal length allows you to zoom the image as much as 56 times, which allows for detailed and precise shots. Thanks to them, this drone provides photogrammetry options unparalleled among the Mavic 3 series models.
DJI Mavic 3 Thermal - advanced measurements and thermal imaging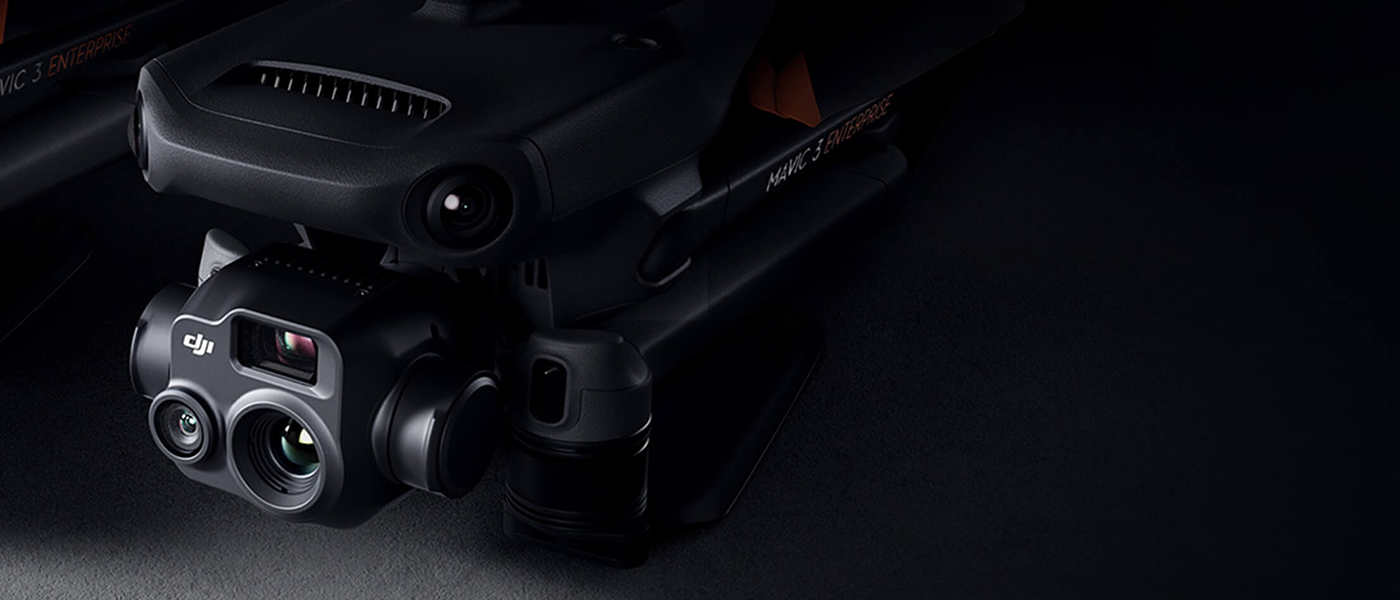 The DJI Mavic 3 Thermal drone is revolutionizing aerial inspection with three advanced cameras: wide-angle, telephoto and thermal imaging. The wide-angle and telephoto camera are similar in performance to the previously described drone, but have a smaller sensor and limited shooting capabilities. The drone is designed to provide thermal imaging data, so we will focus on the thermal imaging lens. Thermal imaging camera 640 x 512 , enables both point measurement, allowing monitoring the temperature at specific points, as well as a surface measurement, allowing the temperature of a larger area to be analyzed. Temperature measurement range is -20°C to 150°C in high gain mode and 0°C to 500°C in low gain mode. A variety of color palettes are offered, so you can match images to your preferences and different scenarios. 28x zoom will allow thermal image magnification and larger scale detail analysis. It will ideally serve emergency services during night operations, inspections and search and rescue missions.
DJI Mavic 3 Multispectral - a powerful platform for agriculture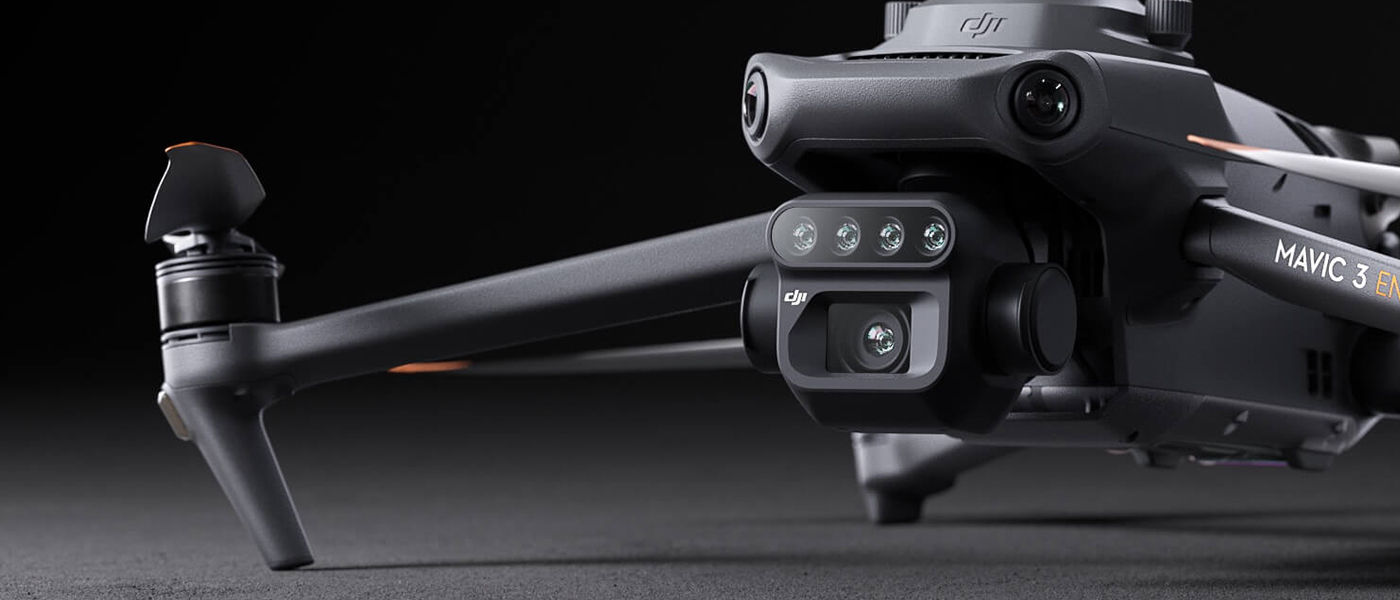 The drone has two cameras - an RGB and a multispectral camera. The capabilities of the base camera are identical to those of the Mavic 3 Enterprise - 4/3 CMOS 20 MP. We will focus on the multispectral camera. The sensor of the Mavic 3 Multispectral camera is a 1/2.8-inch CMOS with effective pixels of 5 MP. The f/2.0 aperture provides just the right amount of light for image quality in a variety of lighting conditions. The Mavic 3 Multispectral camera offers both a single shot as well as timelapse mode, which allows you to create a sequence of images at a specific time interval. In addition, the camera offers video recording modes in special spectral filters, such as NDVI (Normalized Difference Vegetation Index), GNDVI (Green Normalized Difference Vegetation Index), and NDRE (Normalized Difference Red Edge), which enable the accurate analysis of plant health and other ecosystem-related factors.
Comparison table of cameras
We took the liberty of showing the described data additionally in a table:
Drone
Mavic 3 Enterprise
Mavic 3 Thermal
Mavic 3 Multispectral
Photo
Wide angle lens

4/3 CMOS;

20 MP

Electronic shutter 8-1/8000 sec and mechanical shutter 8-1/2000 sec.

Aperture f/2.8-f/11

ISO 100-6400

1/2" CMOS;

48 MP

Electronic shutter 8-1/8000 s

Aperture f/2.8

100-25600

4/3 CMOS;

20 MP

Electronic shutter 8-1/8000 sec and mechanical shutter 8-1/2000 sec

Aperture f/2.8-f/11

ISO 100-6400

Video

4K:

3840×2160@30fps

4K:

3840×2160@30fps

Telecamera

1/2-inch CMOS:

12 MP

Electronic shutter 8-1/8000 s

1/2-inch CMOS:

12 MP

Electronic shutter 8-1/8000 s

Zoom
56x hybrid and 8x optical zoom
56x hybrid zoom
Thermal imaging camera
640 x 512 at 30 Hz
Multispectral camera

1/2.8 " CMOS

5 MP

Four bands, each with a 5 MP camera:

Green (G): 560 ± 16 nm;

Red (R): 650 ± 16 nm;

Red edge (RE): 730 ± 16 nm;

Near Infrared (NIR): 860 ± 26 nm

Electronic shutter 1/30~1/12800 s
Mavic 3 series drones - areas of application
Drones DJi Mavic 3 Enterprise, Thermal, Multrispectral are designed for a variety of activities. What distinguishes them is first of all their cameras, so that each of these advanced models is used in specific areas.
DJI Mavic 3 Enterprise
The DJI Mavic 3 Enterprise drone, thanks to its advanced cameras, is used in those industries where high-quality images are required. It will work ideally for infrastructure inspections, such as power lines, bridges or telecommunication towers, as the allows for precise and accurate image capture. In the property management industry, a wide-angle camera can be used for inspections of buildings, elevations and roofs, and the telephoto lens for detail shots. The unmanned aircraft also has applications in rescue and security, enabling real-time monitoring of the situation, searching areas that are difficult to access and providing key information. Drone ideal for raids, photogrammetry, including 3D, thanks to oblique capture, which we wrote about above. It flies fast, it's light, it's cheap, it's small - it's a killer among mapping - as our specialist Simon puts it. Here are some of the benefits of using this drone:
Accurate measurements and site mapping enable precise planning and identification of problems before construction work begins.
Drone performs inspections and monitors facilities, assessing the technical condition and identifying damage.

High-quality photos and aerial footage provide visuals of projects and help clients understand the space and end results.

Real-time monitoring of work progress enables effective project management, minimizing delays and problems.
Replacing dangerous human work with drones reduces the risk of accidents and reduces costs related to hiring additional manpower.
DJI Mavic 3 Thermal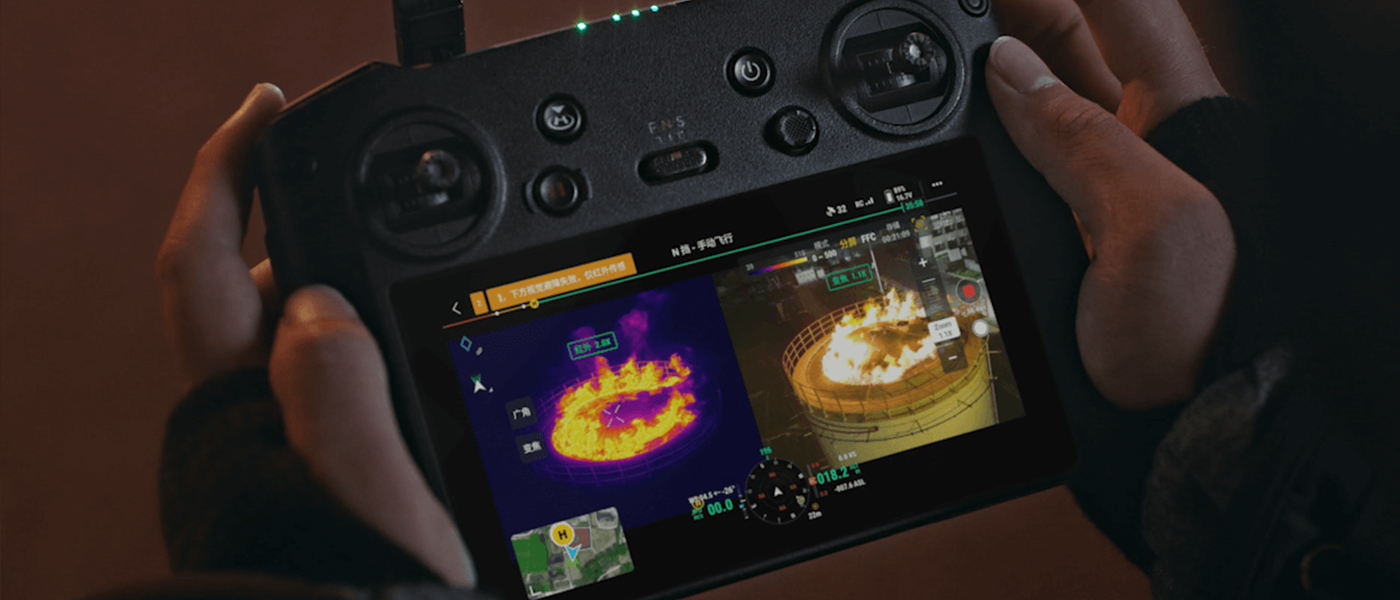 The Mavic 3 Thermal is a drone model that is designed for use in the in the public safety industry, search and rescue operations and inspections. Equipped with thermal imaging camera, provides an excellent tool for performing simple tasks in these areas. Saves time and money by replacing traditional methods that require more time, manpower and transportation resources. It provides an effective and economical solution. Here are some of the benefits that come with using this drone:
Excellent flight characteristics, especially compact size and low weight, Mavic 3 Thermal is extremely practical for transportation.
Advanced lighting systems enable safely conduct night operations.
Patrols areas, monitors crowds and responds quickly to emergencies, increasing the level of security.
Allows thermal scanning to detect fires, leaks, assess building insulation and identify areas of elevated temperatures.
Immediate response to emergency situations by providing images from the scene of the incident in real time.
DJI Mavic 3 Multispectral
Mavic 3 Multispectral camera is extremely useful in various flora applications. Its ability to record images in different bands of the electromagnetic spectrum makes it possible to accurate plant health testing, disease detection, soil quality analysis and chemical composition assessment. In agriculture, the multispectral camera can be used to monitor crop yields, assess fertilization, detect plant diseases and pests, and optimize cultivation processes. With spectral filter images, it is possible to accurately identify areas with damage, water shortages or other problems, which contributes to effective crop management and increased productivity. In environmental protection, the multispectral camera is being used for monitoring forest areas, ecosystem studies, detecting climate change and assessing water quality. Analysis of multispectral images makes it possible to identify endangered areas, study human impact on the environment and take appropriate measures to protect nature. Here are some of the benefits of using this drone:
Precise monitoring of plant health, nutrient deficiencies and the presence of pests enables quick response and minimization of losst.
Providing information on soil moisture, allowing adjustment of irrigation and fertilization, leading to savings of natural resources.
Detection of diseases and pests at an early stage allows for effective intervention and reduced use of chemicals.
Three-dimensional terrain maps and crops facilitate precise planning, increasing production efficiency.
Additional accessories for these drones
Each Mavic 3 series drone is offered in a kit that includes the camera, carrying case, one battery, software for 3 months and insurance from the manufacturer. This insurance allows a drone to be repaired for a small fee in the event of an accident caused by the operator and can be purchased for one or two years. In addition, the equipment comes with a standard 2-year manufacturer's warranty.
This means that the kits are ready to use right away. However, it is worth investing in additional batteries, which will extend the drone's operating time, and in multi-channel charger, allowing simultaneous charging of multiple batteries. Worth considering set of 3 batteries with charger. The manufacturer has also provided for the possibility of mounting additional accessories, which expand the capabilities of the drone:
RTK module: Provides precision down to 1 centimeter (included for Mavic 3 Multispectral).
Speaker: Enables long distance broadcast of audio messages.
Software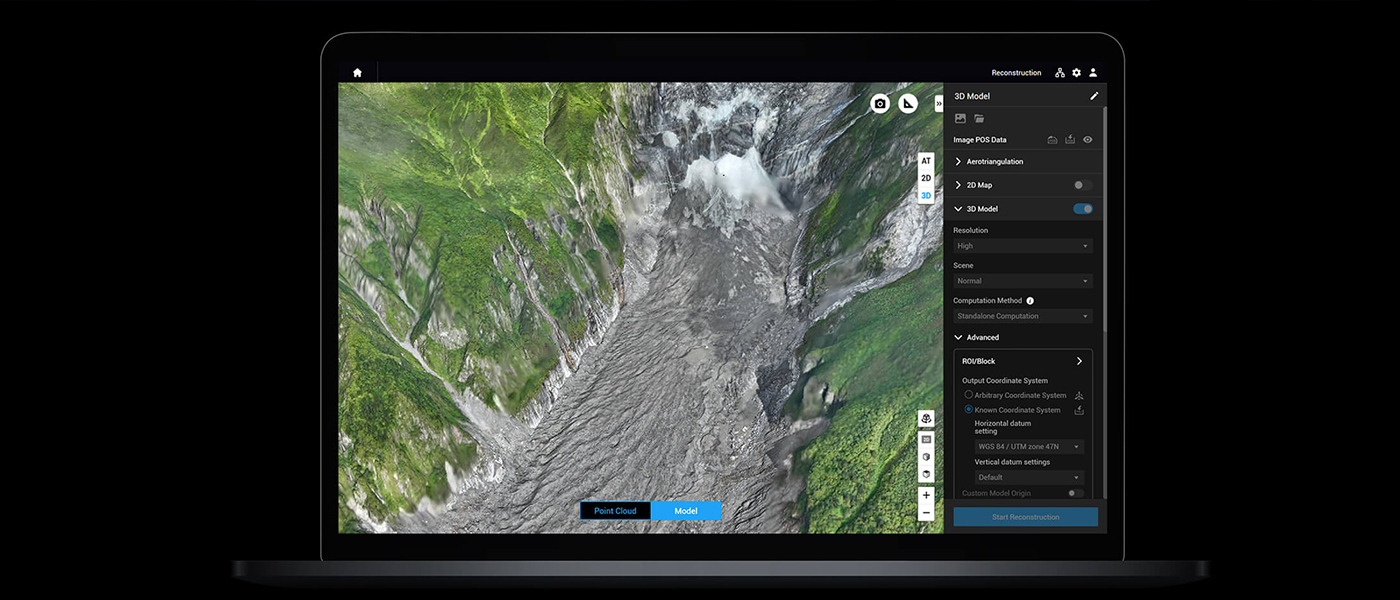 No additional software is needed to fly the drone itself, as each of the Mavic 3 series has advanced built-in features, about which we wrote above. However, the purchase of additional software is essential for specialized applications, if the user needs specific solutions such as a 3D model or more accurate data.
The most popular drone software is PIX4D, which offers programs to support from photogrammetry departments to precision agricultural mapping. Software prices range from £145 to about £950 per month, depending on the purpose and sophistication of the software. It is possible to try for free for 15 days.
In addition, many people use DJI Terra, which is available in 5 different configurations depending on the application. The Mavic 3 Enterprise series drone comes with the drone for 3 months for free. This software has the ability to plan 3D missions, 3D reconstructions, corridor missions and detailed inspection missions. Such a DJI Terra license for one device costs approx. 15 thousand. pLN per year.
DJI Mavic 3 Multricpectral additionally comes with the following DJI SmartFarm Platform for 1 year, which is a data visualization and remote management application. For this drone developed for narrow drone industries, there are programs such as QGIS and SNAP (free programming with a huge number of capabilities, but you have to spend more time to learn them) and ArcGIS - paid with even more possibilities. You can check the price at ESRI.
Training
With the introduction of new regulations in 2021, the division between hobby and commercial drones has disappeared, meaning that the the operator of a drone flying for commercial purposes no longer needs a mandatory license, as was previously the case. All three drones in the Mavic 3 series weigh more than 900 grams, allowing them to be used within the open category, in the A3 and A2 subcategories. The operator must maintain an adequate distance from buildings, respectively for these subcategories is 150 and 30 meters. For more information, see our article.
However, what if the operator has to get close to the building or bystanders? In such a situation, it is necessary to complete one of the training courses in the special category, which have different prices, starting from PLN 899 up to PLN 3,000:
1. NSTS-01: Training on flying drones weighing up to 4 kg within line of sight (VLOS).
2. NSTS-05: Training on flying drones up to 4 kg out of sight (BVLOS).
Specialized training courses are also available that offer, in addition to drone piloting skills practical knowledge of such fields as photogrammetry or thermal imaging. The prices of these trainings are of course higher and are around 2-4 thousand zlotys.
Summary
Mavic 3 Enterprise, Mavic 3 Thermal and Mavic 3 Multispectral are advanced drones offering specialized features and versatile applications. Mavic 3 Enterprise this is the most accessible and powerful survey drone, which ensures security and high image quality. The Mavic 3 Thermal is the ideal tool for thermal imaging inspections and precise temperature measurement of objects. Great for emergency services, inspections and night operations. Mavic 3 Multispectral allows you to capture images in different spectral ranges and analyze the data, increasing efficiency and optimization in agriculture and ecological research. All three drone models offer cutting-edge technologies that make them indispensable for professionals and businesses in many fields.