DJI Avata - launch of new FPV drone
2022-08-25
DJI Avata (not Avatar! as many people confuse), is the second FPV drone from the DJI brand. Successor DJI FPV is much smaller than its predecessor, has a completely different design and is much more impact resistant. It is the first CineWhoop drone from DJI and is sure to find many followers. Especially among those who want to create dynamic, cinematic shots and are looking for a kit that is completely set up and ready to fly.
DJI Avata - Cinewhoop
What sets the new drone apart is definitely the design. This is the first drone from DJI, of the CineWhoop type, which is smaller, more stable and safer than a typical racing drone. It has built-in propellers in one integral shield, which in the event of an impact with an obstacle will prevent the propellers from stopping. On collision, the drone bounces off the surface of the object and after a while you can continue flying. The gimbal is also well designed, with virtually no contact with the obstacle on impact.
Even if the drone falls upside down, a special Turtle mode will allow it to rise back up again. Lower obstacle detection sensors allow you to fly very low to the ground. The weight is only 410g, and the dimensions are 18 x 8 x 18 cm. This definitely increases the mobility of the drone itself, which will quietly fit into a small backpack.
DJI Avata - camera in FPV drone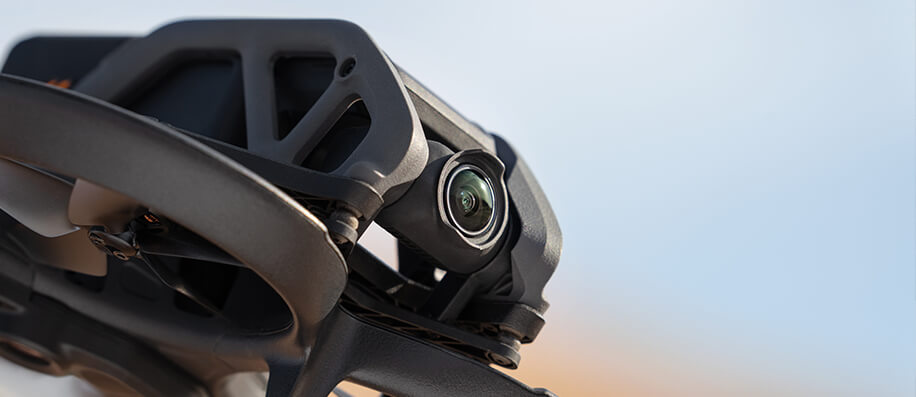 DJI Avata has the ability to record at 4k 60 fps and create JPEG images of 4000 x 3000 px. Combined with a 1/1.7'' sensor at a resolution as high as 48MPix, with an aperture of (quite dark) 1/2.8'', you will get very good quality and effects of the recordings. Compared to, for example, the GoPro 10 (which is usually mounted on this type of racer) in the DJI Avata drone, the sensor is larger, so shots in poorer lighting conditions will perform better.
The drone has single-axis gimbal stabilization, so up/down camera movement is possible, which is a unique feature for a racer. In addition, the stability of the image is ensured by the electronic technologies RockSteady 2.0 and HorizonSteady. The drone has 20gb of built-in memory and a memory card slot with a maximum capacity of up to 256gb. The device records video at a recording speed of up to 150mpbs. For such a lightweight piece of equipment, the camera has great parameters.
Performance of DJI's new FPV drone
The battery in the new Avata has a capacity of 2420 mAh which allows for a max. 18 minutes of flight. In practice, it is about 14 minutes (depending on the airspeed and wind). For a racer that usually flies around 8 minutes, this is a breakthrough result.
The maximum speed in unassisted flight is over 97km/h, and the climb/descent speed is 21.6km/h, which is also a very good achievement. Range is 2 kilometers. RTH (Return to Home) function will make it easier to return to the user. Transmission quality is related to goggles, about which we write more below.
DJI Avata price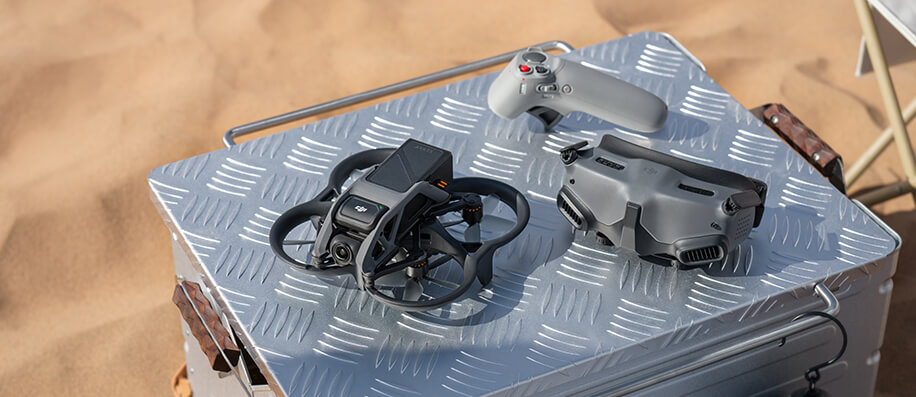 Avata racing drone is available in 3 options. The first is the drone itself, which can be opted for by those who already have DJI FPV Goggles V2 and a controller. The next two sets differ in the goggles, which we write about below.
As standard, you can buy a Fly More Kit for the drone, which includes additional batteries and a charging hub. Neither set has a controller DJI FPV Remote Controller 2, which can be purchased separately for £759. The sets also do not include a charger. The manufacturer recommends buying and using 65W chargers.
| | | | | |
| --- | --- | --- | --- | --- |
| | Fly More Kit | DJI Avata | DJI Avata Fly Smart Combo | DJI Avata Pro-View Combo |
| Price | pLN 1,249 | pLN 2,949 | pLN 5,849 | pLN 7,299 |
| DJI Avata drone | - | | | |
| Smart battery | | | | |
| 3 pairs of propellers | - | | | |
| Power adapter | - | | | |
| Gimbal cover | - | | | |
| USB-C - USB-C cable | - | | | |
| DJI Motion Controller | - | - | | |
| DJI FPV Goggles V2 | - | - | | - |
| Battery pack for DJI FPV Goggles V2 | - | - | | - |
| DJI Goggles 2 | - | - | - | |
| Battery pack for DJI Goggles 2 | - | - | - | |
| Dual-band antenna | - | - | | |
| Headband | - | - | | |
| Goggle frames | - | - | | |
| Charging hub | | - | - | - |
DJI Avata availability
The DJI Avata drone in kits is available from 29.08.2022. The drone itself can also now be purchased without extras at pre-sale. Availability for the first few months will be limited.
Drone, insurance and Fly More Kit can be found here.
New FPV goggles - DJI Goggles 2
DJI released with latest drone DJI Goggles 2, available in Pro-View Combo version. The new goggles are small and lightweight - weighing 122g, and with the headband only 290g. They have a smaller screen, but higher resolution - Full HD with as much as 100Hz refresh rate. The range is 2000 meters and the transmission delay time is only 30ms which makes the quality of the transmitted image ultra smooth.
New features include diopter adjustment from +2.0D to -8.0D and foldable antennas. These will be the first goggles from DJI to be customized in such a huge way for each user. A comparison of the goggles can be found below:
Parameters

DJI FPV Goggles V2
New DJI Goggles 2

Design

Weight

119 g

420 g (with band and antennas

122 g

Approximately 290 g (with headband)

Dimensions with antennas extended

202×126×110 mm

197×104×105 mm

Screen size

2"

0.49"

Screen resolution

1440×810

1920×1080

Video transmission quality and delay

810p/120fps less than 28ms.

810p/60fps less than 40ms

1080p/100fps less than 30ms.

1080p/60fps less than 40ms.

Refresh rate

144Hz

100Hz

Working time

Approximately 110 minutes

About 2 hours

Dioptric adjustment capability

no

+2.0D to -8.0D
What are the changes compared to its predecessor DJI FPV?
Although both devices are FPV drones, they both serve different purposes and shots. Avata's design makes it possible to fly it into small gaps and fly close to obstacles without risking the equipment beyond repair. The dimensions are smaller, and as a result, the DJI Avata has less wind resistance and is slower.
For a comparison of drones, see the article DJI FPV vs DJI Avata
DJI's new racing drone has better optics than its predecessor. The matrix has been enlarged, and the resolution has increased by as much as 4 times. The gimbal of the drone itself, compared to its older brother, has a greater mechanical range of -95° to 75° and a control range of -80° to +65°.
DJI Avata - another step toward the future
New DJI Avata drone is another innovation from DJI. A step towards those who do not want to invest in everything separately (drone, camera, camera and goggle), and have an agile, accident-proof drone in a ready-made kit. For a strictly FPV drone, it also has very good video/photo optics, as well as flight-return and obstacle-detection sensor features.
What puzzles is the lack of a traditional control apparatus in the kits, which can be purchased, of course, but those accustomed to a regular controller may be unhappy about it. Perhaps the manufacturer sees the future in controlling FPV drones using motion, and that's the trend we'll see in the next few years.