DJI Air 3 drone launch - 7 most interesting novelties
2023-07-25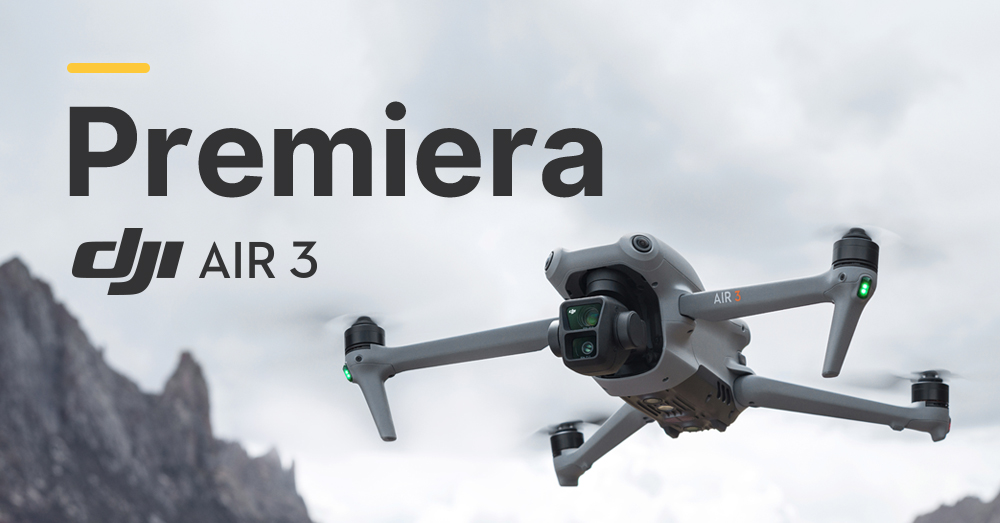 Today (25.07.23) held the launch of a new drone DJI Air 3. This is the fourth drone in the Air series (successively after Mavic Air, Mavic Air 2, Mavic Air 2S). The manufacturer has refined the well-known design and introduced improvements not yet seen in drones of this series. In this article, we take a look at the new drone and give you the top 7 amazing capabilities of the new drone.
1. We are entering the era of multiple cameras in a single drone

It seems that, like smartphones, which typically have 2 to 3 lenses each for different purposes, the largest drone manufacturer is moving toward making one drone do as many tasks as possible. As with the drone DJI Mavic 3 latest Mavic Air 3 is equipped with a dual-camera setup.
Both cameras have the same sensor size 1/1.3 CMOS, however, a different focal length, which allows for more possibilities in building a story with a picture. We know that many users were hoping for a 1-inch CMOS, as was the case with the predecessor released 2 years ago, the Air 2S. However, remember that the size of the matrix is not the only parameter that affects the quality of the. In this case, thanks to the f/1.7 aperture, more light falls on the sensor. DJI declares that the night image from the Air 3 will be better than Air 2S.

Advanced wide-angle camera to capture landscape in one shot. Equipped with a sensor 1/1.3" CMOS having 48 MP effective pixels. Its focal length is 24 mm, and the camera lens covers a field of view of 82°. With aperture f/1.7 you can get standard as well as amazing shots when you use a drone. The camera can capture images in RAW format with color mode 10-bit D-Log and 10-bit HLG, which guarantees the preservation of all details and image quality. In addition, you can record videos in 4K/100FPS, which provides extremely rich and realistic video quality. Solution Night Mode, enables video recording at a resolution of 4K/30FPS in difficult night and low-light conditions.
The camera with a medium telephoto lens has a a focal length of 70 mm z 1/1,3" inch sensor CMOS,48 MP effective pixels and 3x lossless optical zoom. Ideal for capturing landscapes, recording videos 4K/100FPS with fixed aperture f/2.8 and a 35° field of view. Just like the wide angle camera, it has a color mode 10-bit D-Log and 10-bit HLG and capturing images in RAW format.
2. Innovative charging and increased flight length
Compared to its predecessors flight time has been increased by 148%. Now the DJI Air 3 drone will fly 46 min, but that's not all. Using a 100-watt charger, the batteries will recharge in a flood of 60 min. A new power accumulation function for batteries has been introduced. It relies on the fact that while they are together in a charging hub, units with low energy can transfer their power to the most charged battery. Thus, in a critical situation, you can gain an additional several minutes of flight time.

This technology also works the other way. DJI batteries have always been smart, which means they have a number of safety features and functions to extend their life. However, even such advanced devices can be damaged if they are not charged for an extended period of time (approx. 3 months. - for more information on how to care for your batteries, see our article). What has been added is a battery with a higher charge level will transfer its energy to others, so that there is no excessive, harmful discharge.
3. For the first time, the Air series provides obstacle detection from all sides
This is something that hasn't been seen in Air series drones before. Thanks to the DJI Air 3 drone - 6 sensors of the type Fish - Eye the drone is able to detect obstacles from all sides. Accordingly, the drone also features a system of Apas 5.0 and Activ Track from 8 pages.
4. Automatic shots for both lenses
Quick Shots are automatic flight modes, where with one click the drone automatically performs, for example, a fly-around of a person, so you get a professionally shot with no effort at all. For the DJI Mavic Air 3 drone, both cameras support Quick Shots modes. This option doesn't even come with the DJI Mavic 3 Pro for now, although DJI conveys that such an upgrade may come in the future.
5. Waypoints
For the first time in the Air series, the following is now available waypoint function. It allows you to plan your flight path in advance and get smooth movements and captivating individual shots. Such a route can be saved for later accurate reproduction and obtain transitions, such as day into night.
6. Excellent coverage
This is due to the attention... new controllers and the latest generation of transmission OcouSync 4.0,DJI Air 3 allows for even more freedom in flight and obstacle-free exploration of remote areas. The drone uses the latest o4 transmission system, which translates into an incredible range of up to 10 km, whether you are in the mountains, in the fields or at the seaside. With this solution, you can enjoy a stable connection and excellent signal quality, which in the case of video transmission at a resolution of 1080p/60FPS stands for stunning in-flight visual experience.
7. The application with Ai itself will add sound effects?
Many people are recording with a drone, and not necessarily sharing the results. This may be due to the fact that post production, e.g. learning to assemble, causes problems. DJI recognized this and created the app LightCut for mounting on a phone, which with the click of a button makes a satisfactory video. Software detects camera movement and objects and selects the best moments. In addition, based on the picture selects sound effects. We haven't tested it yet, but it's worth mentioning because new templates are still being added, and we can see that it's moving in the direction of making content creation much easier.
DJI Mavic Air 3 - prices and availability
Today, on July 25, 2023, began sale of DJI Mavic Air 3 drone, which in limited quantities is available on hand. It's worth taking your place in line, as supplies will be limited at first. The Air 3 drone can be purchased in a basic version with a controller without a screen (DJI RC-N2) or in combo versions with both a camera with a screen (DJI RC 3) and without a screen. Below is a price chart for the DJI Mavic Air 3 drone:
Drone DJI Air 3 offers different sets depending on the configuration, and their prices range from 5,399zl to 7,599zl. Prices are extremely competitive compared to the versatile features and capabilities that this model offers. Offering so much for the price, the DJI Air 3 becomes a very attractive option for drone enthusiasts and professionals who are looking for an excellent combination of quality and performance. Regardless of the version you choose, the DJI Air 3 is sure to provide a great flight experience and allow you to explore the world from an extraordinary perspective.

As standard, insurance from the manufacturer DJI Care Refresh is available for the drone as follows per year priced at PLN 549 and at two years priced at £949.
DJI Mavic Air 3 - position in the drone market
The Air 3 model is currently the the only dJI drone with two cameras. The only model that had two cameras, the DJI Mavic 3, has been withdrawn from the market. The predecessor of the described drone - DJI Mavic Air 2S is still available, so if you care about a drone with the largest possible sensor, and the zoom option and flight time is not so important, it is worth paying your attention to it, especially since this model quite often appears on promotion. If you're aiming higher and need both long flight time and a large sensor in your drone check out DJI Mavic 3 Classic (single 4/3 CMOS camera) or Mavic 3 Pro (3 cameras with amazing capabilities).
Summary
DJI Air 3 is a new drone from DJI aimed at people who need a drone at a very good price combined with advanced performance. It has a foldable design and two main cameras 48 MP with effective pixels - wide-angle and medium telephoto and 3x lossless optical zoom. The advantage of the drone is the omni-directional obstacle detection and the the latest O4 transmission system providing a range of up to 10 km. Flight time has been extended to as much as 46 minutes. Intelligent features like FocusTrack (tracking), Waypoint (planning) or QuickShots and MasterShots (automatic complex movements) add even more possibilities. The whole thing puts the drone very high among other competitive items. The price and advanced features make DJI Air 3 is an attractive choice for drone enthusiasts as well as professionals who are looking for high quality and performance.
Recommended