Autel EVO Nano and Nano + vs DJI Mini 2 - model comparison
2022-02-03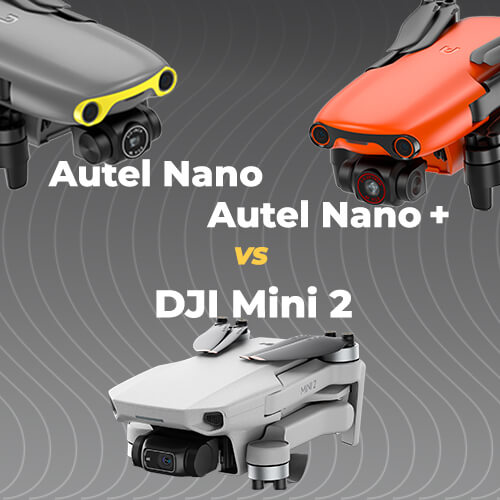 Autel EVO Nano or DJI Mini 2 - which drone to choose?
Recreational drones up to 250 grams are the most desirable devices among residential customers - mainly because of the changes in drone regulations, which came into effect on 31.12.2020. Autel EVO Nano i Nano+, which came on the market in the fall of 2021, is a response to new legal regulations. At the same time, it is also said to be an answer to the model of DJI Mini 2. After all, U.S.-based Autel is treated as the only serious competitor to Chinese giant DJI. The following comparison of models will help you decide which one is most suitable for you.
Autel EVO Nano, Autel EVO Nano + and DJI Mini 2 - technical parameters
Below is a table in which we have listed the most important features of the drones and the differences between them. We have color coded the parameters that distinguish a particular model and speak in its favor over the others.
Parameter
DJI Mini 2
Autel EVO Nano
Autel EVO Nano+

Appearance

Size

138x81x58mm

142x94x55mm

142x94x55mm

Weight

249 grams

249 grams

249 grams

Matrix

1/2.3″

1/2"

1/1.28″

Megapixels

12MP

48MP

(Quad Bayer)

48MP

(Quad Bayer)

Aperture

f/2.8

f/2.8

f/1.9

Max frames per second

60kl./s

<2,7k

60kl./s<1080p

60kl./s<1080p

Photo mode

RAW + JPG

DNG + JPG

DNG + JPG

ISO range

100 ~ 3200

100 ~ 3200

100 ~

6400

Exposure time

1/8000s ~ 4s

1/8000s ~

8s

1/8000s ~

8s

HDR

not

yes

yes

Digital zoom

4x

16x

16x

FPV

up to 1080p

to 2.7K

to 2.7K

CE coverage

6km

10km

10km

Avoiding obstacles

not

yes front/back/bottom

yes front/back/bottom

Flight time

31 minutes

28 minutes

28 minutes

Color options

Release date

november 2020

september 2021

september 2021

Base/combo price

pLN 2199/2899

pLN 3099/3799

3799/4599 zł
Capabilities of the Autel EVO Nano and Nano+ camera vs. the DJI Mini 2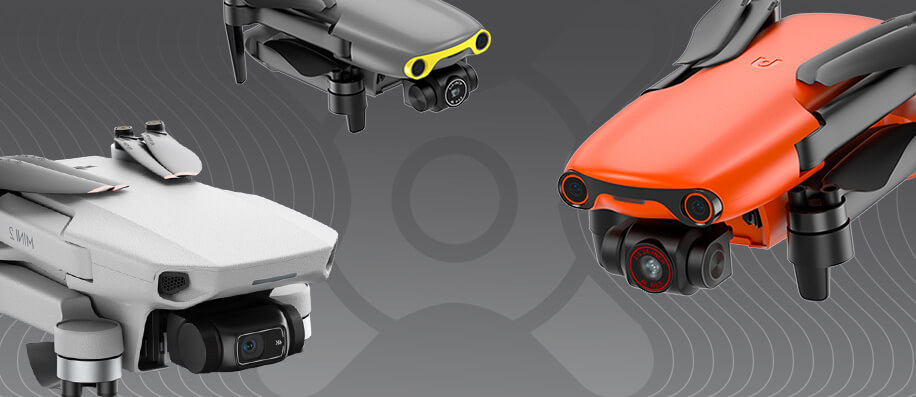 The camera is one of the key issues that should guide you in choosing the most suitable drone model for you. Here we see a big difference between Autel's models and the DJI Mini 2. With the rest, the camera is the main parameter that already distinguishes the Nano and Nano+ versions alone. Of the drones we compared by far the best performer is the Autel EVO Nano+ with a camera as much as 1/1.28″ CMOS! Slightly worse is the Nano version, where the sensor size is 1/2", and at the very end ranks the Mini 2 with a minimum for current market standards of 1/2.3″ CMOS.
Admittedly, all drones are equipped with a camera 4K@30 fps./s mounted on 3-axis gimbal, which guarantees you stunning quality, but you will easily feel the difference between the drones as lighting conditions deteriorate.
The aperture size of the Nano+ is as large as f/1.9, so that for your camera more light will come in than using the Nano and DJI Mini (both f/2.8). This, in turn, will provide far better quality for your footage, thanks to less noise and sharper by contrast.
When it comes to video recording, here the Mini 2 nevertheless leads the way. When recording with this drone you will get smooth images 60 fps./s in quality up to 2.7K - in the case of the Nano and Nano+, it is 1080p.
Quad Bayer Technology
Autel has overtaken DJI using technology Quad Bayer and thus increasing the resolution of both versions to as much as 48MP relative to the capabilities of the DJI Mini 2. This has enabled the Nano and Nano+ models to achieve as much as 16x digital zoom! In comparison, the Mini 2's zoom is 4 times smaller.
HDR mode - highest quality in variable light conditions
When capturing footage, it's hard to keep the lighting the same all the time. This applies in particular to films. The manufacturer Autel has equipped the Nano and Nano+ models with a hDR mode, with which you will draw out the rich detail of your creations - even those with elements that are both heavily lit and shaded at the same time. This mode is missing from the DJI Mini 2 model.
Obstacle detection

The DJI Mini 2, although it has many supporters, is often disqualified during purchase due to the lack of obstacle detection sensors. With this comes another important option, but about that later.
Autel has managed to keep the weight down to 249 grams on both the Nano and Nano+ models, and has included obstacle detection sensors on the front, side and bottom. This definitely affects the safety of flight, plus, if you decide to get your first drone, such support will increase your comfort and confidence in flight :)
Artificial intelligence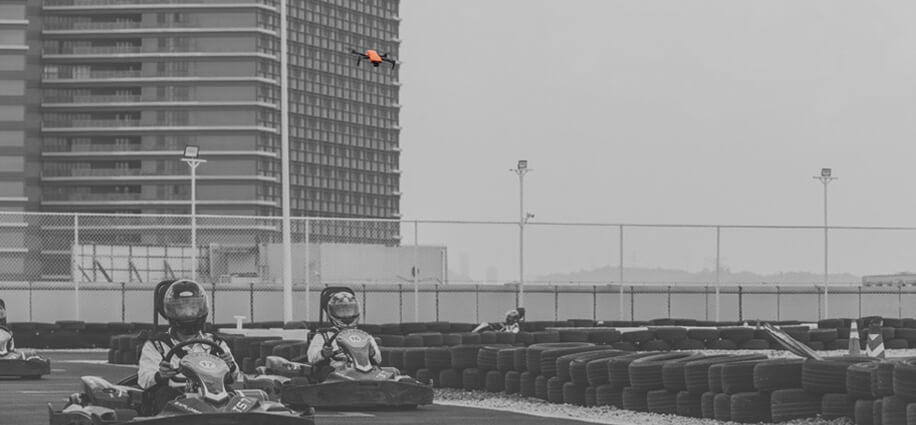 Intelligent object tracking i.e Active Track is one of the most desired modes by users. Just select any object on the preview screen and the drone will start following it. The possibility, m.in. recordings of yourself riding a bike or even a car, during winter sports and other extreme activities you'll want to commemorate is one of the reasons users are taking the drone on vacations and weekend getaways. For this, however, obstacle detection sensors are required, and as you've had time to read - the DJI Mini 2 does not have such.
On the Mini 2, you can admittedly get the effect of the function Follow Me (follow the control device) using intelligent flight modes QuickShots, of which there are as many as 5 in this model.
With QuickShots, the Mini 2 can, for example, fly around you and record footage at the time, but it still won't be a typical follow, much less an object other than the person holding the controller.
Autel drones also feature automatic QuickShots, which are further easily edited into a whole with the MovieMaster.
Autel EVO Nano and Nano+ vs DJI Mini 2 - what is the range and flight time?
Technology OcuSync is DJI's data transmission system, well known in the drone community, which is a huge technological leap over the Wi-Fi connection. DJI Mini 2 incorporates improved technology OcuSync 2.0, as a result, the drone is able to transmit live view in up to 1080p resolution, and its cE (European) range is as much as 6 km.
Autel Nano and Nano+ drones are equipped with technology Autel SkyLink supporting 2.4 GHz/5.8 GHz/5.2 GHz tri-band. This has contributed to the maximum flight range of these models, which is up to 10 km (sic!).
The Mini 2, on the other hand, has an advantage over the Nano and Nano+ in terms of maximum flight time on a single battery. DJI declares 31 minutes of flight, while flying Autel models your flight will be 3 minutes shorter - it will be up to 28 minutes.
Autel EVO Nano, Autel Nano + and DJI Mini 2 - weight and appearance
All three models we compared have the same weight, that is, the magic 249 grams, which allows the user to fly without the need for additional training and authorization. As for the sizes of the drones, they are approximate, but the slimmest seems to be the Mini 2.
The biggest visual difference between the Autela models and the DJI Mini 2 is the color options. While DJI stays true to its gray, Autel offers us up to 4 options - white, gray, red and, of course, the characteristic "Autel" orange.
Certainly, the ability to customize your drone speaks in Autel's favor. We ourselves often hear opinions from our customers that DJI should return to a wider range of colors as it did with the historic Spark or Mavica Air.
Mobile app and controller
The drone control application should be simple and intuitive, it goes without saying. App DJI Fly and Autel Sky look very similar and give us similar capabilities when it comes to, for example, convenient editing and sharing of materials online.
The difference comes in the important matter of language version. Here Autel has not prepared for the Polish market - the Autel Sky application is only in English. Although, as we mentioned, drone control is intuitive, when paying several thousand for a drone it is nice to see on-screen controller messages in the native language.
The DJI Fly app has long been translated into Polish, which is not its only advantage. It's been a few years since DJI introduced the following in the DJI GO 4 app GEO system, which displays a current map of air zones. Of course, you are always obliged to check if you have the ability to fly in a particular place, but such a hint from DJI can be a convenience.
DJI geofencing system however, also has a downside. It does not perfectly coincide with the air zones in Europe and is quite restrictive. What we mean by? Perhaps by way of example - if you live a few kilometers from an airport and want to fly over your plot of land, be prepared that a DJI drone will not allow you to make such a flight due to a restricted zone. In this case, a better choice for you would be Autel. So to the question - "Autel or DJI?" we answer in this case - it depends :)
Our attention, on the other hand, was caught by the controller for the Nano and Nano+ models. In the remote control gimbals, the manufacturer has included more durable ball bearings - most controllers on the market have plain bearings. "Autel" controller seems to be more robust, even though it weighs approx. 20 grams less. It appealed to us more than the DJI Mini 2 camera.
Warranty and post-warranty service
Often, when choosing a drone, we are guided only by parameters and prices, forgetting about a very important issue, which is the warranty process and service. According to the Polish law in both cases there is a 24 months warranty for the drone and accessories and 12 months for the batteries.
Autel also followed in the footsteps of DJI and created a proprietary protection program Autel Robotics Care along the lines of DJI Care Refresh. These are forms of insurance against damage to the drone beyond the warranty, i.e. when the incident occurred for reasons other than the fault of the device.
If you use all the exchanges under the insurance (two or three in the case of DJI Care+, which can only be purchased through the official website of the manufacturer), it remains to repair at your own expense. From the experience of our service, we are inclined to say that currently DJI outclasses Autel. This is due, for example, to the greater availability of DJI spare parts and the various tutorials available online, as well as the extensive threads on all kinds of drone forums.
The reason for this, of course, is very simple - DJI has been on the market far longer than Autel Robotics (about. 8 years). Moreover, the DJI Mini 2 itself is a model already very familiar to users, with known faults and problems, the Nano and Nano+ are still "freshers" that need to be tested, improved...just get used to them :)
Price and availability of products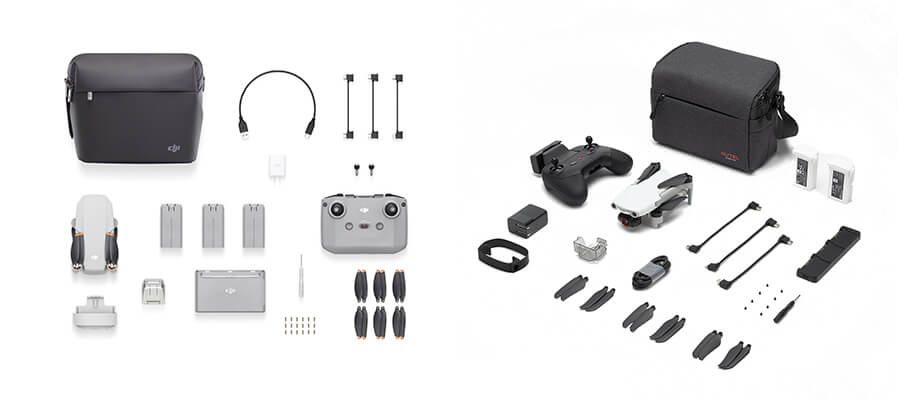 The question of price speaks in favor of the Mini 2 - for the basic version we will pay 2199 PLN, while for the Nano 3099 zł, and for Nano+ 3799 zł, which is definitely more even than for the extended version Mini 2 Fly More Combo (2899 zł). However, it must be admitted that Mini 2 vs. Nano+ is already a different shelf, and in the first place you should consider what budget you want to spend on buying a drone. Price for the extended version Autel EVO Nano Premium Bundle is 3799 zł, and for the version EVO Nano+ Premium Bundle we will pay 4599 zł.
DJI Mini 2 is constantly available for sale, with Autel Nano is a little worse - depending on your desired color version. Autel Nano+ is currently available in orange and gray - in both variants (basic set and extended Premium Bundle).
The reasons for the limited availability of each product are well known, and we suppose the case is better for the DJI Mini 2 due to the fact that this model has been in production longer.
Summary
Considering the capabilities of the drones we compared, the Mini 2 seems to fare far worse than Autel's drones. However, take into account that this model was produced almost a year earlier, and when it comes to the development of technology is really a lot of. Also note the performance of this iconic drone, just like that, without comparing to the Nano and Nano+. It's really a great drone, don't you think? It has everything you need to blaze trails on the path of sky-high conquests.
On the other hand, if you want to bind yourself to your device for a longer period of time, we recommend you the newer technology of Autel models. You ask: Nano or Nano+? First, be guided by the budget you want to allocate, and second, consider what you want to use your drone for.
The Nano model is sure to surpass your expectations if you want to use recorded materials for personal use only. The Nano+ version is strongly recommended if you are thinking about aerial photography and filming seriously.
We hailed Autel EVO Nano+ by game changer. This is the first such drone on the market weighing the coveted "less than 250 grams", which has a camera capable of capturing professional footage. In simpler terms, with Nano+, you don't need any additional privileges to fly commercially and be really good at it.
Any of the types we compare can turn out to be the perfect one, and that's something we're happy about. Competition in the market is always a positive thing for customers :)
We also encourage you to read the article, in which we discuss in detail differences between Nano and Nano+ models.

Author
Paulina Koreń
Graduate of the Adam Mickiewicz University in Poznan, majoring in Psychology. He likes simple solutions that enhance the quality of life and promote impactful work.
She is a lover of art and nature, so she is particularly captivated by the use of new technologies to protect nature and explore it from a different, broader perspective.