All about DJI's new FPV racing drone
2021-02-24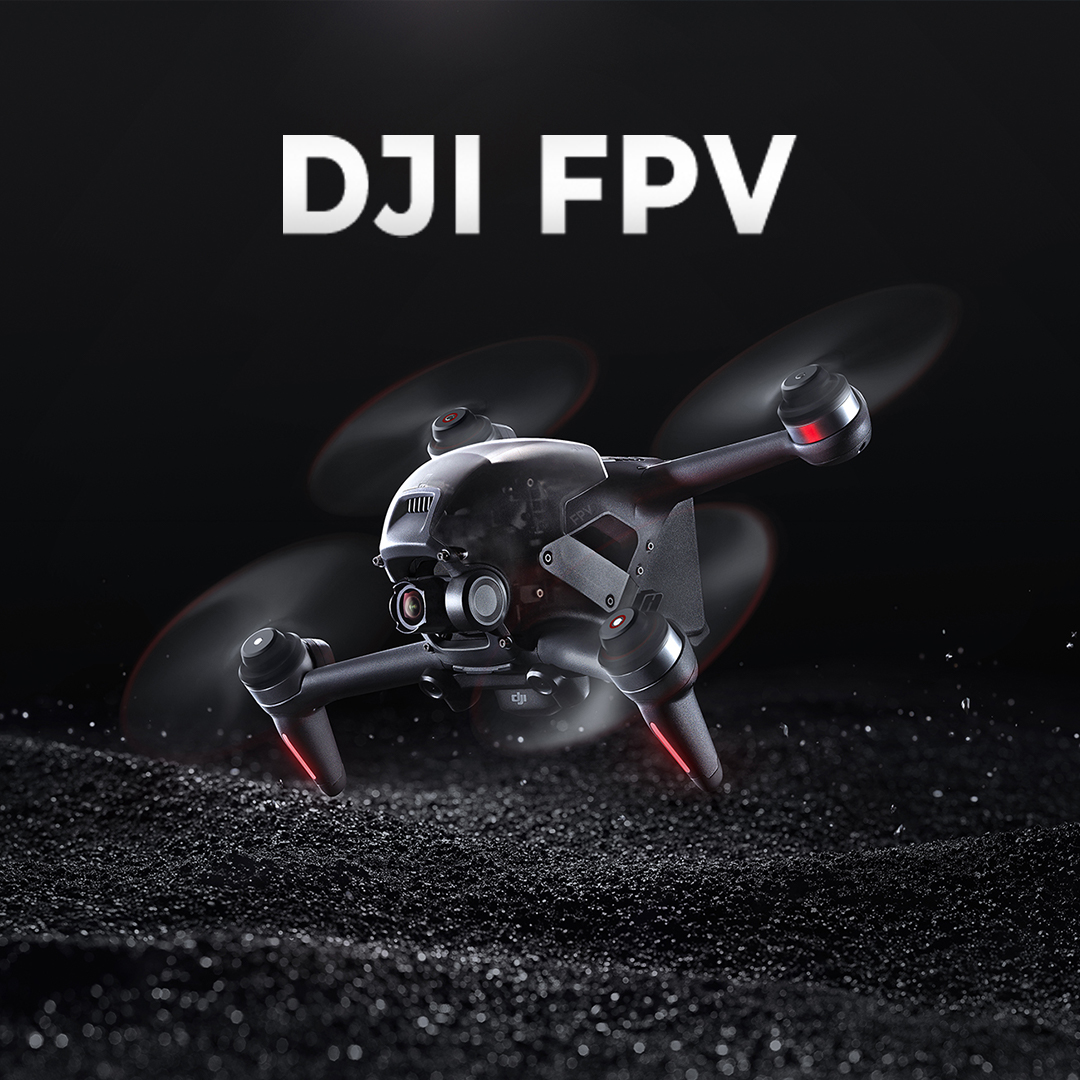 There has been a lot of news on the internet for a long time about DJI's first FPV racing drone. We've gathered a handful of the latest facts we've been able to determine. It got warm, not just outside. All indications are that we will soon be able to provide ourselves with quite an outdoor experience!
We already know almost everything you need to know about the new dJI FPV drone, except for how it flies and how much it costs. The new leak, which appeared on Facebook, includes photos, specifications. Perhaps the most important detail at present? Photo of "DJI Motion track" controller . Taking off!
Motion Controller - DJI Motion Track
We will start not with a drone, but a controller. First known photo shows revolutionary motion controller. This will allow pilots with limited experience flying a drone (and those who are comfortable with sticks but looking for something different) to fly a drone in a new, intuitive way. Think of it as a Wii controller for flying.
This will be an option sold separately from the drone kit.
You can see that it has a trigger for "gas" , as well as buttons that will allow you to switch between modes. It will also have a button or switch to put the drone in a stable hover. This would be great news for a newer pilot whose flight may be heading in the wrong direction. FPV flights are dynamic, and being able to put the drone into a mode that could prevent a crash would be amazing - and makes sense. Will the controller be compatible with other DJI drones? We're betting that it will!
DJI FPV drone specifications
New DJI FPV drone can offer up to 20 minutes . Maximum altitude 6000 meters above sea level., whereby the drone should be able to operate at a distance of up to 10 kilometers in FCC mode.
the 12-megapixel camera sensor, which is attached to the gimbal as usual, can record videos in 4K resolution and up to 60 frames per second. However, DJI advertises that recordings of at least 720p can also capture up to 120 frames per second. The ISO range of a camera equipped with autofocus and image stabilization is 100-12800. The lawful gimbal will be single-axis, but the RockSteady image stabilization known from the Osmo Action will provide stable images. In addition, the use of a gimbal will allow you to adjust the angle of the camera in flight. Bitrate 120 Mbps. The viewing angle of the camera is 142 °.
DJI FPV Drone's battery has a capacity of 2000 mAh and should be able to charge in 50 minutes. If you want to charge the controller and goggles, it takes 2.5 hours. When controlling the drone, you have a number of modes to choose from, including normal flight, race mode and manual mode.
Among other things, DJI equips the FPV drone with the ability to use up to eight channels for radio transmission, so up to seven friends can be invited to the races. As a general rule, there should be only a minimal delay between.
In addition, there are two modes of video recording during races: in addition to the normal mode, there is also the so-called LED mode, which allows racing in the dark with illuminated drones.
So that there are no control problems during races and in general when the distance to the user is greater, the image quality is automatically reduced. This should prevent accidents. If needed, up to seven additional sets of FPV goggles can be connected to the drone for viewers.
Control
For those who are not yet adept at flying FPV in "Acro" mode, there is an option to fly in "Normal" mode. The drone then flies using stabilization, like other DJI products. It also limits its flight speed and maximum tilt to about 25 °. An ideal way for beginners to start their FPV adventure with minimal risk of failure.
Sport mode switches on the instrument cluster, increasing the speed and doubling the speed of ascent and descent.
And yes, of course, there is a "manual" mode that gives you full control. But be warned, you need to know how to fly fully manual before you decide to do so, otherwise you will probably crash. In fact, the first learning will be to get ourselves and our vagus used to flying with the goggles.
The drone will have a return-to-home function, low battery protection, and front and bottom obstacle detection. The menu is supported by goggles.
First, costly steps
While flying a regular drone like the DJI Mavic seems pretty safe with racing drones, it's not so colorful anymore. We have in our minds fast flights between the trees. Will DJI release DJ Care Refresh insurance for DJI FPV drone? In our opinion, yes, but we believe that here the cost will be higher but it is possible that there will be a higher number of replacements to use.
If you have no experience with FPV, for our part, we recommend buying a whoop (built-up) model for learning to fly FPV, with which you can practice at home:
BetaFPV Racing Drone Starter Kit - ready-to-fly kit (drone, goggles, apparatus) equipped with brush motors (lower power) designed for flying indoors and outdoors in windless weather.
BetaFPV Advanced Kit racing drone - ready-to-fly kit (drone, goggles, camera) equipped with brushless motors (more power) designed for flying outdoors and at home after mastering the basics
Both models are equipped with an apparatus with a USB port, which, when connected to a computer, will allow you to practice on a flight simulator such as LiftOff.
Mayday, mayday, we have a problem!
This is very cool. The drone's controller has a "panic" button that will allow you to get out of a crisis situation and put it in a stable hover. This will undoubtedly save countless drones. While in quiet flight such a button will be useless, in Acro mode we will be his friend.
Security
The DJI FPV drone will likely be equipped with an AirSense system that receives ADS-B signals from nearby manned aircraft. This will send a warning to the pilot - a great feature to increase situational awareness and a feature that should be almost mandatory for FPV flights. This is because many pilots are likely to fly solo - despite the fact that most regulations require a visual observer on such flights. When you wear goggles, you won't see a low-flying Cessna or helicopter flying in your area.
Summary
From the very beginning, we believed that this machine would be a hybrid drone that is not a competitor to the FPV drone market, but a device that will provide a thrill, avoiding the technical science that is often a barrier to entry for many interested in the FPV world.
It's a new drone, for a new market sector. We suspect this product will do very, very well - and introduce a whole new group of pilots to the amazing FPV experience. Those who were interested in the FPV market will now have no excuse. Well, unless the price, which is currently unknown. A toy that will provide much more fun and adrenaline than Mavic-type drones. For us, "must have" equipment. Everything should be explained already in March.
If you want to learn more about FPV drones see our article "What is FPV drone flying"
According to the photo, which is available on the Internet, the composition of the set will be as follows:
DJI FPV Drone
DJI FPV V2 Goggles
V2 apparatus
AC power cable
Smart battery
Goggle band
Rods
Power cable for goggles
Propellers
Goggle battery
AC adapter
USB-C data cable
Upper shell
4 x Goggle antenna
Instructions
USB-C OTG cable
Author
spec. Matthew Hubert
Graduate of the Maritime Academy, completed the course of Internet in business. Holds a VLOS qualification certificate. He's totally nuts about drones and new technology, and he also loves speed, so he flies a lot of racing drones
Recommended

1 171,94 €

incl. VAT
1 019,99 €

incl. VAT