Why is a drone a good toy for a child?
2015-07-09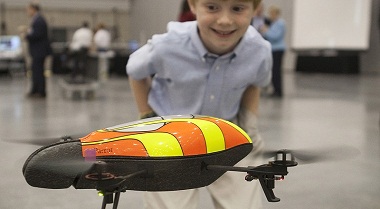 An Australian scientist specializing in intelligent transport systems believes that ready-to-fly drone may encourage young people in the future to drone technology design . Doctor James Ward from the University of Sydney says that the technology of unmanned vehicles controlled by radio signals has been developing for 50 years and still creates prospects for development. Drones can be purchased at a price of PLN 200 (e.g. Syma X5C, Hubsan H107L, Syma X11) up to several thousand zlotys.
"Regardless of the opinion about the use of drones, they are devices common to many industries. Because UAV (Unmanned Aerial Vehicle) technology is complex, it can be used by many others," said a robotics researcher who mentored high school students aged 14-18 years in the robotics club at the university.
"We see young students who have grown up with high-tech devices at their fingertips and are therefore eager to learn the mechanics of such technology. Some of the young people who dream of owning a quadrocopter may actually be designers of this technology in the future."
'So learning how they work, thinking about the potential applications of the technology, and the legal and ethical issues surrounding their use can be very enlightening.' said Dr. Ward. Australian law prohibits the use of UAVs above 122 meters without approval by the Civil Aviation Safety Authority (CASA) and within 5 kilometers of an airport. Smaller drones used for non-commercial purposes do not require a permit or approval, but CASA regulations dictate that they must fly at least 30 meters away from people and property. In Poland, the law also allows for hobby drone flights without additional permissions.
Here are some examples of UAV usage:
Archaeologists are using small drones with infrared cameras to recreate a 3D model of ancient burial mounds.

Farmers use drones to monitor livestock or weed growth.

Researchers working in Indonesia are using drones to study endangered orangutans in Sumatra.

Forecasters use hurricane survey drones to more closely monitor storm strength.

The fire department in the Australian state of Victoria uses drones to fight fires in lignite mines.

Japanese safety inspectors use drones to inspect the condition of the Fukushima nuclear power plant.

Canadian rescue uses drones to search for missing tourists.

At the Winter Olympics in Sochi, drones were used to film sporting ski and snowboard events.

Italian fashion house Fendi has created the world's first live broadcast of a fashion show using drones.

Swiss researchers in the fields of engineering, science, technology, mathematics and management from ETH Zurich have developed a drone that can juggle.
The article has been translated into Polish.
Retrieved from http://www.news.com.au/technology/why-children-should-be-given-a-drone-for-christmas/story-e6frfrnr-1227149784087
The perfect drone for a child
The first drone for a child does not have to be a fancy product. It's a bit like riding a bike - you will fall a few times, so you should choose drones that will have spare parts and, above all, will be impact resistant.
Author
spec. Matthew Hubert
Graduate of the Maritime University, majoring in Internet in business. It has a VLOS qualification certificate. He is totally crazy about drones and new technologies, he also loves speed, so he flies a lot of racing drones