Drone for filming and drone for photography - which one to choose?
2022-05-12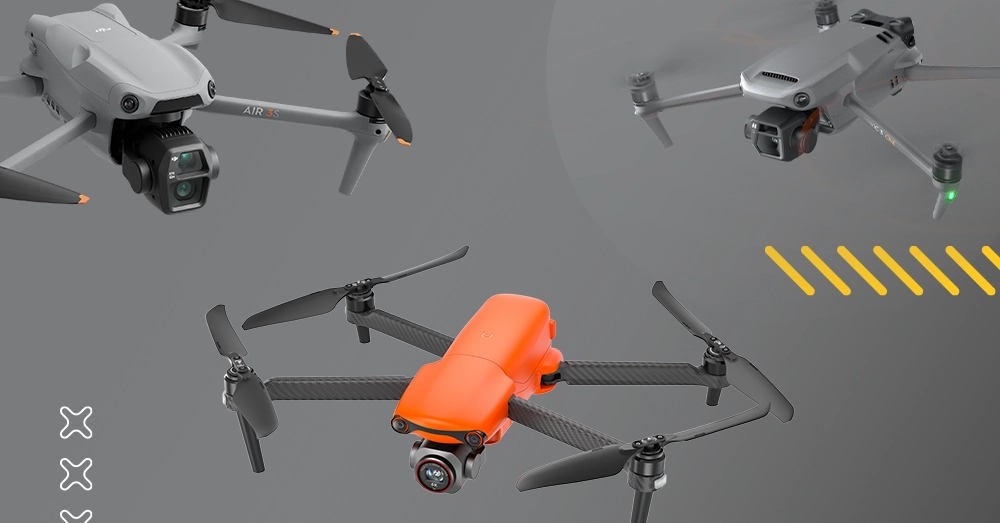 Currently drone market offers us many solutions, which allow you to film and take photos from the sky at a high level. Most of these devices guarantee professional quality, but often the skills of the operator can make the spectrum of possibilities of flying machines not fully exploited.
How to choose a drone for filming that will make recording will be simple and enjoyable, while providing amazing results?

Will any drone for photography pass the test for professionals and enthusiasts alike?

At the same time, how to make our hobby enter the heights so as to surprise the audience at family events or at a party with friends?
We will try to answer this question in the following article. At the same time, we will point out that the ideal drone for filming will not always be the best drone model for photography.


Drone for taking photos and drone for filming
Very often, a drone that takes good videos also does a great job of taking photos. However, this is not a rule, and before choosing your work (or entertainment) tool, it is worthwhile for you to consider, what is your priority, because subtle differences between parameters can make it easier to choose.

In the case of a drone for photography the matter is much simpler, because it really is "enough" a good camera. Whereas drone for filming should be entirely adjusted to make the material it records as smoothest. The standard on the market is 3-axis gimbal, so that the material will be stable even in strong gusts of wind or simply when maneuvering.

It is important that the drone for filming be easy to use, to be able to move smoothly between shots. An invaluable bonus here will also certainly be the smart features i photographic modes, that crank out complicated and impressive moves. Fortunately, more and more drones have algorithms developed enough that all you need is our creativity, an idea for a shot, and the drone will do the rest for you.
What kind of drone for filming?
If you expect really high-quality recordings, a great option for you will be a drone DJI Mavic Air 2S. With this unique drone you will record videos in quality 5.4K in 30 fps./s and in 4K at up to 60 fps./s. In addition, the effectiveness of your recording will be increased by using various smart features. Hyperlapse, for example, will allow you to speed up time with just with just one click. The drone is also equipped with so-called modes MasterShots, with which you simply select the object you want to film and the drone performs a spectacular sequence of maneuvers keeping it in the frame.

An incredible advantage of the Mavica Air 2S, as a drone for filming, is the extensive object tracking option. Flying this model, you can make any movement you want, and the corresponding function will ensure that the camera remains at all times directed towards the object of your choice. It's not afraid to avoid obstacles or continue filming when it loses sight of the subject "out of sight.". The choice of this drone can also be supported by the fact that the manufacturer has included in the kit DJI Air 2S Fly More Combo set of ND filters. The same is true of a high-end drone - the Mavic 3. In the mentioned kits you will find ND4/8/16/32 filters, which reduce the intensity of light and allow you to faithfully reproduce the scenery.

The DJI Air 2S is equipped with a high-quality camera with a sensor size of 1''CMOS. This is definitely more than the standard 1/2.3''CMOS, but it's no longer enough if you're hoping for professional shots in more difficult lighting conditions. This is where DJI Mavic 3 equipped with a Hasselblad camera with a sensor 4/3 CMOS, that will enable you to achieve spectacular professional results. Both of these drones also feature MasterShots, which is a combination of an automatic remote control and a video editor at the same time. Depending on the scenery, the drone chooses between templates: Close-up, Landscape and Portrait and creates a sequence of shots. It then automatically edits the footage using 20 available templates, adds music, filters and smooth transitions. A simplified version of this feature is QuickShots known even from DJI Mini 2.

The parameters of the DJI Mavic 3 make it a professional drone for filming. If you are going to use the drone as a hobbyist or even for simpler commercial applications, the Air 2S is enough for you.
An interesting option proposed by Autel are the Nano+ and Lite+ models with the function of recording the sounds of the pilot's surroundings (using a mobile device hooked up to the controller). This is an interesting option for an even better representation of the nature of the scenes being filmed.


Professional drone for filming
Mavic 3 is a drone with which you will record videos in great quality even in low-light conditions. In addition, it has recording capabilities of 5.1K at 50 fps./s and 4K up to 120 fps./s! With it, not only will the quality be stunning, but you'll also get interesting slow-motion movie effects. Moreover, the version Mavic 3 Cine has the ability to film in the codec Apple ProRes - one of the most popular video formats for professional production and post-production.

This flying machine also supports the color profile D-Log 10-bit, so it is capable of storing up to a billion colors. For you, this means that the moments you have captured will even come to life on the screen and delight with perfectly reproduced colors.
DJI Mavic 3 is a drone for filming, which will allow you to record material that meets the standards of television broadcasting, but we recommend it to anyone who is engaged in the production of materials even semi-professionally. Who knows if such a tool will not make you rise to the heights of your capabilities?
Another professional drone offering for filming is the latest Mini 3 Pro, which is a mini-sized drone with the capabilities of Pro-class drones. Mini 3 Pro has been equipped with a very large sensor CMOS 1/1.3'', which, combined with an improved dynamic range, makes this drone perform just as well in lower light conditions as the Mavic 3. The drone is equipped with d-Cinelike Color mode, which increases the possibilities during post-production, and Dual Native ISO, which allows this "pro" baby to extract even more information from the sensor without compromising image quality. A fantastic option for filmmakers and photographers is brand new for drones True Vertical Shooting, thanks to which the drone also records vertically!
Inexpensive drone for filming and photography
One of the most popular drones today is the DJI Mini 2, which is the smallest i the lightest drone with a 4K camera. Importantly, this drone records in 4K resolution at 30 frames per second, resulting in very smooth video. In our opinion, this is the minimum frame rate at this resolution in a good drone for filming. What's more, the Mini 2 can also record video at a resolution of 2.7 K at 60 fps./s.

But let's not kid ourselves - Mini 2 is a total minimum :) Together with Autel Nano+ takes its place among low-cost drones for filming and photography.


Exposure and ISO range in drones for filming
The camera of a drone for video recording should be able to capture material of sufficient brightness, so the lens aperture is important. As drone cameras usually have a fixed aperture, it is important that its value maintains a golden mean between adequate brightness and depth of field. In the Mini 2 and Mavic Air 2S we have a small aperture value i.e f/2.8. This means that the camera will record with a shallow depth of field. In such footage, the foreground, or main subject in the frame, is in focus and the background is out of focus. It gives us a clear signal of what is most important on it. This is an aperture that will let in a large amount of light. This is an important value not only for recording, but also for taking pictures.
Another important consideration is the scope of the ISO drone cameras or light sensitivity. While the range on the Mini 2 is 100-3200, the Autel Nano+, Mavic 3 and Mini 3 Pro is already 100-6400. This causes the material recorded with these models to be better exposed. It is also important when taking pictures.


Adjustable aperture

The Mavic 3 model we mentioned earlier offers us the ability to adjust the aperture in the range of f/2.8-f/11. The second such model is Autel EVO Lite+. This allows you to vary exposure and depth of field to create even more creative shots, and overexposure and underexposure during filming are automatically balanced out. This causes the contrast to be liquefied and your video to be of better quality and more pleasing to the eye.

EVO Lite+ additionally features an intelligent moonlight algorithm to capture clear and vivid details with low noise even at night. An intriguing bonus is the de-fogging function, which automatically adjusts the camera's vibration to keep the footage sharp and clear even in the midst of fog.


Drone time and range or record more
The farther you fly, the more room you have and your recordings will be more impressive. Nowadays, the standard on the market is a flight time oscillating around 30 minutes, and record-breakers even reach about. 45 minutes. The range of the drone depends on the sophistication of the data transmission technology and so the Mini 2 with OcuSync 2.0 will fly up to as far as 6 km in Europe. Such a result is also achieved by Autel SkyLink in the Lite+ drone. Slightly better will be the Air 2S, Mavic 3 and Mini 3 Pro - these drones will fly up to up to 8 km.
There is another issue that connects to coverage when filming from a drone. We are referring here to the Zooma option. Even if you fly very high, drones such as the Mavic Air 2S, Mavic 3 or Mini 3 Pro will be able to zoom in on the selected item without moving them. The Air 2 S has 8x digital zoom (Including 4x zoom at 4K at 30 fps)./s). The Mini 3 Pro also does a great job here with 2x zoom at the same resolution, 3x at 2.7K and 4x at 1080p.
The most impressive zoom result, of course, is the Mavic 3, which, in addition to the primary camera, also has a separate telephoto lens with a 7x optical zoom and 4x digital zoom, which in total gives us 28x hybrid zoom. Slightly worse is the Autel Lite+ with a score of 16x optical zoom.
Drone for photography - how to choose?

Taking a good photo requires good positioning of your equipment so that you can capture the frame of your choice. And just as a lower weight is desirable with a drone for filming, a better drone for photography is one that weighs more than the popular 249 grams. There is no denying that the mobility of a drone is always a desirable feature, so the Air 2S weighing 595 grams or the lower Air 2 model with a weight of 570 grams will be just right here.
RAW format in a photo drone
A good drone for cinematography is one that will give you unlimited scope for post-production. So it is worthwhile for you to pay attention to whether the model you choose supports RAW recording. Many professionals will tell you that the best option for high-quality photos is to take them in this format. Even a few minutes of work in a graphics program can make an incredible difference to your material. Try it - you will surprise not only your family or friends, but even yourself! Then you can edit your photos at will without worrying about loss of quality. It also allows you to correct exposure errors that can happen when taking pictures with a drone. You can also adjust the temperature and color tone. Basically, with this format, your photo can't go wrong.

Until a while ago, drones only saved photos in JPEG format. In this case most of the information is lost, it is compressed and as a result retains much less detail. JPEG, however, has an advantage - with it you can view photos in the app. RAW image viewing is only possible on a computer.

The DJI brand drones we mentioned save photos simultaneously in JPEG and RAW format.
How the EVO Lite+ is doing? This drone saves images in JPEG and DNG and it may be something that will make you lean towards buying this Autel model. DNG has such an advantage over RAW that the files are o ok. 20% smaller and that's while keeping the same data. In addition, the workflow on this format in Lightroom is faster because, like DNG, it is created by Adobe. Interestingly, the Autel EVO Nano+ model already supports the RAW format.


Drone for photography - camera resolution
It is known that the higher the resolution of images and so the Mavic Air 2 impresses with a score as high as 48 megapixels in a 1/2" CMOS sensor. This is made possible by technology Quad Bayer, which, in simple terms, is that neighboring pixels together collect image information. The maximum resolution in its successor, the Mavic Air 2S, is 20 MP, but thanks to a 1-inch CMOS sensor, it's the one you'll capture more detail with in low-light conditions. The case is similar with Autel Lite+.
The Mavic 3 drone shoots at 20 MP, but because of its large 4/3 CMOS sensor, it is definitely a favorite when it comes to drones for photography. The larger the sensor, the more light enters it, so your photos will have less noise even in night shots.
The golden mean here seems to be the Mini 3 Pro, whose resolution is, like that of the Air 2, 48 MP, but with a larger 1/1.3'' CMOS sensor.


Panoramic photos and shooting modes
As with video recording, an incredible convenience when taking pictures with the drone are the shooting modes. One of them is SmartPhoto, which recognizes scenes and optimizes camera parameters by adjusting them to 5 categories: blue sky, grass, snow, sunset, green trees. You will find such a feature in the Air 2S and Mavic 3.
Autel Lite+, on the other hand, has 4 shooting modes that you select at the press of a button. Following the example of DJI, Autel has made it possible to simply add a soundtrack and filters in the Autel Sky app.

You'll also find shooting modes that make it easier to take striking photos on the Mini 2 or Air 2. Such a function is, for example Pano, with which you can take panoramic photos. Admittedly, in higher resolution models, panoramas feature more impressive detail - such as the 100 MP Pano in Mavic 3. however, for the beginner sky photographer, the results obtained with models from the lower price range are also more than satisfactory. The cameras in these drones also allow you to take pictures at a time interval of your choosing.
Another great option is the drone's ability to take pictures of you and your loved ones or friends. On the Lite+ model, thanks to a special algorithm, the drone will automatically adjust the lens so that everyone can be properly seen in the picture, and with a single press of a button.
Summary
In our opinion, for a beginner who wants to film and shoot with a drone only occasionally, the optimal solution will be the DJI Mini 2. For those who are willing to spend a little more money, but thus enjoy photos and videos approaching professional, we recommend the Autel EVO Nano+.
If you aspire to make your photos and videos really impressive, want to brush up on your skills, including editing, and don't lack creativity - a great solution is the Air 2. The higher model - Mavic Air 2S and Mini 3 Pro, on the other hand, will guarantee professional quality also after dark, so it's a good choice if you're an enthusiast of atmospheric night shots. The Mini 3 will additionally give you the ability to record and shoot vertically, which is sure to make it easier for you to work and play on social media.
If you're a proponent of the DNG format and are interested in additional enhancements such as a defogging function or smartphone audio recording, it's worth considering investing more in Lite+. Provided that English is not foreign to you - Autel drones have an app exclusively in this language.

Mavic 3, on the other hand, is the best choice for users who tie their future to sky photography. Especially the Cine version, with a properly honed workshop, guarantees the highest quality and cinematic and photographic artistry of your materials.

Author
Paulina Koreń
Graduate of the Adam Mickiewicz University in Poznan, majoring in Psychology. He likes simple solutions that enhance the quality of life and promote impactful work.
She is a lover of art and nature, so she is particularly captivated by the use of new technologies to protect nature and explore it from a different, broader perspective.