DJI Mavic 3 Classic - Premiere
2022-11-02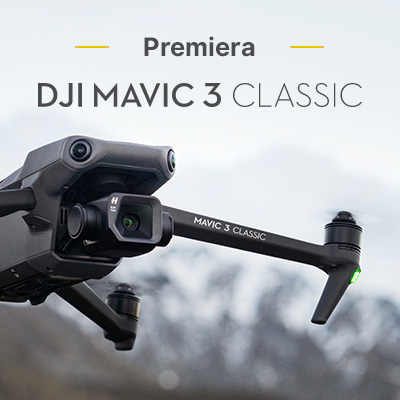 The DJI Mavic 3 has so far been the best semi-professional drone for photography, filming, but also for inspection, thanks to its dual-camera 7x lossless zoom system. However, not everyone needs this option and today the largest drone manufacturer unveils a new version - the DJI Mavic 3 Classic. Let's check what has changed and what has remained the same.
Cheaper version of DJI's best drone
How is the new DJI Mavic 3 Classic different from its predecessor? DJI Mavic 3? Literally the only change is the camera, because all the rest of the parameters remain exactly the same. The first model, the DJI Mavic 3, had a dual camera - one for video and stills, and a second tele for zooming. In the new DJI Mavic 3 Classic drone, the tele-camera has been removed and the standard camera has been left, which is identical - Hasselblad with a 4/3 sensor.
This is great information for people who need a drone with a great camera, and they don't need the zoom. So fans of sky photography can have a drone with the best camera at a lower price.
DJI Mavic 3 Classic price and availability
The DJI Mavic 3 Classic drone, like its mini counterpart (DJI Mini 3 Pro) is available with a regular controller and with a built-in screen:
DJI Mavic 3 Classic RC-N1 (with standard controller) - PLN 7,999.00 - available in the second half of November
DJI Mavic 3 Classic DJI RC (with controller with built-in screen) - PLN 8,749.00 - available now from stock
Additional accessories at an attractive price, that is Fly More Kit for DJI Mavic 3 can be purchased separately for PLN 2,999.00. As standard, you will find extra batteries, a bag, a charging hub and propellers.
DJI Mavic 3 Classic vs. regulations and licensing

The weight of the drone has been reduced by 5 grams, and it doesn't matter much, due to the fact that, like its predecessor, it weighs less than 900 grams, so it falls within the A2 class. Transitional regulations are currently in effect (until 01.01.23), so in order to fly it, you must pass the free A1/ A3 online exam. If you want to fly a drone in the city, you should additionally obtain an unmanned aircraft pilot certificate (cost approx. 50 zl).
Even if the device is used for commercial use, you don't have to do anything extra or pay for additional licenses. The DJI Mavic 3 Classic drone has not yet been officially granted certification, but it is likely to get it soon (just like its predecessor) via a software update.
Advanced flight technology

The Mavic 3 is a top-of-the-line drone and there are no illusions about it. Obstacle detection sensors on all sides will warn the pilot of hazards and protect against accidents. Advanced flight features such as homecoming and the Apas 5.0 system will alert you to other flying machines nearby and allow you to easily and safely return to your launch site. Combining artificial intelligence with various recording modes will allow you to object tracking whether flight over selected points. The new DJI drone even has a function cruise control with adjustable speed.
Summary
Best camera quality with advanced flight capabilities at a lower price. This is how we sum up the latest DJI Mavic 3 Classic drone in one sentence.
Recommended