DJI Inspire 3: The best professional drone for filmmakers
2023-04-12
DJI, the world leader in unmanned aircraft technology, has announced the launch of a new drone in the Inspire series. After almost seven years since the previous version Inspire 3 raises the bar in professional recording and repurposes the tool for advanced film and video creators. In this article, we'll delve into the features and capabilities of the new DJI Inspire 3 drone and camera and discuss why it's the perfect drone for filmmakers and photographers.


Briefly about the specifications of the DJI Inspire 3



Inspire 3 retains its unique design, but with significant improvements. Its classic design known for inspire series has been improved. The drone is more streamlined, thanks to which it will fly faster - up to up to 94 km/h . The size and weight of the drone is slightly larger than its predecessor, and with the new camera weighs 3995g. According to drone regulations, here is the ideal weight - less than 4 kg, so in order to fly it professionally, you only need to complete NSTS-01 training. The manufacturer used new tB51 batteries, which allow flight time of up to 28 minutes. Data transfer technology used DJI OM 3 Pro, which allows the drone to fly away as far as 8 km. The drone is RTK-compatible, which provides positioning stability of up to 1 cm.


Advantages of the new drone
The manufacturer has introduced several improvements that were not there before and ones that no other drone has.
Easier control

The drone is controlled by a remote control DJI RC Plus with a 7-inch screen, which provides a bright, clear image even on sunny days. It also offers an HDMI output port so that the image can be displayed simultaneously on a larger screen. The new transmission and remote control system allows two-person control of the drone at the same time, with significant improvement. The two controllers can now independently receive live broadcasts and control the drone, allowing the pilot and the gimbal operator to work in different locations on set. One of them can control the camera, while the other can control the drone's flight. The new Inspire 3 is also compatible with the DJI PRO ecosystem. For the first time, there is also the possibility of live transmission in 4K/30 fps resolution./s over a distance of up to 3 km.


Improved route planning and object tracking
The Waypoint Pro function with new 3D Dolly modes will allow you to conveniently plan flight routes and shots. Repeatable Routes - Repeatable Routes mode makes the drone automatically follows a set route, maintaining settings such as altitude, speed and camera parameters. Advanced machine learning algorithms allow the drone to automatically recognize and track objects using an enhanced mode Spotlight Pro.
| | |
| --- | --- |
| Repeatable Routes - repeating the same aerial mission allows cinematographers to seamlessly take difficult shots or fly at different times in the same location to easily create long-lasting timelapses that capture transitions such as day into night or season into season. | |
| | 3D Dolly - effect as on the boom, without the need to build such a device. Once the flight path is planned, the operator can manually control the drone to move back and forth along the route, adjusting parameters such as speed, gimbal angle and more, according to the needs of the shot. This makes complex cinema-grade camera movements easier and more efficient, and can provide better visual effects. |
| Spotlight Pro - in Follow mode, the drone and the camera with the gimbal align and stay locked in the same direction, so you don't have to manually adjust the framing. A Free mode is also available, in which the operator can separately operate the FPV camera for greater safety. | |
Obstacle detectionDJI Inspire 3 detects obstacles from all sides thanks to its 9 vision sensors. A new feature is now available that allows independent activation or deactivation of horizontal, bottom and top object detection. In addition, you can manually set the distance at which the drone warns of obstacles. This opens up new opportunities for professional film teams that want to achieve more complex camera movement.New camera - highest image quality available
The X9-8K Air is a new lightweight, full-frame camera with a 3-axis gimbal that was developed specifically for the DJI Inspire 3. It offers dual native ISO and more than 14 degrees of dynamic range and is compatible with select DL mount lenses. DJI CineCore 3.0 allows you to record videos up to 8K/25FPS CinemaDNG and 8K/75FPS Apple ProRes RAW, The DJI Cinema Color System provides accurate color reproduction, and S&Q mode enables full-frame video recording up to 4K/120FPS ProRes RAW without cropping.

Also a big improvement is the new FPV camera built into the DJI Inspire 3 drone. Z 1/1.8-inch sensor and a DFOV field of view of 161°, works great both during the day and at night. With HD preview at 60 fps, it will enable faster and more accurate detection of obstacles by the operator.
DJI Inspire 3 - Application in practice


The DJI Inspire 3 is a versatile tool that can be used in any application that requires high-quality aerial footage and advanced features. The DJI Inspire 3 is ideal for live concert streaming, creating all kinds of photo and video content and capturing stunning aerial shots for film and television. Inspire 3 will capture high-quality footage with incredible detail, making it easy to get the perfect shot.

In addition to the film industry, Inspire 3 can be used for comprehensive inspections. Its advanced obstacle detection system, combined with its ability to fly at high altitudes, makes it great for inspecting tall buildings, bridges and other structures. The drone can capture images and videos of hard-to-reach or inaccessible areas, providing valuable information for inspections and surveys.DJI
Inspire 3 Prices and Availability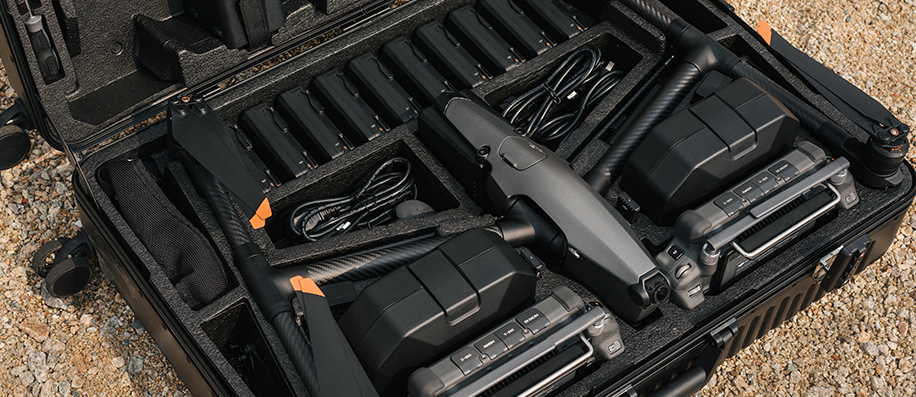 The price of the DJI Inspire 3 don in combo kit is 73,199 PLN*. The price, of course, consists of the cost of the drone itself, followed by the camera and the professional DJI Rc Pro camera. In addition, the kit includes a 1TB drive, 6 batteries, a charging hub, propellers and a carrying case. Inspire 3 sales launch is scheduled for May 30.

*As of 13.04.2023 Price subject to change.
Summary
DJI Inspire 3 to best professional drone for professional film applications, and no other drone can match its capabilities. The closest to him, however, will be another drone from DJI's fleet - the Matrice 300, which is larger and more suited to inspection. With its powerful features and innovative technology, the new Inspire sets a new standard in drone filmmaking.


Recommended