DJI Air 3 vs DJI Air 2S | Drone comparison
2023-07-31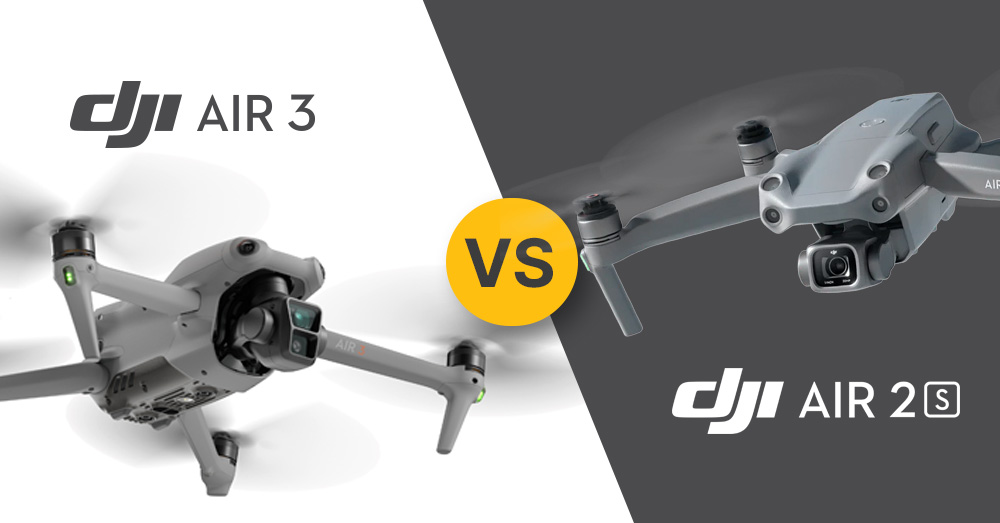 DJI Air 2s , the direct predecessor of the new Air 3, is over 2 years after its premiere, so the comparison with the new Air 3 is certainly an interesting combination. You will find out what changes DJI is introducing to the new Air series drone. DJI Air 3 is mostly an improvement over the Air 2S model, although for some parameters it is not so obvious. A big surprise may be the clearly smaller size of the matrix and the resolution of the main camera, which instead of 5.4K in the case of the Air 2S has a 4K camera, but this is one of those changes that on paper looks like something that has deteriorated, but in practice it is different .
Which drone will give better image quality?

The biggest addition to the Air 3 is the new secondary telephoto lens , which makes it possible to take more interesting, not so standard for drone shots. This is an important feature both in terms of greater flexibility in assembly and safety, because you do not have to get so close to people or objects with the drone.
What draws the most attention, however, is the reduction of the matrix from 1 "(Air 2S) to 1/1.3" (Air 3). This is a really big difference and the question posed in the title immediately arises. However, DJI claims that the quality in the new Air 3 will be improved due to the use of much newer stacked sensor technology and a brighter aperture. The number of effective pixels is greater, and we have seen more than once that size does not matter. Soon we will check it in practice in the DJI Air 3 drone review article.
added a second telephoto lens with 3x lossless optical zoom and f/2.8 aperture, with full support for all resolutions and features
main camera increases from f/2.8 to f/1.7 (better low light performance)
Main camera changed from 1 inch to 1/1.3 inch
photo size increased from 20MP to 48MP
panoramic photo size increased from 8192×4096 to 13000x6500px
Camera potential
The recording resolution in the Air 3 is lower and this is the only downside to the camera. The rest of the functions have been improved:
Main camera resolution reduced from 5.4K/30FPS to 4K/60FPS
improved Slow-Mo option , from 4K/60FPS to 4K/100FPS and from 1080p/120FPS to 1080p/200FPS
recording in 10-bit format on the second lens is supported

Reduced Hyperlapse mode from 8K on the Air 2 to 4K

hyperlapse mode on telephoto is currently supported (this option is not even on the Mavic 3 Pro yet!)

added vertical video/photo mode (the gimbal does not rotate, the image is cropped to 2.7K)

all FocusTrack modes (ActiveTrack/Spotlight/POI) are supported on both lenses at full resolutions and frames per second (previously only at 30FPS)
improved gimbal design , allowing range of movement from -90° (straight down) to over 0° (horizontal) to 60° up (previously a maximum of 24° for the Air 2S)
Drone construction
The Air 3 has a similar foldable design that has been improved in terms of wind resistance and speed. Drone Weight has been increased. For the first time in the Air series, we have obstacle detection from all sides ! Thanks to this, automatic RTH (return to home) has been improved.
the Weight of the drone increased

from 595g to 720g

the drone is marked with the EU/CE C1 certificate

added additional obstacle avoidance sensors , detecting obstacles from all sides (previously side avoidance was missing)
increased maximum speed from 19 m/s to 21 m/s (75.6 km/h)
wind resistance strength improved from 10.7 m/s to 12 m/s
8GB internal memory (expandable up to 512GB with a microSD card)
changed APAS 4.0 to APAS 5.0 (automatic flight system)
added ActiveTrack 5.0 function, which allows you to smoothly adjust tracking angles
introduced Waypoints functions (planned and repetitive flight routes)
Reception
Thanks to the use of new controllers and newer transmission technology, the range in the new drone is greater and more stable .
range increased from 8 km to 10 km
improved transmission system from O3 to O4
increased the frame rate streamed by the controller from 1080p/30fps to 1080p/60fps
Flight time and charging
The new hub allows you to charge all batteries simultaneously and allows you to transfer the remaining power from the batteries to the one with the highest charge level.
the flight time was extended from 31 minutes to as much as 46 minutes

the charger supports fast charging USB-C 90W (60 minutes)

the charging hub can hold three partially charged batteries and make them one full battery (when not connected to the power supply)
Drone and kit prices:
In the table you will see a price comparison of DJI Air 3 and DJI Air 2S. It's worth noting that if you care about the DJI RC 2 controller, it's only available in the Combo Kit.
Summary
DJI Air 3 is a lot of improvements over the Air 2S, but not in every respect. Recording resolution on the Air 3 is lower, but most of the other features have been improved. A second telephoto lens with 3x lossless zoom has been added and the photo size has been increased. The design of the drone has been improved, including the addition of obstacle detection from all sides, which results in better automatic return. The range has been increased and is more stable. Flight time has been significantly extended, and the new charging hub allows for easy and effective charging of the battery. DJI Air 3 offers many novelties compared to DJI Air 2S, but this does not change the fact that Air 2S is a cheaper option and still a great drone.
Recommended