Syma X5SW drone with live view
55,33 €
Syma X5SW with image preview on iOS or Android phone
Syma X5SW is a perfect model for beginners and experienced people in flying. The built-in 6-axis stabilizer will allow for safe and stable flight.
Thanks to the presence of the FPV camera operating in WiFi connection technology , we can display live image from the camera and create excellent videos and amazing photos. It is compatible with both iOS and Android systems. In addition, the drone is equipped with an Intelligent Flight Orientation system. The control is carried out using the radio on the frequency of 2.4 GHz.
Innovative headless mode
This is a technology that makes it easier for less experienced pilots to control. When the syma is directed back to us - the directions of deflection of the right stick correspond exactly to those in which the quadrocopter will move. However, if we turn it to face you - the left side will turn to the right, and the front to the back. Headless mode means that the control will still be the same regardless of the position of the drone. The advanced software in Symie X5SW allows for sky-high acrobatics - all you need to do is perform one combination on the controller, and the drone will perform a "barrel" in the air.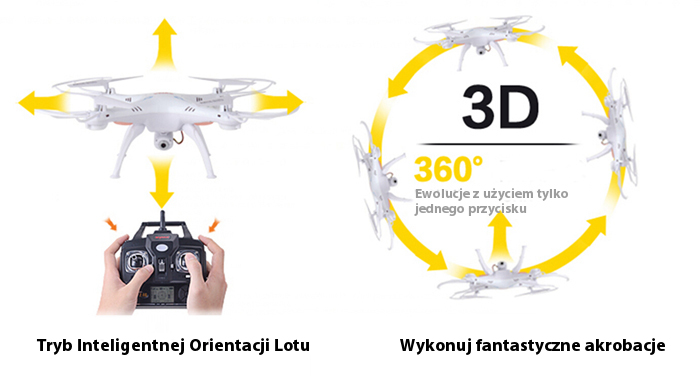 Maximum security
In the set you will find covers that protect the propellers from damage during landing and more - they fulfill their tasks during indoor flights (e.g. in the event of a collision with a wall) we still stay in the air without damage while maintaining a stable flight.
NOTE: The product you are purchasing on this website is a toy drone. Toy drones try to imitate professional drones, but due to their price - the functions included in a given drone may not work perfectly. With a greater delay time than professional drones.
Specification Syma X5SW drone with live view
Flight time (m)More
The maximum flight time achievable under optimal conditions.
The cameraMore
The maximum resolution of the photos taken.
CameraMore
Maximum video resolution and frame rate.
drone included with camera
AdvantageMore
A feature that distinguishes a given product.
Range(m)More
The maximum horizontal distance (in meters) that we can move away from.
Product weight with packaging