Habotest HT208D digital clamp meter
49,53 €
Habotest HT208D digital clamp meter
HT208D is a practical device with which you can check the value of various parameters, for example, AC and DC voltage and current, resistance, temperature, starting current and many others. The product provides precise measurement, the results of which are then displayed on the LCD screen. HT208D also has a flashlight that allows comfortable work in dark rooms.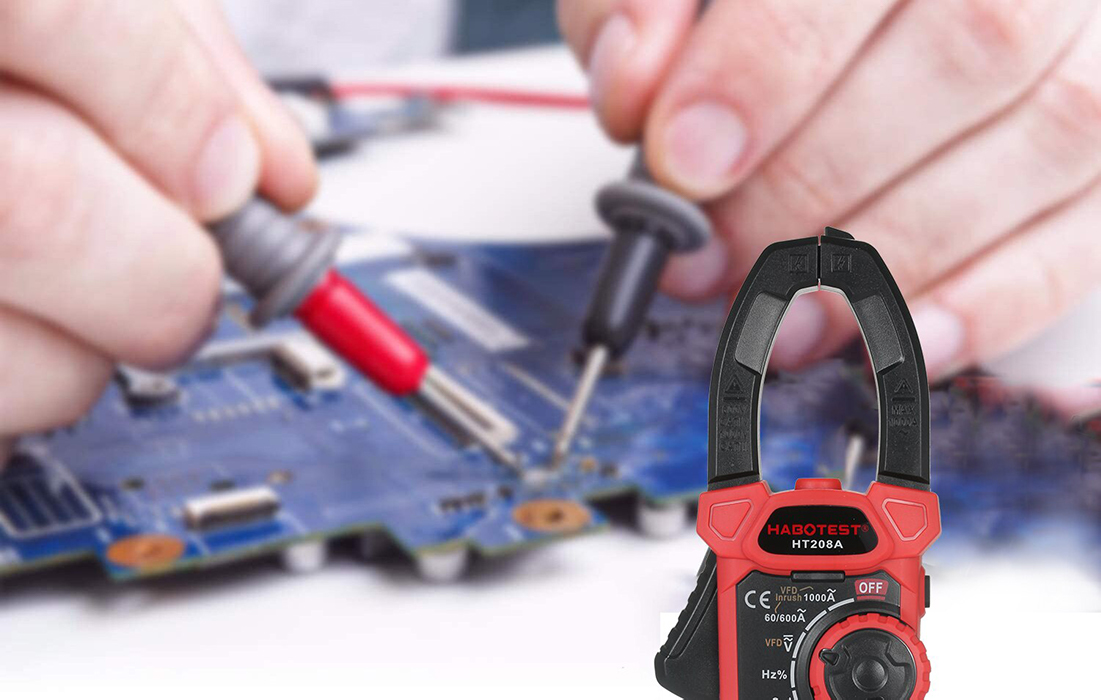 All-in-one
You can use the digital clamp meter in many situations. With it, you can check the value of AC voltage, resistance, capacitance, temperature, frequency, NCV, etc. You can also check continuity and true RMS value.
Safe use
The device has been designed so that its use is completely safe. You can, for example, detect voltage without contact thanks to NCV sensors. The jaws of the meter, thanks to the maximum width of 40 mm, allow you to conveniently measure without damaging the circuit. The flashlight function ensures comfortable and safe work in dark rooms.
Additional features
When receiving an electromagnetic signal, the NCV sensor will give an audible alarm, and if the voltage or current is high, the color of the LCD screen will turn orange. What's more, the device will automatically turn off to save energy if no action is taken for 15 minutes.
Specification
Function

HT208A
HT208D
DC voltage

6V/60V/600V/1000V

±(1%+3)

6V/60V/600V/1000V

±(1%+3)

AC voltage

6V/60V/600V/750V

±(1.2%+3)

6V/60V/600V/750V

±(1.2%+3)

DC current
n/a

60A/600A/1000A ±(2.5%+5)

AC current

60A/600A/1000A

±(3.0%+5)

60A/600A/1000A

±(3.0%+5)

Resistance

600Ω/6kΩ/60kΩ/600kΩ/6MΩ/60MΩ

±(1.0%+3)

600Ω/6kΩ/60kΩ/600kΩ/6MΩ/60MΩ

±(1.0%+3)

Capacity

10nF/100nF/1μF/10μF/100μF/1mF/10mF ±(4.0%+3),

100mF ±(5.0%+5)

10nF/100nF/1μF/10μF/100μF/1mF/10mF ±(4.0%+3),

100mF ±(5.0%+5)

Frequency

10Hz/100Hz/1kHz/10kHz/100kHz/1MHz/10MHz

±(1.0%+3)

10Hz/100Hz/1kHz/10kHz/100kHz/1MHz/10MHz

±(1.0%+3)

Fill factor

1%~99%

±(1.0%+2)

1%~99%

±(1.0%+2)

Temperature

-40°C~1000°C

±(1.0%+3)

-40°C~1000°C

±(1.0%+3)

Number of counts
6000
6000

Selection of ranges

(automatic/manual)

Yes
Yes
Continuity testing

Yes, sound and light alarm

Yes, sound and light alarm
Diode testing
Yes
Yes
Data storage
Yes
Yes
NCV

Yes, sound and light alarm

Yes, sound and light alarm
Backlight
Yes
Yes
Flashlight
Yes
Yes

Low indicator

battery level

Yes
Yes
Automatic shutdown
Yes
Yes
True RMS value
Yes
Yes
LPF
NO
Yes
MAX/MIN
Yes
Yes
V-LoZ
NO
Yes
Power

2x AA battery (included)

2x AA battery (included)
Libra

Approx. 380g

Approx. 380g
Dimensions

240 x 85 x 40mm

240 x 85 x 40mm

Jaw width

44mm

44mm

Security

EN61010-1, -2-030 EN61010-2-033,

EN61326-1 CAT III 1000V, CATIV 600V

EN61010-1, -2-030 EN61010-2-033,

EN61326-1 CAT III 1000V, CATIV 600V
Specification Habotest HT208D digital clamp meter