Hohem iSteady Pro4 gimbal for sports cameras
88,51 €
Hohem iSteady Pro4 for sports cameras
Hohem iSteady Pro4 for sports cameras is a gimbal with a universal, very light iSteady 5.0 design. It has a 4-axis stabilizer that allows you to record smooth videos with sports cameras of various brands, such as GoPro, SJCAM, Xiaomi, Insta360 and many others. Thanks to it, you will eliminate unwanted vibrations from your videos and enrich them with interesting effects. Intuitive, wireless camera operation is also possible via the gimbal.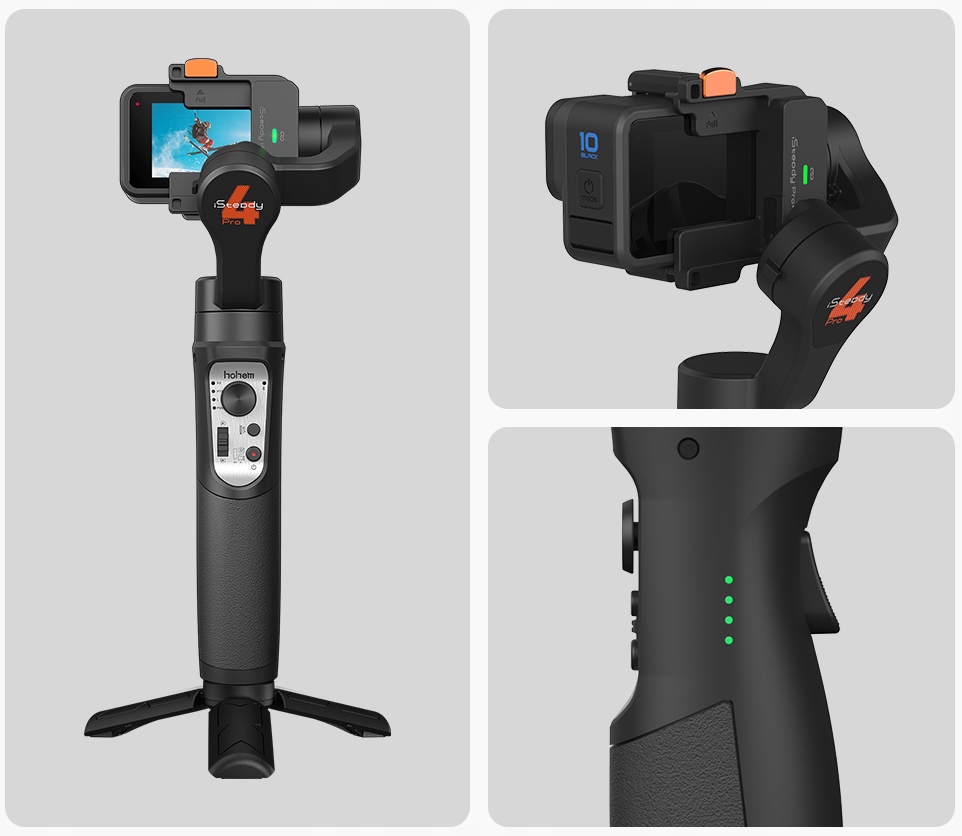 For special tasks
You can use the electronic stabilizer in various weather conditions. Its design is splash-resistant, which is confirmed by IPX4 tightness. The gimbal contains a built-in 3600mAh battery, which allows it to operate continuously for up to 14 hours. What's more, the battery can act as a power bank, also powering the supported camera. Thanks to this, Hohem iSteady Pro4 is perfect for traveling.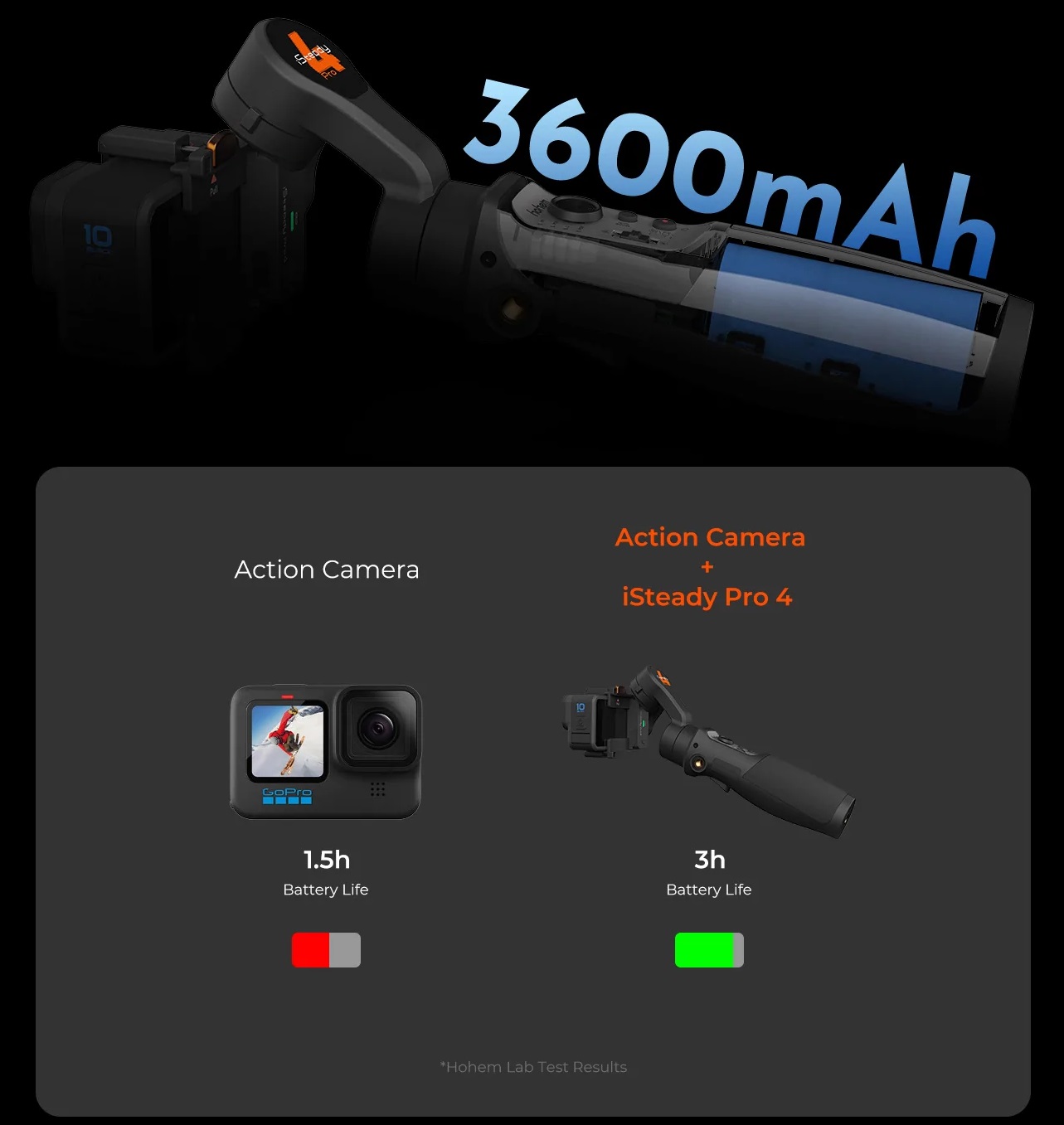 Useful functions
In addition to image stabilization, Hohem iSteady Pro4 provides its users with a number of functions that enrich the quality of video recordings. The gimbal works in Fast Follow, Quick Transition, Motion Timelapse, Hyperlapse sports modes. In Inception mode, its head automatically rotates 360 degrees while filming. A dedicated button with the Re-center function restores the default position of the sports camera. The dedicated Hohem Gimbal application is at your disposal.
Wide compatibility
The gimbal can work with various sports cameras, ensuring safe lifting of devices with a maximum weight of up to 160g. Stably holds cameras up to 33.5mm thick and 55mm high. Thanks to the built-in Wi-Fi module, camera operation is 100% wireless. You can control the Hohem iSteady Pro4 with one hand via the 4-way joystick. Configuring the stabilizer takes just a few seconds.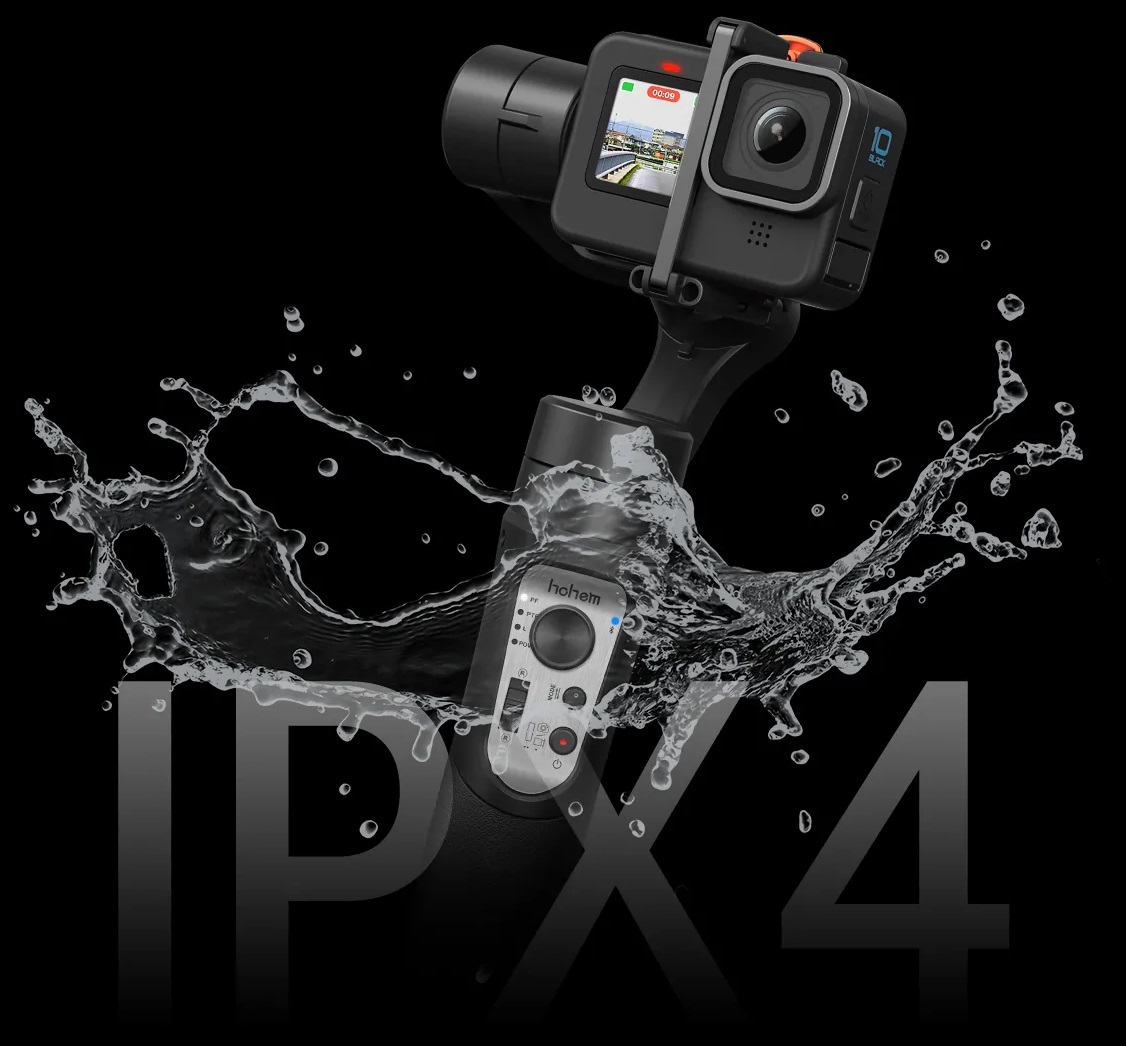 General Information:
Product type : 3-axis sports camera stabilizer
Model : iSteady Pro 4
Weight : 365g (including battery)
Material : high-quality composite
Compatible cameras : GoPro Hero 10/9/8/7/6/5, DJI OSMO Action, Insta360 ONE R (4K & 1 inch), SONY RX0 and other sports cameras of similar size and weight.
Maximum Camera Size : Height: 51mm; Depth: 30mm
Possibility to control the camera using the holder : GoPro 10/9/8/7/6/5 (does not support GoPro 7 white & silver version)
Range of mechanical movement:
Reign : 600°
Tilt : 320°
Rotation : 320°
Battery:
Capacity : 3600 mAh
Working time : 14 hours
Charging time : 3.5 hours
Operating temperature : -10~45℃
Other informations:
Splash Resistance : IPX4 splash resistant, resistant to splashes from any direction
The stabilizer does not support no-load starting , which may damage the engine and shorten its life. (without load - turning on the stabilizer without a camera or phone attached)
Application : Hohem Gimbal
Specification Hohem iSteady Pro4 gimbal for sports cameras